Volunteer in Nepal
Volunteer in Nepal
Beautiful Nepal and its inhabitants await you!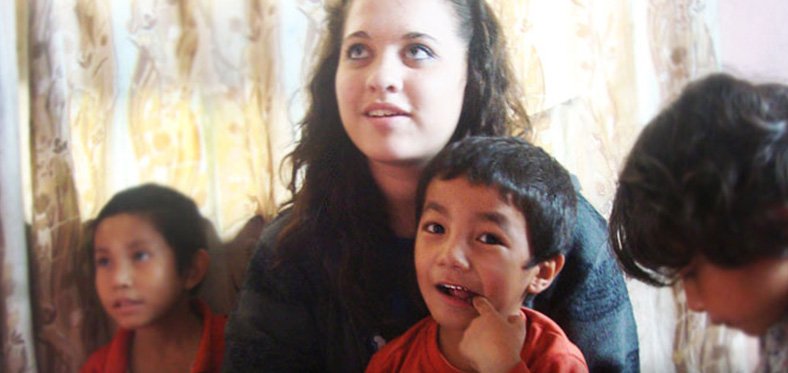 Embrace your humanitarian side in scenic Nepal

Trusted by thousands of volunteers since 2006

Most affordable volunteer projects, starting at $99

Explore the Himalaya's, work with Buddhist monks, have the experience of a lifetime!
Lying in the lap of the glorious Himalaya Mountains, Nepal is a magnificent country with deserving people who will truly appreciate your help on their behalf. This small country, mighty in its spacious, dramatic panoramas, is truly one of the world's natural scenic wonders. It also offers widely divergent ethnic groups, colorful festivals and an abundance of unique flora and fauna to become acquainted with. Join IFRE's volunteer program in Nepal and experience the warmth and hospitality of the beautiful Nepalese people whose lives you touch. With opportunities to serve the communities in education , healthcare and other areas of three fascinating cities, Nepal's volunteer programs are highly respected and beneficial to all involved.
If you're ready for a lifetime of memories in one life-altering journey, request more information now!
Volunteer Work Projects and Locations
IFRE's Nepal volunteer programs support community orphanages and schools, medical/healthcare projects, monasteries, conservation efforts and photo-journalists working to capture Nepali history.
Volunteer projects placements are available in Kathmandu, Chitwan and Pokhara.
Volunteer Program Fees & Dates:
Start Dates: Our programs start every Monday, although we allow for flexibility due to travel constraints.
IFRE is a 501(c)3 organization, so your program fee will be tax deductible. IFRE Volunteers is proud to offer the world's best fee. Our programs are now more affordable than ever. We are proud to focus on the humanitarian aspect of our business, not on profit. We work very hard and smart to keep our costs down, especially for the volunteers because we know the value of your donated time and efforts. We remain devoted to maintaining both the quality of the program and the safety of all volunteers involved. Below is a brief summary of the program fee and services that IFRE Volunteers offers.
IFRE fees comprise of two separate fees. An application fee of $299 USD (covers advertising, staff/office expenses, etc.) and a nominal weekly program fee (covers room/board, field support, etc). You will pay your fee directly to host families and projects. In this way, what you pay will go for you or people who deserve it (not for profit).
Volunteer Program Fee (US$)
Weeks
Kathmandu/Chitwan
Orphanage/ School
Pokhara
(all projects)
Medical
Monastery
Photo Journalism
1 Week
$99
$265
$185
$205
$220
2 Weeks
$250
$415
$235
$330
$330
3 Weeks
$310
$565
$360
$425
$440
4 Weeks
$370
$715
$410
$520
$550
5 Weeks
$430
$865
$535
$615
$660
6 Weeks
$490
$1,015
$585
$710
$770
7 Weeks
$550
$1,165
$710
$805
$880
8 Weeks
$610
$1,315
$760
$900
$990
9 Weeks
$670
$1,465
$885
$995
$1,100
10 Weeks
$730
$1,615
$935
$1,090
$1,210
11 Weeks
$790
$1,765
$ 1,060
$1,185
$1,320
12 Weeks
$850
$1,915
$ 1,110
$1,280
$1,430
Mandatory Comprehensive Travel Insurance $3.49/day

Airport pickup, drop and first accomodation $50

Language and Culture program $250

Summer volunteer and adventure (5 weeks include travel) $2065
Language and cultural immersion program includes: One-week language and culture training, food and accommodations with host family (Breakfast, lunch & dinner), training materials (books, papers, etc) and Comprehensive Travel Insurance.
Additional costs for volunteers: International flights, visa application/extension, daily personal expenses on beverages/entertainment, laundry, telephone, immunizations.
Language and Cultural Immersion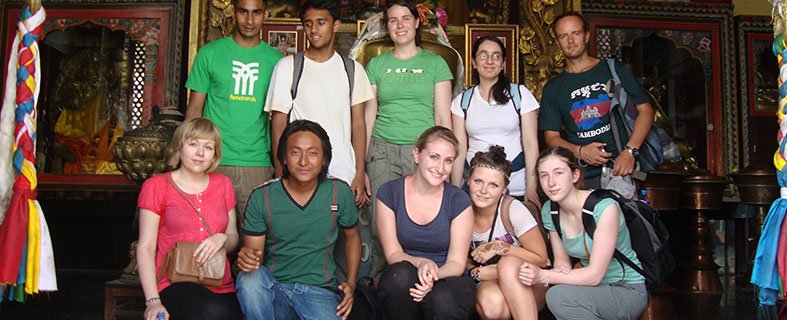 In Nepal, IFRE offers one week of Language and Cultural orientation in Kathmandu. The capital of Nepal, Kathmandu has two faces. One is a fabled capital populated by hospitable pilgrims and meticulously carved rose-brick temples. The second is a frenetic sprawl of modern towers, which is mobbed by beggars and monkeys and smothered in diesel fumes. These two faces simultaneously demonstrate the country's history and the invading, inevitable wear and tear of the uncompromising modern world.
Our weeklong intensive language and cultural immersion program includes language training, lessons on history, culture, ways of life, visits to local villages/towns/markets, guided Kathmandu exploration and local tourist attractions. This IFRE program aims to submerge you in Nepali culture, history and ways of life to vastly improve your time as a volunteer in Nepal. When you understand the life and culture around you, your experience is richer and more rewarding. However, you can choose to take the Language and Cultural immersion program or go directly into a volunteer project. This experience should not be missed! So many international travelers wish they could have an opportunity such as this to receive a briefing on customs, language and history.
Arrangement of Room/Food/Supervision
IFRE manages living accommodations, meals and supervision for volunteers throughout their stay in Nepal. Most volunteers placed in Kathmandu projects stay at our home base – a permanent home set aside for international volunteers and manned with a local staff. Our safe and secure Kathmandu home base is located in a beautiful area of Kalanki, nearly 5 km away from Thamel, a popular tourist hub of Nepal. Most of our volunteers' projects are located within 2-5 miles of the home base. Therefore, volunteers can simply walk to their projects or take a local taxi or bus. Most necessary services for travelers are located within 2 km of the home base: internet cafés, restaurants and grocery stores. Our home base is located in the heart of city and provides easy access to volunteer to all parts of Kathmandu. It is a perfect situation for volunteers to live safely and comfortably while making many new friends and sharing experiences every day. In the evening volunteers return to the home base, to relax, eat dinner, explore local areas or share the day's experiences with fellow volunteers and staff. Our home base provides a same-gender shared room and shared bathroom with running hot water and a "western" style toilet. Volunteers will have the ability to do laundry at the home base.
Volunteers receive three prepared meals per day. Our cooks prepare breakfasts, lunches and dinners of Nepali foods (similar to Indian food, including wheat bread, rice, curry, dahl, chapatti and pickles) for volunteers. If volunteers will be out of the house during lunch hour, they can request a lunch "to go". If traditional Nepali fare does not appeal to volunteers, they are welcome to buy personal food and prepare it.
Occasionally, depending on volunteer traffic, available projects or distance to a volunteer's assigned project, we may also place our volunteers with carefully pre-screened host families. Our host families are socially respected and are experienced with hosting international volunteers. They have strong interest in our volunteers' safety and well-being and demonstrate this with caution and care. In most host family situations, volunteers will share a room with another volunteer of the same gender. Another viable option is an at-orphanage stay. Many orphanages in Kathmandu have special rooms set aside to house international volunteers. Volunteers who have stayed with a host family or at an orphanage describe an enriched experience because of having done so. Once you have applied for program placement, you will find the specific details of your accommodations in your personal placement documents for your project.
IFRE maintains two offices in Kathmandu and Chitwan to supervise and assist volunteers. However, volunteers working in Pokhara will stay in touch with Kathmandu office by telephone or email and will receive staff visits as often as possible, usually every two weeks.
Volunteer Program Free Time
Volunteers have free time for the duration of their volunteer project during evenings and weekends. While IFRE does not arrange activities during this time off, our local staff, members and coordinators can provide priceless assistance in making appropriate arrangements for travel in Nepal. It is the time for self-discovery and learning. It is time to immerse in foreign culture and explore this exotic land. It is definitely time for a trek in Nepal! Our IFRE local coordinators/staff are available to give you free advice, travel tips and helps to book your travel.
City adventures abound in Kathmandu. A city unlike any Western city experience, Kathmandu beckons tourists with pulsing activity and exhilarating discovery at every turn. The city can soon turn to sensory overload with vendors, traffic, colors, hustle and bustle. However, volunteers can find quiet solace in temples and quiet courtyards off the city's well-beaten path. Kathmandu's economy, cultural heritage and tourism is shared with its integral sister cities of Patan (Lalitpur) and Bhaktapur. In fact, the UNESCO World Heritage recognizes all three urban neighbors as one under the title "Kathmandu Valley-UNESCO World Heritage Site".
In Chitwan, our volunteers can visit the famous Chitwan National Park, where you can ride on the back of an elephant and visit the park to spot magnificent Bengal tiger and one-horned rhino. In Pokhara, volunteers can participate in numerous activities like paragliding, trekking, yoga break on top of a mountain retreat, or simply boating in one of many lakes in the city. Around Lake Phewa, there are plenty of good quality restaurants and hotels.
Learn more about Nepal programs