Volunteer in Third World Countries
Have you ever considered volunteering abroad as a way to fulfill your passion for service work and see the world at the same time? Do you want to make this world a better place?
When you join programs to volunteer in third world countries you will have the opportunity to enhance and enrich your life while giving back to people in need. You will make lifelong friendships, broaden your personal and professional horizons, and feel the satisfaction that comes from working with locals to create change bigger than yourself and contribute to a happier healthier world.
At IFRE, we have offered the highest quality and most volunteer opportunities since 2006. You can choose from a variety of volunteering programs offered by IFRE in 18 different countries across the world. Our goal is to help you select the best humanitarian project, where you can make the biggest impact and your skills and resources are utilized by local people. Our programs range from teaching monks in Nepal, elephant conservation in Thailand, HIV/AIDs project in Ghana, sea turtle projects in Mexico, and much more!
Start your volunteer journey today by contacting IFRE. We invite you to read about some of most popular volunteering opportunities in third world countries so you can learn more about our programs.
Take a minute to complete the form and we will be in touch.
Table of Contents
Benefits of Joining Volunteer in Third World Countries
Popular Volunteer in Third World Countries
Skill and Qualifications
The Start Date(s)
The Fee
Housing and Food
How can I apply?
Why go with IFRE Volunteers?
How can you go as a group?
Benefits: Volunteer in Third World Countries:
There are numerous benefits of volunteering abroad in a third world country. Volunteering programs enhance your life and the lives of many others. We have listed a few of the common benefits of volunteering here for you today:
Volunteering adds purpose to your life:
Volunteering gives you the opportunity to make a direct impact on the lives of people. As a volunteer, you will be teaching new skills and providing less fortunate people with the tools they need to build a sustainable future. You can make a difference in the lives of people and give them hope of a better future.
Working towards making a difference, you will give you a new identity and a sense of satisfaction, ultimately providing a sense of purpose to your life.
You will be travelling:
Volunteering in third world countries changes your perspective and gives you a new outlook on life. You will be travelling to places that you have never thought of visiting.
You will be visiting the country from the glossy brochures of travel companies. You will get an opportunity to bask in the local culture, traditions and cuisine. Meeting people from all walks of life will help you broaden your horizon.
Improves your social relationship:
While moving towards achieving financial success people forget the benefits of being a part of the community. Socializing and developing new bonds with people helps to reduce isolation and loneliness in the modern world.
You will be meeting people of similar interests and you will be making new friends, which can turn into a lifelong association.
You will gain health benefits:
When you do volunteer work in third world countries you will be doing different kinds of tasks, which will keep you physically active.
You will be interacting with people from all walks of life, which lowers the risk of suffering from depression and anxiety. People, who volunteer regularly are found to have lower mortality rates and lower chance of suffering from a heart attack, chronic pain and high blood pressure.
Personal Growth:
Volunteering will take you out of your comfort zone and expose you to challenging situations, which will make you better equipped with problem solving in the future.
Regardless of any volunteering activities you choose, you will get a chance to learn new practical, social and communication skills that aids your personal growth. Volunteering shows you the harsh reality of life and teaches you important lessons.
Take a minute to complete the form and we will be in touch.
Popular projects to Volunteer in Third World Countries
IFRE provides different volunteering programs in eighteen different nations around the world. You can choose your desired program to volunteer among hundreds of different programs or projects offered by IFRE. The programs or projects range from conservation to orphanage work to HIV/AIDS.
Costa Rica
Organic Farming in Costa Rica
Many farmers in Costa Rica are moving towards organic and sustainable farming. Coffee farmers are opting to go organic or are adopting alternatives to use a minimal amount of chemicals.
You will be working alongside farmers by helping them set up new system of agriculture. Volunteers will spend a significant amount of time on the farm picking coffee while learning and sharing the information of organic farming. You might be conducting interviews and surveys regarding organic farming during your volunteer abroad trip in a third world country like Costa Rica.
Small organic coffee farms act as a sustainable model for other local farms, which leads the way to more ecological practices. When you learn and help promote sustainable farming methods you set an amazing example about positively impacting the environment.
Dig your hands into the mountain soil and sow the seeds of change! If you're interested in sustainable farming practices, you should consider this program:
Other Volunteer Opportunities in Costa Rica
Besides volunteering to work in the third world countries, IFRE provides other volunteering opportunities in Costa Rica, including volunteering trips for adults, and volunteering programs for older people, wildlife conservation volunteer abroad, and winter break volunteer abroad.
Cambodia
HIV/Aids Project in Cambodia
HIV/AIDS is a life-threatening disease and its cure hasn't been found yet. Many people across the world, including Cambodia, are suffering from its deadly affects. IFRE works with local organizations, which provide awareness programs and various other programs for the victims.
You will be counseling infected people and assisting the HIV/AIDS community with hospice care, educational and recreational programs. Conducting educational seminars and conferences to prevent the disease will be part of your volunteering responsibility during Volunteer in Third World Countries like Cambodia.
Some benefits of this program include knowing that you're positively effecting the lives of others by helping spread awareness of the harsh realities of the disease and providing support to those affected by it. You will also learn invaluable life lesson the from the community you support.
If you want to learn how to volunteer in third world countries like Cambodia, please contact us today. You can also learn more about this opportunity by reading the detailed program webpage:
Other Volunteer Opportunities in Cambodia
Some other ways you can contribute to local volunteer projects in Cambodia are through medical/healthcare initiatives, teaching English in rural schools, and caring for orphaned children. To view the full list of other Cambodia programs we offer, please click the following link:
Nepal
Monk Teaching Project in Nepal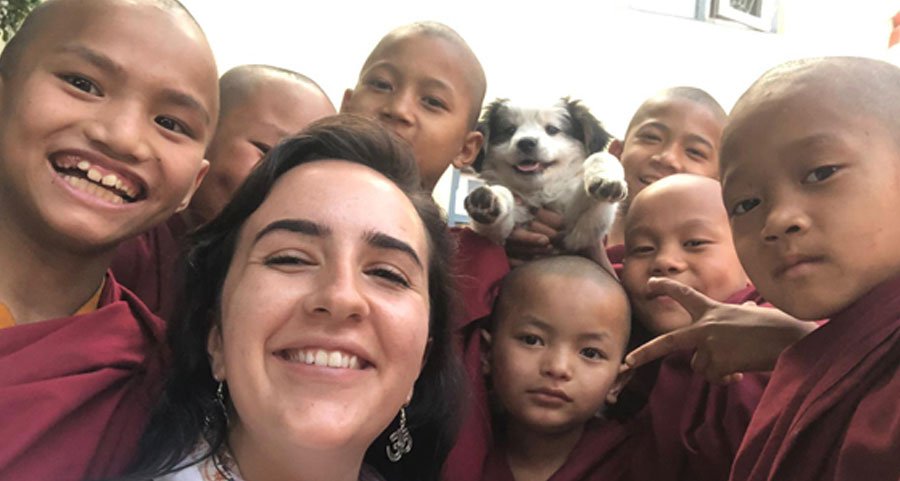 Many exiled Tibetans live in Nepal where they are free to practice their religion and rebuild their culture. As a result of this, there are several large monasteries around the mountains of Kathmandu where monks live and devote their lives to Buddhism. There is a great need for young monks to learn English so they can continue spreading their important peaceful teachings.
Teaching English to Buddhist monks is a great volunteering experience in the third world country of Nepal. You will spend your weekdays teaching young monks in the Tibetan Children's Village schools or in a local monastery. You may also organize or assist with extra-curricular activities or administration needs or practice English in the evenings with older monks.
This program is particularly unique in that it will allow you to explore the Buddhist religion while giving back to a grateful population living in exile. When you donate your time to teach the monks English, you are helping them spread their important lessons to a modern and changing world. This will make a huge difference in both the lives of the monks and of those that come to them to learn the message of Buddhism.
To volunteer abroad in a third world country with Buddhist monks, please visit the site below and read over the program details. You may also contact us directly to let us know you're interest in this program and we will guide you through the rest of your application process.
Other Volunteer Opportunities in Nepal
Other volunteer opportunities in Nepal include supporting and caring for orphaned children, photojournalism, nature conservation, and more. Click the link below to explore these other programs.
Take a minute to complete the form and we will be in touch.
Thailand
Elephant Conservation in Thailand
Not too long ago, elephants in Thailand were used as beasts of burden for farming and logging. Elephants became redundant when logging became prohibited. These great animals are expensive to look after, so they were either sold or taken to the streets of big cities to entertain people for money, which is illegal. IFRE is working towards creating a situation where Mahouts (elephant handlers) won't sell their elephants. IFRE hopes to do this by supporting the village of the Surin Province by helping the village with elephant food, community projects, financial support and volunteers.
Volunteers will be interacting with elephants while riding, washing and feeding them. You will be spending three nights a week with a village elder and their family. While doing volunteer work in the third world countries like Thailand, you will be expected to assist in cooking and other daily activities. You will also team up with local community members to promote elephant care and conservation and teach locals about the importance of protecting elephants and other animals in Thailand.
When you volunteer in this elephant conservation program you will show elephants a side of humanity that is kind and caring. This critical work helps ensure the longevity of the elephant species. You will also help Thailand create a more sustainable future by assisting with planting and harvesting crops and planning vegetable gardens.
If you are passionate about animals and want to embrace a unique experience to Volunteer in Third World Countries, contact IFRE today to learn more about this exciting opportunity.
Other Volunteer Opportunities in Thailand
Other volunteer abroad opportunities in Thailand include teaching English to monks, assisting medical staff in healthcare projects, working with orphans, and more. To see other opportunities, please visit the following link for more information.
Ghana
HIV/Aids Project in Ghana
HIV/AIDS is an issue of major concern in many of the African countries. Every year millions of African people die of this deadly disease. Volunteer project for HIV/AIDS awareness is an initiation to stop its spread further and aware the people of its causes and preventive measures.
One of our most popular volunteering projects overseas in third world countries includes HIV/AIDS project in Ghana. This project focuses on two areas. The first focus area is providing support, treatment and psychological support to the HIV/AIDS victims through distributing food, medicine and clothing, while giving mental counseling and support. The second area targets spreading awareness regarding HIV/AIDS along with its preventive measures. Volunteers will be contributing in the counseling and education programs in major hospitals and communities targeted towards young men and women.
When you partake in this volunteer program, you will feel incredibly rewarded through your work preventing this terrible disease and helping support those individuals and families who have been affected by it. You will learn invaluable lessons from the people you support and the community in which you work.
If you are concerned about this issue, join this third world volunteer work initiative to prevent HIV/AIDS further, join our volunteer project in Ghana and contribute in saving human lives.
Other Volunteer Opportunities in Ghana
Other volunteer opportunities in Ghana include teaching English, supporting other medical projects, working in orphanages, and more. Click the link below to learn more about opportunities in Ghana.
Tanzania
Health Project in Tanzania
The local hospitals that reside in villages and on the outskirts of the city areas of Tanzania lack personnel and resources. This makes it hard for Tanzania healthcare facilities to provide adequate care the countries residents.
Join IFRE's Volunteer in Third World Countries programs to provide important care to this underprivileged population. As a participant of this project, you will be measuring the height, weight, temperature and blood pressure of the patients. Assisting in the medical camps, distributing medicines, keeping patients records, counseling patients and teaching them about the importance of nutrition and sanitation will be part of your volunteering responsibility.
Your devoted time and energy will support an often-overlooked part of Tanzanian society, and the kindness you show your patients will be forever valued by the individuals with whom you connect. You will impact people's lives directly, bring hope and positivity to the community you work in, and share cultural awareness through your participation in this program.
If you want will to put your medical knowledge to practice in Tanzania, check out our full program's details at the link:
Other Volunteer Opportunities in Tanzania
Other volunteering work opportunities in third world countries like Tanzania include working in orphanages, raising HIV/AIDS awareness, and more. To see a full list of volunteer opportunities, please follow the link :
Take a minute to complete the form and we will be in touch.
Skill and Qualifications to Volunteer in Third World Countries
IFRE medical and health volunteer programs require that you are at least a pre-med student with a working knowledge of basic health care. You will also be required to show proof of medical certification from an accredited institution or a valid medical student ID.
English teaching positions require that you are fluent in English.
For all other programs, the only requirement is that you have a passion for helping those in need, an open mind, and a positive attitude.
To learn more about each program requirements, follow this link:
The Start Date(s) 
IFRE programs always start on Monday. However, if you cannot arrive on a Monday we will work with you to select a start date.
The Fee to volunteer abroad in third world countries
Because IFRE is a non-profit organization trying to change the world, we believe in promoting international humanitarian efforts and volunteer experiences at the most affordable rate when you volunteer abroad in a poor country.
There are two fees: a registration fee and a program fee. When you sign up for a volunteer opportunity, IFRE will ask that you pay a $299 registration fee which goes toward supporting IFRE staff, marketing, donations, and local support. IFRE also asks that you pay a separate program fee, which goes directly to your host family and community project. The program fee is paid on a per week basis.
Even with low program prices, IFRE maintains outstandingly high-quality volunteer work abroad programs in third world countries. We do everything we can to ensure safe, fun, and meaningful volunteer abroad experience.
Housing and Food
Your housing and food accommodations vary based on your third world country volunteer work project location and what each community can offer in terms of housing. The majority of volunteers will stay with one of our well-selected and welcoming homestay families who will then prepare traditional fare for each of your meals.
If you do not stay with a homestay family, your meal and housing accommodations will vary. You may stay in a volunteer house, hostel, or cabin and meals may vary.
No matter where you stay, IFRE field support will ensure that you are safe and happy with your accommodations.
How can you apply to volunteer in third world countries?
Joining an IFRE Volunteer abroad opportunity is straightforward. Simply fill out the online application and submit it to us! We will be in touch with you within 24 hours of receiving your application.
Why go with IFRE Volunteers?
IFRE Volunteers is a well-respected global non-profit whose goal is to make a real and lasting impact on third world countries through our volunteering abroad programs. We are an experienced and honest organization. Established in 2003 and trusted by more than 22,000 individuals, our programs encourage community growth and change individuals' lives daily.
We are committed to offering the lowest cost and highest quality volunteer programs on the market, which enables more volunteers to serve humanity and have a once-in-a-lifetime experience. What's more, when you volunteer with IFRE you know where your money goes because of our transparent registration and program fees paid directly to community hosts.
Our programs are safe, and they make an impact. When you volunteer with IFRE, you'll form strong bonds with our unparalleled field staff and heart-warming host families, who will enrich your experience and make your time abroad worth so much more than you expected. You will leave your program filled with satisfaction, knowing that you made a real difference working toward an effort bigger than yourself.
How can you volunteer in third world countries as a group?
Volunteering with a group has a lot of benefits, and IFRE understands how important it is that you are able to coordinate your groups needs and interests. We will work with you to select a project that is most appropriate for your group.
Contact us to start planning today!
Take a minute to complete the form and we will be in touch.
You can also check out our amazing volunteer opportunities in Brazil, Ecuador, Bali, Zimbabwe and Morocco.
Check out 'A Complete Volunteer Abroad Guide: Everything You Need To Know' to learn more about what is volunteering abroad. If you want to know how to volunteer abroad for free, go through our Volunteer Abroad for Free article. If you are a college student and searching for meaningful summer volunteering programs, check out our popular articles Community Service Trips For College Students and Summer Volunteer Programs For College Students.
Other possibilities are featured in:
Volunteer Programs for Young Adults
Opportunities to Volunteer Abroad
Travel abroad volunteer program
Gap Year Volunteer Programs Abroad
One Month Volunteer Abroad Opportunities
International Volunteer opportunities for Adults
Best Volunteer Abroad Programs
Volunteer Work Abroad Programs
Legitimate Volunteer Abroad Programs
Long Term Volunteer Abroad Programs
Long Term Volunteer Opportunities Abroad
Short Term International Volunteer Opportunities
Photography Volunteer Opportunities Abroad
South America Volunteer Programs
Volunteer Abroad Building Projects
Year Long Volunteer Abroad Programs
Best Place to Volunteer Abroad
Cheap Volunteer Abroad Programs
Safe Volunteer Abroad Programs
Affordable Volunteer Abroad Programs
Volunteer Programs around World
Best International Volunteer Opportunities
Social Work Volunteer Opportunities Abroad
Senior Volunteer Opportunities Abroad
Volunteering Abroad for Older People
Best Countries to Volunteer
Bali volunteer opportunities
2-week Volunteer Abroad Programs
1 Week Volunteer Abroad
Volunteer Eco Students Abroad