Volunteer in Poor Countries
Do you want to bring a change to the lives of deprived people by getting involved in volunteering work? Are you looking for volunteering opportunities in poor countries?
Joining a program in poor countries is a great idea. You will learn invaluable life lessons while sharing your passion with communities in need. Although you may feel like your contribution is small, your time and energy will make a huge difference in people's lives. You will also make international connections, broaden your personal and professional horizons, and feel rewarded as you contribute to creating change bigger than yourself.
IFRE offers international volunteering programs to individuals across the globe. We connect people in more than 18 different countries. We hope to match you with your perfect humanitarian fit where you can utilize your skills to make the biggest impact. Our diverse programs include working in conservation, teaching English, working with children, contributing to the medical field, supporting local NGOs and community development projects, supporting women's groups, caring for orphans and more. We offer a project for everyone who wants to do volunteer work in poor countries.
It's your call to action! Start changing the world today by choosing your desired program from hundreds of volunteering opportunities. To help you with this first step, we've listed some of our most popular volunteer programs below.
Take a minute to complete the form and we will be in touch.
Table of Contents
Benefits of Joining Volunteer in Poor Countries
Popular Volunteer in Poor Countries
Skill and Qualifications
The Start Date(s)
The Fee
Housing and Food
How can I apply?
Why go with IFRE Volunteers?
How can you go as a group?
Benefits of Volunteer in Poor Countries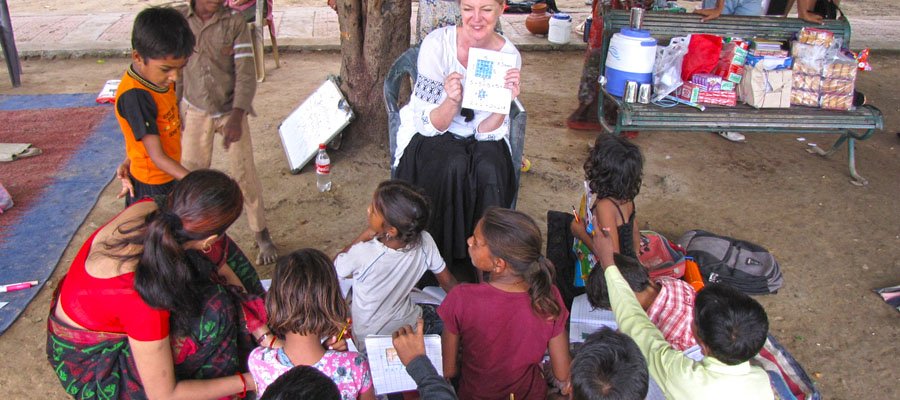 There are a lot of benefits to volunteer work – some are obvious, and others may not be so apparent. We've listed a few important benefits of volunteering for you to review.
You will gain career benefits:
Volunteering will help you gain valuable career benefits, like time management and strategic planning. You will get to explore your abilities in time management, teamwork and communication, which will play an important role in your future career. Volunteering activities will also help you show your dedication, commitment and interests, which increase your chances of getting your desired job.
You will meet new people:
The volunteering activities in poor countries will help you meet different people from all walks life. Meeting people with various interests, personalities, and backgrounds will help you expand your horizons and social network.
Adds a sense of purpose to your life:
Being a wave of change in the life of people will bring you a sense of fulfillment. Through your contribution in the different aspects of the society you will be making a difference in the lives of people, sparking a sense of purpose to your life.
Personal Growth:
These volunteering activities will take you out of your comfort zone and will introduce you to different situations. Therefore, the volunteer experience in poor countries will make you better equipped for dealing with problems and situations. It will make you more aware of your strengths, weakness, limitations and capabilities, which will help you to grow.
It will help you stay healthy:
When you volunteer, the activities you do will help you combat stress, anxiety and anger. Connecting with people will help you build your support system, which will help you to combat depression. Volunteers are found to have a lower mortality rate and lower frequency of heart diseases. The social interaction significantly reduces the progression of Alzheimer's and other kinds of dementia.
Take a minute to complete the form and we will be in touch.
Popular Volunteer in Poor Countries
IFRE provides volunteer options in eighteen different countries across the world. You have the option to choose your desired program out 200 programs offered by IFRE.
Orphanage Project in Guatemala
Guatemala is a poor country that struggles with many of the societal problems common to developing nations. Many years of civil war in Guatemala have increased the number of orphans. The children start working at the young age to earn money for survival.
As a volunteer doing volunteering work in the poor country of Guatemala, you are expected to be flexible and patient while dealing with the children. You will be teaching for around 3 to 4 hours a day in the orphanage or in school and assisting children with day to day skills. You will become these children's caregiver, friend, mentor, and teacher. Other responsibilities may include kitchen work, administrative work, and maintaining the garden.
When you volunteer with orphaned children in Guatemala, you will have a chance to change these children's lives! You can provide love, care, and nurturing to these well-deserving children while teaching them how to take care of themselves and live long and prosperous lives. You support keeps these children off the streets and provides them with hope for a brighter future.
If you hope to create a safe, happy, and healthy childhood for orphaned children, keep reading about program details for more information:
Other Volunteer Opportunities in Guatemala
Other opportunities in Guatemala include volunteering to teach poor people, working with children at risk, empowering women through handicraft projects, and more! To learn about these other programs in the beautiful country of Guatemala, please visit:
Teaching Buddhist Monks in Sri Lanka
Pirivena is a monastic college of Sri Lanka, where Buddhist monks receive their education. There are hundreds of Pirivena in Sri Lanka, which are maintained by the Ministry of Education. The year 2009 was called the Year of Information Communication Technology (ICT) and English. Since then the demand of teaching English language has been on the rise.
You will be teaching Buddhist monks or nuns between the age group of 8 to 21 years. As a member of the teaching English to Buddhist monks project in Sri Lanka you might be assisting in different extracurricular activities, like arts, sports, music and others. Through this project you will get the opportunity to know about the Buddhist culture, teachings and philosophies.
This Buddhist monk teaching program is a great example of why people should volunteer in poor countries. When you volunteer with this IFRE program to teach Buddhist monks, you will feel rewarded as there are not many other English resources in the area. By acting as this primary resource for student monks, you create a ripple effect. What you teach can then be taught by your students. On a larger scale, you will feel fulfilled knowing that your contributing allows the important and profound ethical teachings of Buddhism become more accessible to the outside world.
If you are thinking about embarking on volunteering trip abroad in poor countries, then consider joining this teaching project in Sri Lanka. Click the link below to learn more about this unique opportunity.
Other Volunteer Opportunities in Sri Lanka
If you would like to explore other work opportunities in Sri Lanka, view IFRE's other Sri Lankan programs in the link below. These include working with elephants, supporting children, and contributing to healthcare.
Take a minute to complete the form and we will be in touch.
Teaching Project in South Africa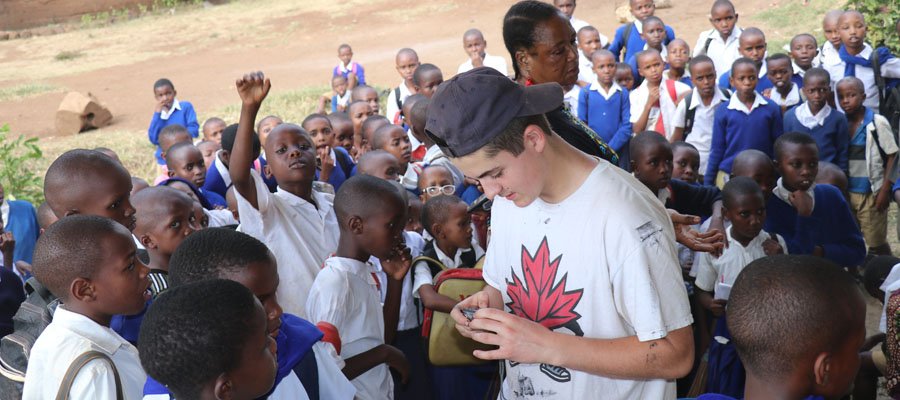 The students of Cape Town, South Africa aren't receiving the quality education they deserve due to overcrowding and inadequate facilities. Teachers sometimes have classes of more than 40 students. They are in need of volunteering teachers so they can reduce the amount of students in each class and provide the individual attention that each child deserves.
IFRE is collaborating with local schools and giving you a chance to make a difference in the lives of children of South Africa. Your responsibility while participating in the Volunteer in Poor Countries in South Africa will vary as per the level of teaching. You will be preparing meals, feeding the kids and even playing with the kids if you volunteer for the kindergarten level. As a volunteer of primary school and secondary level you will be assisting teachers in the classroom. You will also be organizing music, arts, sport classes or recreational activities for primary students and secondary students.
When you volunteer with this program, you will feel rewarded knowing that you are enriching the education of students who would not otherwise have the same resources you give to them. Supporting local teachers will help them learn new schools and manage the classroom more efficiently. What's more, you will make school a fun place for learning for these children, giving them hope for a brighter and more prosperous future.
If you want to help enhance the education of students in Africa by contributing to volunteer opportunity in poor countries, please follow the link below to learn more information about our volunteer teaching program in South Africa.
Other Volunteer Opportunities in South Africa
Other volunteer programs in South African include working in wildlife conservation, supporting healthcare efforts, physical education projects, social welfare programs, and more. Learn about these other opportunities by following the link below:
Health Project in Tanzania
Tanzania is a country stricken by poverty, which leads to often inadequate healthcare for its citizens. This hits rural areas and city outskirts the hardest. Local hospitals of Tanzania located in the outer city or villages lack trained personnel and resources.
There is a high demand of volunteers, so IFRE is offering you the chance to contribute to the health sector of Tanzania through volunteering in healthcare programs in poor countries. The responsibility while participating in the health project of Tanzania varies according to your skill, experience and qualifications. Volunteers mostly work as an assistant to doctors. You will be measuring the height, weight, temperature and blood pressure of the patients.
This program in Tanzania is one of many examples of volunteer healthcare programs in poor countries. When you volunteer with this program, you will provide important aid that many people deserve but lack access to. You will care for Tanzanians regardless of wealth and social standing by giving them access to proper healthcare and medication. You will also provide relief to overworked medical staff, which will help them to avoid burnout and give better patient care.
Not only medical professionals, but non-medical professionals can join the health project in Tanzania. The program in designed in such a way that students, professionals and retirees can all contribute in their own way. To learn more visit:
Other Volunteer Opportunities in Tanzania
You can review other Volunteer in Poor Countries like Tanzania that include teaching English, supporting HIV/AIDS education and affected families, teach computer skills, and more. Click the link below for more details.
Take a minute to complete the form and we will be in touch.
Conservation Project in Ecuador
San Cristobal Island is home to a variety of flora and fauna, but due to several adverse effects, it is now listed on the World Heritage list of endangered places. Human development on the famous Galapagos Islands has led to a destruction of the fragile habitats and an introduction of invasive species that threatens to disrupt the delicate balance of this ecosystem.
IFRE's conservation team works hard to preserve and maintain the natural diversity of the area. You will work on the island of San Cristobal to promote sustainable agriculture, low-impact tourism, and preservation/reforestation of the natural environment. You'll help out with trail maintenance, collect and classify seeds, and help establish much needed biological corridors throughout the island while volunteering in conservation program in this poor country.
Your time at this project will make your dream of visiting the Galapagos come true, and also have a huge impact on protecting and saving this natural wonder of the world. As you fight invasive 'mora' and educate locals and tourists about the importance of sustainable agriculture and conservation, you feel proud to protect this unique island ecosystem.
If you are a nature and animal lover, this Galapagos conservation project in Ecuador may be the best option for international high school mission trip students like you. Follow the link below to learn more.
Other Volunteer Opportunities in Ecuador
IFRE Volunteers offers a variety of other opportunities in Ecuador. To learn about these other programs, such as teaching English, working with orphans, working with street children, and more, please follow the link below:
Skill and Qualifications to volunteer in poor countries
While medical programs require that you are a medical student, and English teaching programs require fluency in English, otherwise, the only requirements for IFRE international volunteer programs are an open-mind and passion-driven motives to help serve local community.
To learn more about specific program requirements if you want volunteering abroad in a poor country, please read more details here:
Take a minute to complete the form and we will be in touch.
The Start Date(s) 
IFRE Volunteer programs start every Monday. If you have a travel conflict, we will work with you to adjust your start date.
The Fee
Because IFRE is a non-profit organization trying to change the world, we believe in promoting international humanitarian efforts and volunteer experiences at the most affordable rate when you volunteer abroad in a poor country.
There are two fees: a registration fee and a program fee. When you sign up for a volunteer opportunity, IFRE will ask that you pay a $299 registration fee which goes toward supporting IFRE staff, marketing, donations, and local support. IFRE also asks that you pay a separate program fee, which goes directly to your host family and community project. The program fee is paid on a per week basis.
Even with low program prices, IFRE maintains outstandingly high-quality volunteer programs. We do everything we can to ensure safe, fun, and meaningful volunteer abroad experience.
Housing and Food
Accommodations vary with each project. Most people when traveling through one of our volunteer opportunity overseas in a poor country stay with local host families and eat traditional fare prepared for them by their hosts. However, some volunteers may stay in a hostel, volunteer house, or cabin.
Wherever you stay, IFRE will make sure that you are comfortable and safe. Click the link below to learn more information.
How can you apply?
Applying to IFRE's volunteer programs is simple. Just fill out the straightforward online application, and then submit it to us. We'll reach out to you within 24 hours of your application submittal.
Take a minute to complete the form and we will be in touch.
Why go with IFRE Volunteers to volunteer in poor countries?
IFRE Volunteers is a well-respected global non-profit whose goal is to make a real and lasting impact on the world through our volunteer programs. We are an experienced and honest organization. Established in 2003 and trusted by more than 22,000 individuals, our programs encourage community growth and change individuals' lives daily.
We are committed to offering the lowest cost and highest quality volunteer programs on the market, which enables more volunteers to serve humanity and have a once-in-a-lifetime experience. What's more, when you volunteer with IFRE you know where your money goes because of our transparent registration and program fees paid directly to community hosts.
Our programs are safe, and they make an impact. When you volunteer with IFRE, you'll form strong bonds with our unparalleled field staff and heart-warming host families, who will enrich your experience and make your time abroad worth so much more than you expected. You will leave your program filled with satisfaction, knowing that you made a real difference working toward an effort bigger than yourself.
How can you do volunteer work in poor countries as a group?
IFRE understands how important group volunteering can be. If you would like to organize a group volunteer trip, please reach out to us directly. We would like to ensure that your group's needs and interests are met while matching you with one of our high needs projects.
You can also check out our amazing volunteer opportunities in Brazil, Ecuador, Bali, Zimbabwe and Morocco.
Check out 'A Complete Volunteer Abroad Guide: Everything You Need To Know' to learn more about what is volunteering abroad. If you want to know how to volunteer abroad for free, go through our Volunteer Abroad for Free article. If you are a college student and searching for meaningful summer volunteering programs, check out our popular articles Community Service Trips For College Students and Summer Volunteer Programs For College Students.
Other Possibilities are Featured in:
Volunteer Programs for Young Adults
Opportunities to Volunteer Abroad
Travel abroad volunteer program
Gap Year Volunteer Programs Abroad
One Month Volunteer Abroad Opportunities
International Volunteer opportunities for Adults
Best Volunteer Abroad Programs
Volunteer Work Abroad Programs
Legitimate Volunteer Abroad Programs
Long Term Volunteer Abroad Programs
Long Term Volunteer Opportunities Abroad
Short Term International Volunteer Opportunities
Photography Volunteer Opportunities Abroad
South America Volunteer Programs
Volunteer Abroad Building Projects
Best Place to Volunteer Abroad
Cheap Volunteer Abroad Programs
Safe volunteer abroad programs
Affordable Volunteer Abroad Programs
Top Volunteer Abroad Programs
Volunteer Abroad for Adults
Volunteer Programs Around The World
International Volunteer Opportunities
Sport Volunteer Opportunities
Social Work Volunteer Opportunities Abroad
Volunteer in Third World Countries
Volunteer in Poor Countries
Places To Do Volunteer Work
Senior Volunteer Opportunities Abroad
Volunteering Abroad for Older People
Best Countries to Volunteer
Bali volunteer opportunities
2-week Volunteer Abroad Programs
1 Week Volunteer Abroad
Volunteer Eco Students Abroad
Take a minute to complete the form and we will be in touch.