Gap Year Volunteer Abroad Programs
Are you ready to take a gap year from your studies? Do you want to use your time wisely to advance your career and help people in need? Do you believe in giving back to disadvantaged communities around the world?
Dedicating your time to volunteering is a great opportunity to broaden your horizons. You will embrace once-in-a-lifetime experiences as your step outside of your comfort zone to develop new skills, like adaptability, open mindedness, and empathy – all while traveling to off-the-beaten path destinations and immersing yourself in foreign culture.
At IFRE Volunteers, we offer more than 200 unique programs across the globe because we believe that volunteering should be accessible to everyone. If you are serious about traveling and have a passion to support people through service work, then joining one of our student gap year programs for abroad volunteering may be the best option for you. We aim to help you find the perfect program for your needs, interests, area of study, and budget.
Volunteer programs abroad more often than not are one of the best ways to make a meaningful impact to the lives of others. Join us on our mission to change the world by learning more about one of our unique programs today.
Take a minute to complete the form and we will be in touch.
Table of Contents
The Benefits Gap Year Volunteer Programs Abroad
Volunteering abroad, no matter the project type, generally has a lot of benefits of which you will carry with you for the rest of your life. We have listed a few of these benefits here for you to review, but there are many, many more!
Explore potential career fields while reflecting on life
The majority of people opting for gap year travel opportunities are young. This is important because one of the major benefits of volunteering abroad is that the practical experience you receive on these programs will allow you to essentially "try-out" different jobs and career types.
What's more, taking time off to get practical field experience gives you the opportunity to reflect on your studies and career choice. You will have more mental space to decide which educational or career path is best for you before you commit and invest all your time and money into one specific field.
Learn to be flexible
When you participate in a gap year abroad volunteer program, there will be a certain amount of flexibility that's required from you whether you realize it or not. As you're nudged out of your comfort zone you will realize that, little by little, you become more adaptable and relaxed in scenarios that may have caused stress previous to your travel.
Control and customize your experience
Gap year programs work to your advantage. Because these experiences are longer and visa requirements generally only permit you to stay in a given country for 3-4 months, you can select multiple programs and travel to 3-4 countries. In that way, they can very much be molded to your needs and interests. This may look like taking a combination of paying internships, volunteer positions, and temporary jobs even. With so many top gap year programs abroad at your disposal, you create the dream gap year.
Gain independence
Volunteering is the best chance for you to be on your own and build your independence. This affordable gap year program can be a steppingstone to college and a chance to try new things. Taking a gap year means having the chance to grow your independence and get to know yourself outside of the school setting.
Sense of purpose
One of the biggest benefits of the volunteering gap year programs abroad is that it can help grow your sense of purpose. The gap year is your chance to invest in yourself, while also contributing to something you believe in. Do you love animals? Do you love children? Do you want to teach English? Whatever you love, this is your chance to pursue it with your whole heart.
Take a minute to complete the form and we will be in touch.
How can you join gap year volunteer abroad programs?
What do you want to get out of taking a gap year? What are you looking for in gap year benefits? Do you want to see the world? Advance your career? Get ready for college or graduate school? Find yourself?
These are some of the questions that might be on your mind before starting a gap year travel program project. Rest assured! There is a gap year program for everyone with any goals.
If you want to get started with one of IFRE's programs, then you will probably have few questions as how to get on board and start this life changing journey. No need to worry, we've covered and explained everything you need to know.
Go for a program based on your skills and interest.
There are a variety of skills interests and qualities that people possess that can make them a great volunteer. For instance, being able to show compassion, kindness, and empathy for people is essential. These qualities will help you significantly, while being a part of your gap year program abroad. Being able to contribute your services in a foreign land is a wonderful gesture, however, to be effective, you need to be warm and friendly with the local people at all times.
It's also important to accept traditions and customs that you don't understand. Always have it in your mind that the volunteering abroad gap year program is the first learning experience, and just the start.
After your personal qualities, the next important aspect is to pick the program that fits your personality. There are a few ways to approach this, and there are no hard and fast set rules to do it. The best rule to live by is – always go with your instincts.
Select a program from your future point of view
Next is to consider what skills you have to offer. What are your best personality traits? You should always consider and focus on the activities you enjoy the most.
For instance, if children are appealing for you and if you love working with children, then look at choosing from our broad selection of gap year programs that focuses on helping kids in orphanages. Or, if your domain is the wilderness, then go for one of our best gap year programs abroad that connect volunteers with local animals and nature.
Finally, another big question to ask is, where do you want to see yourself in the future? For instance, those looking forward to making a career in a medical related field, can opt for a medical-related project or healthcare program in a developing country.
Select the best travel procedure
Once done with the selection of a program, your mind will be set on the travel procedures and requirements. First and foremost, due to strict visa regulations, none of IFRE's affordable gap year programs are for a full year and are not restricted to a single country. Generally, we recommend you volunteer in 3 to 4 countries with each volunteering opportunity lasting 2 to 3 months.
In line with your travel program, here are some valuable tips that you should always have in mind, when making a plan for the best affordable volunteer gap year programs abroad. Think about budgeting. A good tip is to select countries that share common borders or are next to each other. This will save your significant costs on airfares. If the countries are really close, then you can opt out for a bus ride between countries, saving you flight costs.
Choose mixed-bag of projects
It's always a productive idea to add variations to your best and cheap gap year programs, which can be done by choosing different projects. Try and mix up things, for example, you can choose an orphanage project in one country, and wildlife conservation in another. In doing so, it will allow you to try different programs that will help you in gaining a wide range of experience.
Re-invent yourself and shape your future by opting for IFRE's volunteering opportunities! It's time to choose the program that fits your interests and desires; start today!
Take a minute to complete the form and we will be in touch.
Popular Gap Year Volunteer Programs Abroad
IFRE has various volunteer projects that cater to different interests, budgets, time constraints and travel goals. At IFRE we have a program or project for everyone.
Guatemala
Work in An Orphanage in Guatemala
Guatemala is gorgeous country known as a world-class travel destination in Central America, but unfortunately this country struggles with poverty. This affects many Guatemalan children, leaving them without parental love and the care they need. Some orphanages try they best to offer a safe environment for these kids, but they are chronically underfunded and lack personnel resources.
When you volunteer in Guatemala, you will teach children English. You will also help with day-to-day skills such as teaching the children to dress properly, educating on personal hygiene, and travelling to school safely. You may also be asked to educational and fun extracurricular activities.
Your support will make a huge impact on the lives of the children living in the orphanage. By sharing love and hope with the kids you will inspire and change the lives of many Guatemalan children. Since many of the staff are over worked and underappreciated, you will be providing much needed emotional support to the adults as well as the children. You can have a direct change over these children's circumstances by providing love and nurturing to them through work and play. Your compassion can inspire these children to break out of their rough beginnings.
If you feel moved to work with these underprivileged children as part of your study abroad gap year volunteering plan, please read more program details on the webpage link. You may also reach out to us by email and let us know your thoughts!
Other Volunteer Opportunities in Guatemala
Other volunteer opportunities you may choose to incorporate in your gap year experience are empowering women, teaching English, assisting in healthcare efforts, and more! To learn more about options for volunteer work in Guatemala, follow the link below.
Sri Lanka
Work In An Elephant Orphanage (Pinnawala)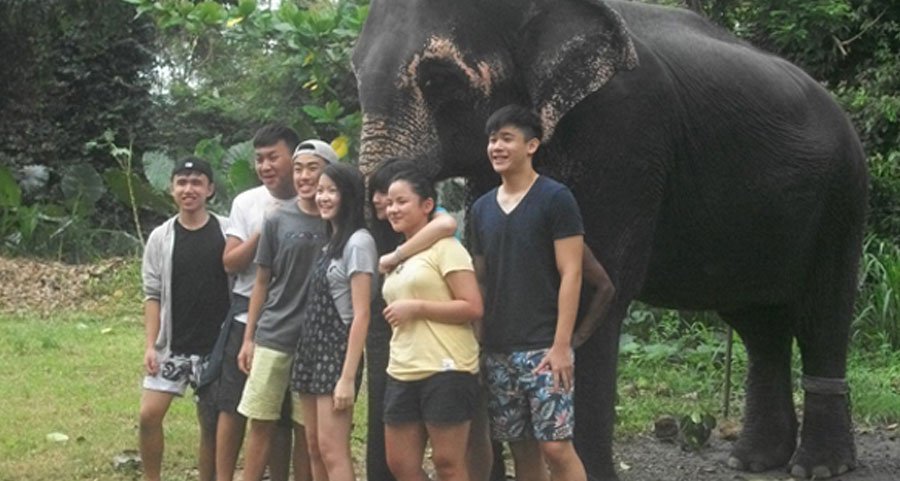 The elephants of Sri Lanka face constant abuse and are forced into logging activities, making them victims of poor tourism practices and unwanted domestication. These elephants need help from compassionate and caring volunteers like you to live better lives and keep the species healthy.
When you join this volunteer abroad gap year program, you will be assigned various responsibilities ranging from caring for the elephants to providing medical treatment. You may help feed, bathe and play with the elephants or provide your help on the organic farm each day, growing fresh vegetables and herbs. There is an after-school program that is also the part of this project, where you will be teaching English to the community to give them a better understanding for a sustainable future.
This wildlife experience will allow you to give back to animals in need. You will show a kinder version of humanity to some amazing elephants by ensuring their health, well-being and survival. You will also contribute to the project's future goal of providing elephant dung fertilizer to poor farmers, giving them an environmentally friendly way to grow their crops and offering the villagers a new perspective on human-elephant relations.
Join this animal movement as part of your college gap year volunteer abroad experience and bring peaceful co-existence to Sri Lankan elephants. Learn more by following the link .
Other Volunteer Opportunities in Sri Lanka
Other opportunities to support programs in Sri Lanka include assisting in the medical field, teaching English to Buddhist monks, working in orphanages, and more. Follow the link below to learn about other opportunities.
Cambodia
Health/Medical Project in Cambodia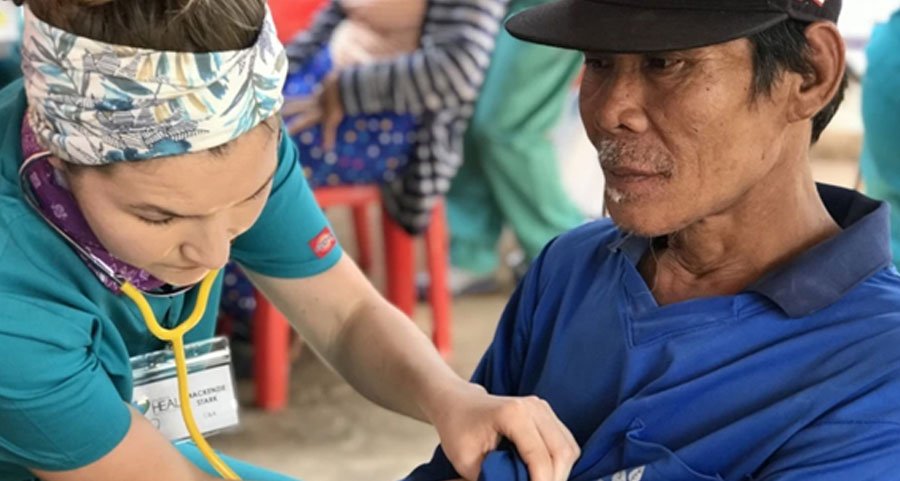 Cambodia's government has made major strides in supporting citizen's healthcare, but many low-income citizens still lack basic access to medical services. There is also a significant need for ongoing education about prevention of diseases.
Volunteers embarking on abroad gap year programs will spend the majority of their time in hospitals shadowing medical staff. Exact responsibilities will vary depending on experience, education, and needs., however you may be asked to work in physical therapy or rehabilitation, provide basic care, or assist with administrative tasks.
Through this unique hands-on medical program, you will gain benefits of cultural exchange, invaluable medical experience, and knowledge about the inner workings of a different culture's healthcare. Your role as a medical volunteer in Cambodia will support people in need and make a life-changing impacts.
If you would like to travel to Cambodia and leave a positive impact, follow this link to learn more about program details:
Other Volunteer Opportunities in Cambodia
If you'd like to learn about other volunteer opportunities in Cambodia for gap year volunteer abroad programs, such as working with a local NGO, contributing to HIV/AIDS awareness, please follow this link:
Take a minute to complete the form and we will be in touch.
South Africa
Wildlife Conservation Project (Port Elizabeth)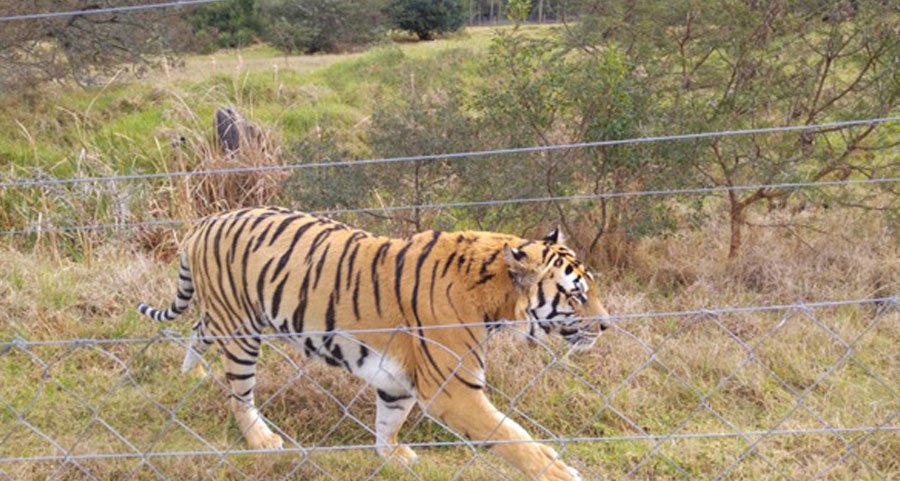 From sweeping savannahs filled with herds of elephants and prides of lions, to rugged coastlines and mountainous hiking trails, South Africa has an impressive arrive of flora and fauna. Unfortunately, many ecosystems face threats such as poaching, illegal trading, and habitat destruction.
As local organizations become aware and educate local populations, they work to fight issues of species extinction in South Africa. However, caring for wildlife is a full time job and projects are often underfunded, which means that more hands are desperately needed and greatly appreciated. As a college student embracing this gap year volunteering program abroad in South Africa, you will be responsible for monitoring animals, removing non-indigenous plants from the reserve, planting trees to combat erosion, patrolling reserve hikes and trails, assisting veterinarians, feeding animals in rehabilitation, and much more!
Your passion for wildlife conservation will make a great impact on flora and fauna of South Africa. Your work will help save species from extinction and improve the chances of survival for injured individuals in rehabilitation. You will be part of the solution these animals and plants need to thrive in their natural environment.
If this wildlife conservation speaks to your passion, please contact IFRE today to let us know you are interested! We will help you with the rest of your application process. For more information including program dates, fees, accommodation, etc. please follow the link
Other Volunteer Opportunities in South Africa
If you are searching for other programs in South Africa, look no further. IFRE offers programs such as social welfare, childcare, and physical education projects as well. Learn more here:
Skill and Qualifications
Some of the best international volunteer gap year programs like healthcare, medical, and teaching English do have specific requirements. To work in healthcare, you must be a pre-med student, and to teach English you must be a fluent speaker.
Otherwise, the only requirement in general to participate in these volunteer opportunities is that you have an open-mind and passion for the project you are supporting.
To learn more about specific program and project requirements, please follow this link:
The Start Date(s)
All volunteer and internship programs start on Mondays, although we will work with you if you have a travel conflict.
Take a minute to complete the form and we will be in touch.
The Fee
IFRE is a non-profit organization trying to change the world. We promote global humanitarian efforts and volunteer experiences at the most affordable rate for student volunteer gap year programs.
In general, IFRE asks for a $299 registration fee which goes toward paying for local support, airport transfers, program donations, etc. You will also be asked to pay a weekly program fee which is goes directly to your host family and service project.
Even with low program prices, IFRE maintains outstandingly high-quality volunteer programs. We do everything we can to ensure safe, fun, and meaningful volunteer abroad experience.
To learn about registration and program fees, please follow this link:
Housing and Food
The housing and food accommodations you receive depend on your project and country. Most volunteers stay with at least one other same-gendered student with one of our wonderful host families. However, you may also be asked to stay in a shared volunteer house, hostel, or cabin.
Whichever gap year volunteer abroad programs you decide to join, our outstanding field staff will ensure that you are happy and comfortable in whatever type of accommodations you receive.
To learn more about specific accommodation and food, please follow this link or consult your project of interest's webpage:
How can you apply?
Volunteer applications straightforward. Apply online and submit your application to us. Once we receive your completed application, we will reach out to you within 24 hours.
To learn more about our application process, please read more here:
Why go with IFRE Volunteers?
IFRE Volunteers is a well-respected global non-profit whose goal is to make a real and lasting impact on the world through our volunteer programs. We are an experienced and honest organization. Established in 2006 and trusted by more than 22,000 volunteers, our volunteer gap year student abroad projects encourage community growth and change individuals' lives daily.
When you volunteer with IFRE, you know where your money goes because you pay your program fees directly to the locals involved in your project.
Despite being the most affordable program in the world, we still deliver impeccably high-quality and outstandingly safe programs. When you volunteer with IFRE, you'll form strong bonds with our unparalleled field staff and heart-warming host families, who will enrich your experience and make your time abroad worth so much more than you expected.
Learn more about why you should volunteer with IFRE here:
How can you go as a group?
You can do a volunteer abroad gap year for student volunteers with a group. You will need to contact IFRE directly so we can work with you to select and customize a project that suits your groups' interests, needs, schedule, and budget.
Take a minute to complete the form and we will be in touch.
You can also check out our amazing volunteer opportunities in Brazil, Ecuador, Bali, Zimbabwe and Morocco.
Check out 'A Complete Volunteer Abroad Guide: Everything You Need To Know' to learn more about what is volunteering abroad. If you want to know how to volunteer abroad for free, go through our Volunteer Abroad for Free article. If you are a college student and searching for meaningful summer volunteering programs, check out our popular articles Community Service Trips For College Students and Summer Volunteer Programs For College Students.
Other possibilities are featured in:
Volunteer Programs for Young Adults
Opportunities to Volunteer Abroad
Travel abroad volunteer program
One Month Volunteer Abroad Opportunities
International Volunteer opportunities for Adults
Best Volunteer Abroad Programs
Volunteer Work Abroad Programs
Legitimate Volunteer Abroad Programs
Long Term Volunteer Abroad Programs
Long Term Volunteer Opportunities Abroad
Short Term International Volunteer Opportunities
International Development Volunteer Opportunities
Photography Volunteer Opportunities Abroad
South America Volunteer Programs-
Volunteer Abroad Building Projects-
Yearlong volunteer abroad programs_
Best Place to Volunteer Abroad
Cheap Volunteer Abroad Programs
Safe volunteer abroad programs
Affordable Volunteer Abroad Programs
Top Volunteer Abroad Programs
Volunteer Abroad for Adults
Volunteer Programs Around The World
International Volunteer Opportunities
Sport Volunteer Opportunities
Social Work Volunteer Opportunities Abroad
Volunteer in Third World Countries
Volunteer in Poor Countries
Places To Do Volunteer Work
Senior Volunteer Opportunities Abroad
Volunteering Abroad for Older People
Best Countries to Volunteer
Bali volunteer opportunities
2-week Volunteer Abroad Programs
1 Week Volunteer Abroad
Volunteer Eco Students Abroad