Year Long Volunteer Abroad Programs
Have you ever considered volunteering as a way to travel the world? Do you prefer authentic experiences over tourist destinations? Are you ready to embark on one of our year long trip?
Joining a volunteer abroad program is a great opportunity to broaden your horizons and embrace experiences outside of your comfort zone. When you spend time away from your home country, you meet new people from different backgrounds who will teach you invaluable lessons and give you new perspectives. You may also come to value your own culture and beliefs more so than before your travel and learn to empathize with others.
IFRE offers a variety of programs across the globe because we believe that volunteering should be accessible to everyone. If you have a drive and passion to volunteer abroad long term, then joining one of our projects is the best option for you. No matter your passion, experience, background or age, IFRE will match you with the exact type of experience you are looking for.
Do you want to change the lives of people around the world? If so, then join hands with IFRE's and partake in one of our amazing volunteering opportunities. Keep reading for more details about this exciting world of possibilities.
Take a minute to complete the form and we will be in touch.
Table of Contents
Benefits of Year Long Volunteer Abroad Programs
There are many incredible benefits to volunteering. Becoming a volunteer works in the best interest of not only you, but for your family, your community and the people who are in need all around the world. Here are some common benefits past volunteers have experienced:
Connection with others
When you volunteer with others working toward the same goal, you will make new friends due to your share experience in working toward a common goal. What's more, you may even strengthen existing relationships and strengthen you community ties through mutual interests and fun teamwork activities. You learn to lean on people, enhancing your support network.
Enhances your social skills
While some people are naturally outgoing, other may be naturally shy or introverted. When you volunteer abroad, you will have the opportunity to practice and develop your social skills as you work together with new people. Once you have momentum on your side, it makes it easier for you to branch out and make more friends and contacts.
Allows you to become more independent
Volunteering abroad may gently nudge you outside of your normal comfort zone. You may have to face new problems or make decisions without depending on anyone else. Although this may be challenging at first, practice makes perfect! Your ability to feel confident independently of other people will flourish as you spend more time away from your home.
Makes you happier
Volunteering is a fun and easy way to explore your interests and passions. Partaking in a volunteer for a year abroad program will bring you meaningful and interesting experiences and make you feel relaxed and energized. When you take a break from your normal routine to put energy toward something good, you will feel so rewarded. What's more, it's scientifically proven! The more we support each other, the happier we feel.
Helps you feel like you have more time
Volunteering your time to something meaningful rather than wasting your time being unproductive will help you feel like your time has more value. When you return from an overseas volunteering program, you will want to use your time more efficiently because you feel as if it's worth more.
Take a minute to complete the form and we will be in touch.
How Can You Volunteer Abroad For A Year?
First and foremost, anyone with their heart in the right place, and with the right frame of mind can be a wonderful volunteer. To be a standout volunteer, the most important things you should possess are sincere compassion and warmth. With any abroad programs, you'll meet a lot of new people that come from totally different cultural backgrounds to your own. In order to respect local communities and be a part of them, you must be accepting and understanding of the cultural and traditional differences.
It will certainly pose a challenge at the start as this will be your first stint as a volunteer, however, these contrasting differences and experiential hurdles are what make the volunteer gap year programs abroad rewarding and unique.
It is important to select a program that best fits your interests and skills. When it comes to choosing a program that's right for you, knowing the skills and training that you can offer to underprivileged communities and people is absolutely vital. Additionally, you'll get to further your experience in your field of choice, which will help you with future work and aid your educational opportunities, leading to better, bigger and larger achievements that you never imagined.
Another interesting fact about IFRE gap year projects is that they doesn't require any prior training or experience—all you need is an open mind, passion, and a willingness to work hard with dedication and a great spirit. Choosing projects like animal conservation, teaching English, or social-work programs are great for expanding your horizons.
Abiding by the international travel regulations, and other legal formalities, IFRE doesn't offer any programs for the entire year in one single country (due to visa regulations), however, there are number of ways to create an interesting year abroad. In fact, we suggest using this opportunity to choose programs in multiple countries, working in each place for about 3 to 4 months. This will add up to an entire year, while allowing you to accumulate an immense amount of travel time in numerous places.
Year long volunteering abroad programs will also provide you the opportunity to explore and learn about the various cultures, making your time valuable and unique in each destination.
Another significant tip is that before you commit to a program, you need to evaluate associated costs. A cost-effective way to travel to multiple countries, is by selecting the countries that are either close to one another or bordered to one another. This saves you money on airfares, as it's much cheaper to fly or bus between two neighboring countries.
Take a minute to complete the form and we will be in touch.
Popular Year Long Volunteer Abroad Programs
IFRE offers a wide variety of volunteer programs so that we can match any person with the passion to volunteer with any project that needs support. Here we've listed some of our most popular programs for long term volunteers. We hope this will give you a good starting place for your abroad volunteer adventure.
Nepal
Teaching English To Buddhist Monks (Kathmandu)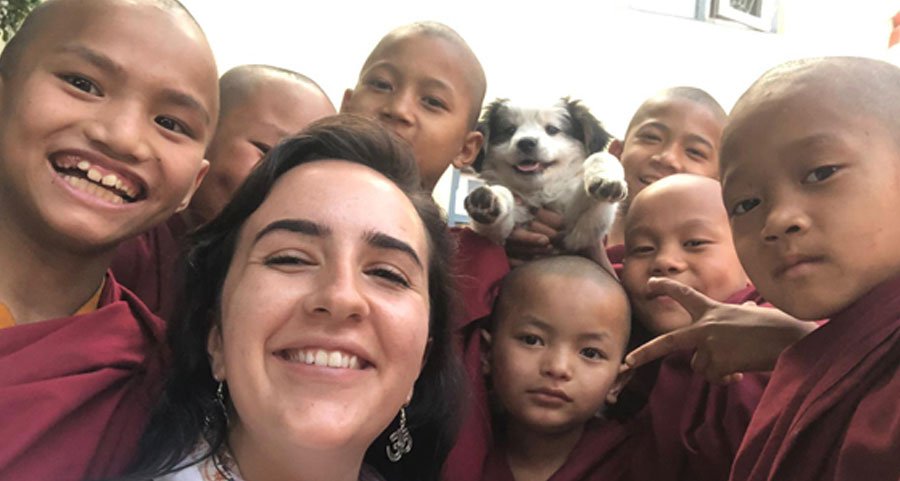 Many exiled Tibetans live in Nepal where they are free to practice their religion and rebuild their culture. As a result of this, there are several large monasteries around the mountains of Kathmandu where monks live and devote their lives to Buddhism. There is a great need for young monks to learn English so they can continue spreading their important peaceful teachings.
Teaching English to Buddhist monks is one of our best affordable yearlong volunteer programs. You will spend your weekdays teaching young monks in the Tibetan Children's Village schools or in a local monastery. You may also organize or assist with extra-curricular activities or administration needs or practice English in the evenings with older monks.
This program is particularly unique in that it will allow you to explore the Buddhist religion while giving back to a grateful population living in exile. When you donate your time to teach the monks English, you are helping them spread their important lessons to a modern and changing world. This will make a huge difference in both the lives of the monks and of those that come to them to learn the message of Buddhism.
To volunteer with Buddhist monks, please visit the site below and read over the program details. You may also contact us directly to let us know you're interest in this program and we will guide you through the rest of your application process.
Other Volunteer Opportunities in Nepal
Other volunteer opportunities in Nepal include supporting and caring for orphaned children, photojournalism, nature conservation, and more. Click the link to explore these other programs.
Sri Lanka
Work In An Elephant Orphanage (Pinnawala )
The elephants of Sri Lanka face constant abuse and are forced into logging activities, making them victims of poor tourism practices and unwanted domestication. These elephants need help from compassionate and caring volunteers like you to live better lives and keep the species healthy.
When you join this volunteer abroad yearlong conservation program, you will be assigned various responsibilities ranging from caring for the elephants to providing medical treatment. You may help feed, bathe and play with the elephants or provide your help on the organic farm each day, growing fresh vegetables and herbs. There is an after-school program that is also the part of this project, where you will be teaching English to the community to give them a better understanding for a sustainable future.
This wildlife experience will allow you to give back to animals in need. You will show a kinder version of humanity to some amazing elephants by ensuring their health, well-being and survival. You will also contribute to the project's future goal of providing elephant dung fertilizer to poor farmers, giving them an environmentally friendly way to grow their crops and offering the villagers a new perspective on human-elephant relations.
Join this animal movement and bring peaceful co-existence to Sri Lankan elephants. Learn more by following the link .
Other Volunteer Opportunities in Sri Lanka
There are a number of affordable long term volunteer program abroad in Sri Lanka that work with elephants. There are also other volunteer opportunities such as teaching English to Buddhist monks, assisting in healthcare efforts, and more. Follow the link for more information.
Take a minute to complete the form and we will be in touch.
Ghana
Health/Medical Projects (Kasoa)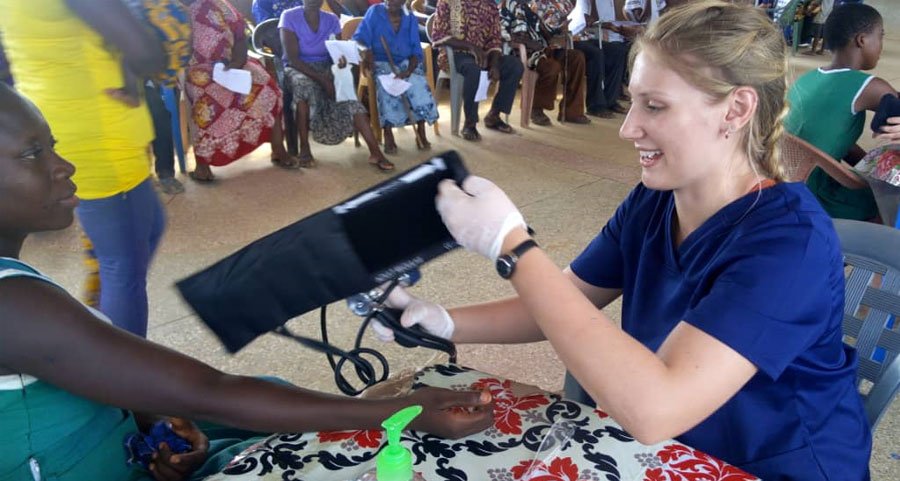 Ghana is an amazing country, but unfortunately the people of Ghana face threats of potentially life endangering diseases. Basic medical care that we often take for granted at home is often lacking in rural communities.
When you volunteer abroad in this year long medical program, you will offer medical assistance to professional staff and patients based on your level of training. You will also shadow doctors, support community outreach, and assist with administrative tasks. Volunteers should also expect to contribute to educational efforts regarding disease prevention, so people better understand basic healthcare practices.
During your time, you will impact individual lives as you increase access to basic healthcare for rural people, decrease the prevalence of endemic disease, and improve overall village health. You will learn about a different country's healthcare regime and the challenges that come with providing basic care and medical services in a developing country so that you may provide better care in the future.
Your role as a medical volunteer in Ghana will directly help deserving people in need and make a life-changing impact into people's lives. To learn more about this program, follow the link below or email us today.
Other Volunteer Opportunities in Ghana
Other year long volunteer abroad programs in Ghana that are available include working with HIV/AIDS patients and families, supporting orphaned children, teaching English and more. Click the link to learn about these alternative programs.
South Africa
Child Care Project (Cape Town)
In Cape Town, there is a big gap between rich and poor communities. Many low-income families struggle to survive on a daily basis due to poverty and must leave their children to fend for themselves while parents are at work.
Ghana's childcare project is one of the best affordable year long opportunities for students volunteering abroad. Volunteers in this program will help give these children the education and care they deserve to grow up well. Your responsibilities include arranging fun-learning activities, help and recreate children with gardening, developing sport activities, helping with day-to-day activities of project, helping children with their assignments and teach them conversational English.
Your work during this program will be very rewarding. Helping ensure these children get the love, education, and a good meal while in their childcare facility will have positive impacts on both the child's future success and the greater communities.
This affordable program abroad for gap year students requires hardworking and dedicated individuals! If you want to learn more, please continue reading about this program's details.
Other Volunteer Opportunities in South Africa
Other volunteer programs in South Africa include teaching English, promoting physical education, social welfare projects, and more. To see more details about other programs, please follow the link :
Take a minute to complete the form and we will be in touch.
Skill and Qualifications
Some of the best international long term abroad volunteer programs like healthcare, medical, and teaching English do have specific requirements. To work in healthcare, you must be a pre-med student, and to teach English you must be a fluent speaker.
Otherwise, the only requirement in general to participate in these volunteer opportunities is that you have an open-mind and passion for the project you are supporting.
To learn more about specific program and project requirements, please follow this link:
The Start Date(s)
All programs start on Mondays, although we will work with you if there's a travel conflict.
The Fee
IFRE is a non-profit organization trying to change the world. We promote global humanitarian efforts and volunteer experiences at the most affordable rate.
In general, IFRE asks for a $299 registration fee which goes toward paying for local support, airport transfers, program donations, etc. You will also be asked to pay a weekly program fee which is goes directly to your host family and service project.
Even with low program prices, IFRE maintains outstandingly high-quality volunteer programs. We do everything we can to ensure safe, fun, and meaningful volunteer abroad experience.
To learn about fees for year long international volunteer opportunities students, please follow this link:
Housing and Food
The housing and food accommodations you receive depend on your project and country. Most volunteers stay with at least one other same-gendered student with one of our wonderful host families. However, you may also be asked to stay in a shared volunteer house, hostel, or cabin.
Whichever safe and affordable gap year volunteer program you decide to join, our outstanding field staff will ensure that you are happy and comfortable in whatever type of accommodations you receive.
To learn more about specific accommodation and food, please follow this link or consult your project of interest's webpage:
How can you apply?
Volunteer applications are very straightforward. Apply online and submit your application to us. Once we receive your completed application, we will reach out to you within 24 hours.
To learn more about our application process, please read more here:
Why go with IFRE Volunteers?
IFRE Volunteers is a well-respected global non-profit whose goal is to make a real and lasting impact on the world through our volunteer programs. We are an experienced and honest organization. Established in 2006 and trusted by more than 22,000 volunteers, our year long volunteer abroad programs encourage community growth and change individuals' lives daily.
When you volunteer with IFRE, you know where your money goes because you pay your program fees directly to the locals involved in your project.
Despite being the most affordable program in the world, we still deliver impeccably high-quality and outstandingly safe programs. When you volunteer with IFRE, you'll form strong bonds with our unparalleled field staff and heart-warming host families, who will enrich your experience and make your time abroad worth so much more than you expected.
Learn more about why you should volunteer with IFRE here:
How can you go as a group?
If you are interested in volunteering abroad with a group on a yearlong program, you should contact IFRE directly so we can work with you to select and customize a project that suits your groups' interests, needs, schedule, and budget.
Take a minute to complete the form and we will be in touch.
You can also check out our amazing volunteer opportunities in Brazil, Ecuador, Bali, Zimbabwe and Morocco.
Check out 'A Complete Volunteer Abroad Guide: Everything You Need To Know' to learn more about what is volunteering abroad. If you want to know how to volunteer abroad for free, go through our Volunteer Abroad for Free article. If you are a college student and searching for meaningful summer volunteering programs, check out our popular articles Community Service Trips For College Students and Summer Volunteer Programs For College Students.
Other possibilities are featured in:
Volunteer Programs for Young Adults
Opportunities to Volunteer Abroad
Travel abroad volunteer program
Gap Year Volunteer Programs Abroad
One Month Volunteer Abroad Opportunities
International Volunteer opportunities for Adults
Best Volunteer Abroad Programs
Volunteer Work Abroad Programs
Legitimate Volunteer Abroad Programs
Long Term Volunteer Abroad Programs
Long Term Volunteer Opportunities Abroad
Short Term International Volunteer Opportunities
Photography Volunteer Opportunities Abroad
South America Volunteer Programs
Volunteer Abroad Building Projects
Best Place to Volunteer Abroad
Cheap Volunteer Abroad Programs
Safe volunteer abroad programs
Affordable Volunteer Abroad Programs
Top Volunteer Abroad Programs
Volunteer Abroad for Adults
Volunteer Programs Around The World
International Volunteer Opportunities
Sport Volunteer Opportunities
Social Work Volunteer Opportunities Abroad
Volunteer in Third World Countries
Volunteer in Poor Countries
Places To Do Volunteer Work
Senior Volunteer Opportunities Abroad
Volunteering Abroad for Older People
Best Countries to Volunteer
Bali volunteer opportunities
2-week Volunteer Abroad Programs
1 Week Volunteer Abroad
Volunteer Eco Students Abroad