Social Work Volunteer Opportunities Abroad
Have you always been fascinated by helping other people? Are you looking for a social work program while traveling abroad? Do you want to make a difference to the lives of the people that need help and care?
When you join social work volunteer opportunities abroad, you will enhance your life and many others. You can use your passion for the service work to contribute directly to communities in developing countries where individuals are in desperate need of better resources. This experience will foster your personal growth while letting you explore interests and other cultures.
IFRE offers a wide range of social work volunteer programs in many countries between Asia, Africa, South America, and Central America. We offer programs in teaching English, conservation, HIV/AIDS, medical and healthcare, caring for children, and many more. We aim to pair you with the perfect humanitarian project that will fit your needs and interests.
Join IFRE's volunteering opportunities to make a difference to the lives of underprivileged people. Ask for more information now!
Take a minute to complete the form and we will be in touch.
Table of Contents
Benefits of Joining Social Work Volunteer Opportunities Abroad
Popular Social Work Volunteer Opportunities Abroad
Skill and Qualifications
The Start Date(s)
The Fee
Housing and Food
How can I apply?
Why go with IFRE Volunteers?
How can you go as a group?
Benefits of joining IFRE's Social Work Volunteer Opportunities Abroad
Volunteering is serving others to make a difference to their lives. This may have a dramatic impact on your life, as well as your relationships with others. We've listed some of the common benefits of volunteering below:
Be part of your community.
Being in contact with other people is an integral part of a volunteer social work experience abroad. Volunteering gives you an idea of the reality other people are living. One of the benefits of volunteering is that it helps you work with communities.
Gain confidence.
Trying something new and helping others is what volunteering is all about. These programs help you build a real sense of achievement. It gives you a very close look at how your actions impact those around you. Also, being part of a volunteering program can make you feel proud and give you a sense of identity.
These aspects make you more likely to have a positive outlook on your life and will fill you with confidence.
Challenge yourself.
Social work volunteering opportunities overseas can challenge yourself to try something different, achieve personal goals and practice using your skills and discover hidden talents that were beyond your imagination.
This helps you achieve personal goals, set new ones and to be in a constant state of self-improvement.
Volunteering also makes you more self-aware, and pushes you to try your hands of new things that are out of your comfort zone.
Explore career paths.
If you are contemplating a career change, volunteer trips abroad in a social work are the excellent way to explore other fields you may be interested in.
Not only do they provide you with valuable experiences that can make you more competitive in your new work field, but they also give you insight into what working in the field will be like.
Meet new people and make new friends.
International volunteering can help you connect with loads of different people in a way not many extra-curricular activities can. You will be in constant contact with people from all walks of life, with different backgrounds, personalities and interests.
This will expand your social network. Learning about them and their stories is like diving into a pool of knowledge and growth!
Take a minute to complete the form and we will be in touch.
IFRE's Social Work Volunteer Opportunities Abroad
IFRE has an impressive track record, offering inspiring opportunities for individuals yearning to travel and give back. Read about some of our best quality volunteer opportunities below.
Ecuador
Street Children Project In Ecuador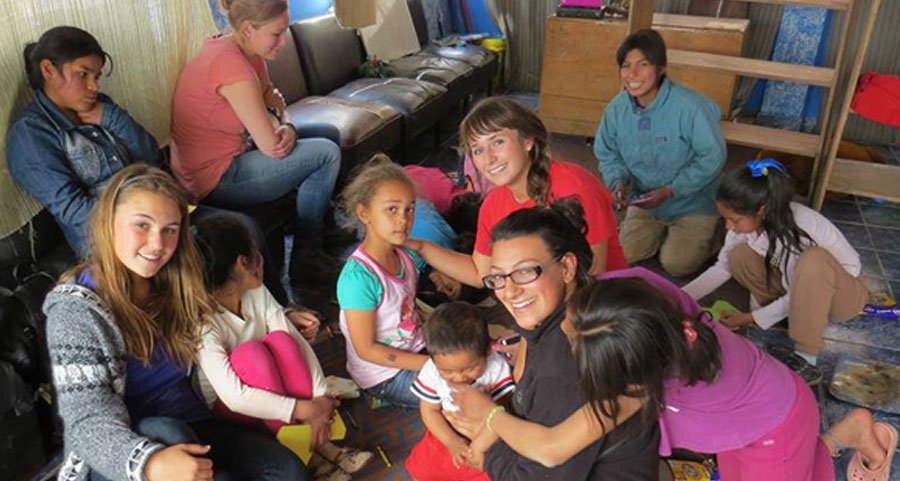 The children of Ecuador are struggling for survival. There are huge numbers of children who are forced to spend their lives on the streets of Quito. They face these consequences due to poverty, remoteness, abandonment, and other social hurdles that prevent them from living a safe, sustainable and a productive life.
For this reason volunteers are needed to provide respite for the children who are forced to live in dire circumstances. IFRE's social work volunteering programs overseas collaborate with various organizations in the rural and urban communities. As a volunteer, you will be working in close coordination with existing local organizations to provide hope and improve the living conditions of these children. Volunteers can indulge in activities such as teaching English, music, math's, computer related skills, and making them aware on issues of personal hygiene and sanitation.
When you volunteer with this program you will make an attempt to connect with disadvantaged children and inspire them to work towards a better future. Your time donated to these children will in itself be a great gift as so many of these young people deserve love and attention they never received. Not only this, but you will be helping these at risk children to readjust into society by laying a solid foundation for them to be happy, and productive members of the society.
Feeling inspired? Read more about working with street children in Ecuador today when you follow this program link for more details.
Other Volunteer Opportunities in Ecuador
Apart from the voluntary work in social work programs, IFRE offers a great variety of interesting Ecuador programs, such as the teaching opportunities abroad, adventure trips, family volunteer opportunities, community service trips for high school students, and animal conservation volunteering abroad projects.
Cambodia
Community Development Project in Cambodia
Throughout the years, Cambodia has suffered through much conflict and strife. Cambodia's rural populations over the years have experienced effects from conflict most severely and still struggle with social issues such as discrimination, poverty, health issues and low education levels. A lack of resources prevents the Cambodian government from reaching out to these people and rebuild their communities.
When you join this social work volunteering program abroad in Cambodia, you will be involved in multipurpose and extremely diverse tasks. These include helping communities in applying for land rights, assisting in writing reports and proposals for fundraising, helping with building infrastructure and establishing land and fishery communities in the Pursat province.
This is a huge undertaking, and various projects and initiatives are underway to help these populations achieve a fairer society. Your contribution to these communities will change the lives of these people. Through your efforts, you will help reduce poverty and build education and confidence levels amongst local community leaders.
If you want to learn more about this exciting opportunity to contribute to community development through social work volunteer opportunities, please keep reading about more details on the main program page. You can also reach out to use directly with questions or concerns.
Other Volunteer Opportunities in Cambodia
Other volunteer opportunities in Cambodia include teaching English to rural school students, supporting medical staff in healthcare initiatives, caring for orphaned children, and more. To see a full list, please go to:
India
Women Empowerment Project in India
India has made its mark as one of the fastest developing economies in South East Asia, yet gender discrimination looms large, and continues to be an existing social problem. Primarily women and young girls in India fall prey to poverty, social division and superstitious beliefs. This is due to extreme poverty, illiteracy, and lack of social awareness.
This social work volunteer opportunities abroad aims to help these destitute and impoverished women and girls in India by focusing on micro-financing and other means to uplift their quality of life. Your role in the this program is to help these disadvantaged women self-reliant by assisting them in developing skills in handicrafts, such as knitting, making paper bags and stitching.
Here, you will be giving these women not only life related skills, but the much-needed confidence to earn their own living and to be a strong support for their children's education. These experiences will not only give you a sense of accomplishment, but also empower these women to lead a confident life in a promising environment.
If this program sounds like something you may want to explore, we invite you to read more about project details at this webpage :
Other Volunteer Opportunities in India
Other volunteer opportunities in india include supporting medical staff for healthcare initiatives, supporting families and patients affected by HIV/AIDS, working with children at risk, and more. To see all the programs we offer in India, please go to this link:
Take a minute to complete the form and we will be in touch.
Nepal
Social work volunteer opportunities abroad in Nepal Orphanages
Nepal is a country, with the majority of its population living under extreme poverty. This has resulted in large number of children being orphaned at a very young age. In order to survive, they have nowhere to turn to except to the orphanages. There is very little or no help from the government, which is turning this situation from bad to worse. The orphanages in Nepal do their best in raising the children, however, it's not enough; they are short of funds and resources and need the help of volunteers.
Your role in the social work volunteer abroad program works towards making life more simple and easier by providing love and support, alongside mentoring daily life skills and education. You may assist children in their homework and school related assignments. You can also arrange for extracurricular activities such as dance, music, poetry, painting, arts and crafts and sports.
Your time spent working with orphans in Nepal will be so incredibly rewarding. You will help these children feel loved and appreciated, validating their self-worth and inspiring them to work toward a brighter future despite their tough beginnings. You will be touched by how loving these children are when you work with them daily.
If this project in abroad social work volunteering sounds like the right fit for you, please contact us today. You can also view more project details such as price and accommodation on the website :
Other Social Work Volunteer Opportunities Abroad in Nepal
Other opportunities for volunteer programs in Nepal include teaching English to Buddhist monks, contributing to healthcare, and more. To see a full list of opportunities for volunteering in Nepal, please follow the link
Costa Rica
Sea Turtle Conservation Project (Pacuare)
Costa Rica is rich in its biodiversity, marine life and natural beauty. However, illegal fishing, hunting, construction work, and high impact tourism have seriously threatened marine ecosystems. Sea turtle populations in Costa Rica are declining. These magnificent and important creatures need your help for protection!
Working with conservation specialists in Pacuare is a great volunteer abroad social work opportunity. In this program, you to work in collaboration with local staff to protect and care for marine life in Costa Rica. Your role as a volunteer includes protecting areas where turtles lay eggs, catching turtles for tagging, cleaning beaches, and more. You will also get to learn and do community outreach about marine ecosystems and their flora and fauna.
Embarking on this conservation project will give you the experience of a lifetime. You will make a difference in the livelihood of these beautiful turtle species, which in turn indicates a healthier marine ecosystem. Apart from the service-learning aspect of this program, you will also get to experience the vibrant local culture and pristine beaches.
If you are a someone with a strong passion for species conservation, then this may be the program for you! To learn more about this amazing opportunity to help sea turtles, please follow this link:
Other Volunteer Opportunities in Costa Rica
If you would like to explore affordable volunteer programs, such as teaching English, working with children, and supporting healthcare efforts just follow this link to read about all the opportunities IFRE offers:
Take a minute to complete the form and we will be in touch.
Skill and Qualifications for social work volunteer opportunities abroad
While it definitely helps to have existing skills and training in social work, there are no specific requirements beyond an open-mind and passion for service work to volunteer abroad with IFRE.
Other programs, such as medical and healthcare related project do require that you are a medical student or practicing medicine. For more information, follow the link below:
The Start Date(s) 
All of our abroad programs for social work volunteers begin on Monday. If you cannot arrive on a Monday due to travel constraints, please let us know and we will work with you to select a more fitting start date.
The Fee
Because IFRE is a non-profit organization trying to change the world, we believe in promoting international humanitarian efforts and volunteer experiences at the most affordable rate while volunteering in social work programs abroad.
There are two fees: a registration fee and a program fee. When you sign up for a volunteer opportunity, IFRE will ask that you pay a $299 registration fee which goes toward supporting IFRE staff, marketing, donations, and local support. IFRE also asks that you pay a separate program fee, which goes directly to your host family and community project. The program fee is paid on a per week basis.
Even with low program prices, IFRE maintains outstandingly high-quality volunteer programs. We do everything we can to ensure safe, fun, and meaningful volunteer abroad experience.
Housing and Food for social work volunteers abroad
Housing and food accommodations vary with each project.
The majority of our volunteers stay with carefully selected homestay families, who will enhance your experience abroad and provide you with emotional support throughout your volunteer opportunity. The families will also ensure that you are well fed by preparing traditional meals for you throughout the day.
Some projects do not have the option for homestay families. In those cases, volunteers will stay in hostels, volunteer houses, or cabins. Meals vary within these options.
To learn more about specific food and housing details, please visit your project's main page, read more details by following this link, or contact us directly.
How can you apply?
All of our volunteer applications for social work volunteering opportunities are quite simple and straightforward. Just go to the online volunteer application, fill it out appropriately, and then submit it back to us. We will be in touch with you within 24 hours of your application submittal.
Why go with IFRE Volunteers for social work volunteer opportunities abroad?
IFRE Volunteers is a well-respected global non-profit whose goal is to make a real and lasting impact on the world through our volunteer programs. We are an experienced and honest organization. Established in 2003 and trusted by more than 22,000 individuals, our programs encourage community growth and change individuals' lives daily.
We are committed to offering the lowest cost and highest quality volunteer programs on the market, which enables more volunteers to serve humanity and have a once-in-a-lifetime experience. What's more, when you volunteer with IFRE you know where your money goes because of our transparent registration and program fees paid directly to community hosts.
Our programs are safe, and they make an impact. When you volunteer with IFRE, you'll form strong bonds with our unparalleled field staff and heart-warming host families, who will enrich your experience and make your time abroad worth so much more than you expected. You will leave your program filled with satisfaction, knowing that you made a real difference working toward an effort bigger than yourself.
How can you volunteer in social work volunteer programs abroad as a group?
There are so many benefits to volunteering abroad in a group, and IFRE would like to work with you and your volunteer companions to ensure that you are making the biggest impact with your groups skills and talents while still selecting a project that fits everyone's needs and interests.
To organize a group social work volunteer opportunities abroad, please contact us directly today.
Take a minute to complete the form and we will be in touch.
You can also check out our amazing volunteer opportunities in Brazil, Bali, Zimbabwe and Morocco.
Check out 'A Complete Volunteer Abroad Guide: Everything You Need To Know' to learn more about what is volunteering abroad. If you want to know how to volunteer abroad for free, go through our Volunteer Abroad for Free article. If you are a college student and searching for meaningful summer volunteering programs, check out our popular articles Community Service Trips For College Students and Summer Volunteer Programs For College Students.
Other possibilities are featured in:
Volunteer Programs for Young Adults
Opportunities to Volunteer Abroad
Travel abroad volunteer program
Gap Year Volunteer Programs Abroad
One Month Volunteer Abroad Opportunities
International Volunteer opportunities for Adults
Best Volunteer Abroad Programs
Volunteer Work Abroad Programs
Legitimate Volunteer Abroad Programs
Long Term Volunteer Abroad Programs
Long Term Volunteer Opportunities Abroad
Short Term International Volunteer Opportunities
Photography Volunteer Opportunities Abroad
South America Volunteer Programs
Volunteer Abroad Building Projects
Year Long Volunteer Abroad Programs
Best Place to Volunteer Abroad
Cheap Volunteer Abroad Programs
Safe Volunteer Abroad Programs
Affordable Volunteer Abroad Programs
Volunteer Programs around World
Best International Volunteer Opportunities
Volunteer in Third World Countries
Volunteer in Poor Countries
Places To Do Volunteer Work
Senior Volunteer Opportunities Abroad
Volunteering Abroad for Older People
Best Countries to Volunteer
Bali volunteer opportunities
2-week Volunteer Abroad Programs
1 Week Volunteer Abroad
Volunteer Eco Students Abroad