Sport Volunteer Opportunities
Are you a physically active person with a passion for teaching and sharing your love for sports? Have you ever considered volunteering as a way to connect with other people and travel the world? Are you aware of IFRE's sport volunteer opportunities?!
When you join a sport volunteer opportunity, you will have an incredible life-changing experience. Through sports programs, you will help you spread the message of active physical involvement for people's wellbeing while giving back to kids in need. You will broaden your personal and professional horizons through this unique immersion experience and feel rewarded as you contribute to making the world a better place.
IFRE has tailor made programs designed to suit your interests and needs. If you are really interested in doing something meaningful during your summer or winter break, IFRE has some exciting and affordable volunteer options for you that include a wide variety of programs and projects (more than 200) that span across the globe.
If you are interested in sport volunteering opportunities for youth, we invite you to join some amazing and affordable programs that may be a perfect fit for you. Ask us now for more information!
Take a minute to complete the form and we will be in touch.
Table of Contents
Benefits of Joining Sport Volunteer Opportunities
Popular Sport Volunteer Opportunities
Skill and Qualifications
The Start Date(s)
The Fee
Housing and Food
How can I apply?
Why go with IFRE Volunteers?
How can you go as a group?
Benefits of joining IFRE's Sport Volunteer Opportunities
Volunteering abroad has many benefits for the community you work with, the country you work in and the people you interact with. The programs not only benefit others in need, but, there are significant benefits for the volunteer who dedicates their time to volunteer!
A feeling of empowerment
The decision to be involved in a volunteer opportunity abroad provides you the chance to give people a whole new set of information that will allow them to grow and therefore, provide them with a sense of empowerment. Through this altruistic task you will also gain a sense of empowerment.
Provides inspiration and motivation
Whatever the age, skill level or background, you have, your role during a sports volunteering abroad program will inspire and motivate, as you will be the person that improves their skill set and overall game. Your presence and advice will inspire and motivate them to accept challenges and bring a smile to face.
Gain a sense of purpose
There are a variety of benefits attached with a sense of purpose. Being part of a volunteer program not only helps individuals, but contributes to the whole community, especially the distraught and disadvantaged.
Your presence will encourage more people in the community to become physically active, improving the wellbeing of the whole community and providing a sense of purpose.
Gain real experience
Being involved in sports not only benefits the community and the people, but you as well. Volunteer sports coaching opportunity abroad not only gives you a chance to teach and coach others about something you are passionate about, but gives you real experience to improve yourself as a coach.
Looks good on your resume
Bing actively involved in an international volunteer program teaches you a thing or two about being a coach. Often time's volunteers include their experience on their resume, which can help them get better jobs. The volunteering experience shows employers that you are proactive and want to make a difference in the world.
Connects you with people and culture
You will be directly in touch with local communities and individuals while working as a abroad. It is a meaningful way to travel and you get to explore the world and different cultures as well as gaining access to communities and places that you would have never otherwise visited.
Take a minute to complete the form and we will be in touch.
IFRE's best affordable Sport Volunteer Opportunities
IIFRE over the years has provided meaningful, diverse and proactive sports coaching abroad programs for interested individuals all around the world. If you are looking for the same kind of opportunities, then IFRE has two wonderful opportunities to choose from described below.
Brazil
Youth Project in Brazil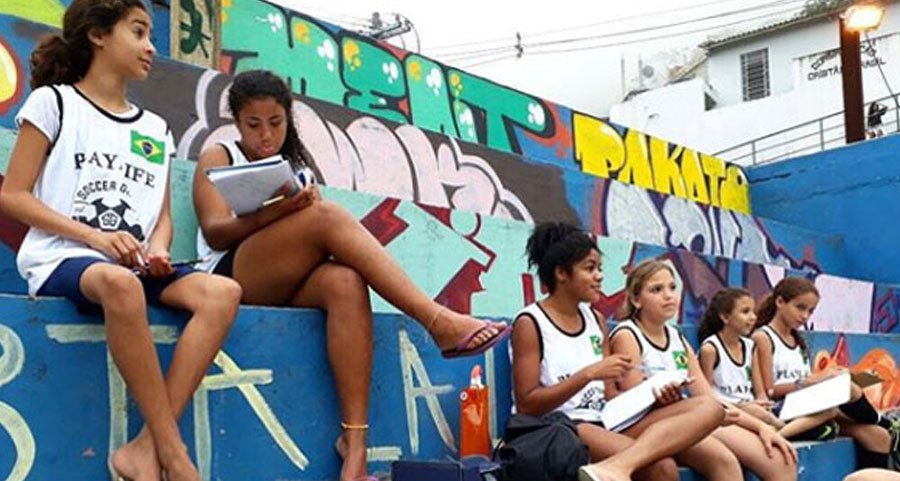 Vibrant culture and sports are an inseparable part of Brazilian the lifestyle. However, the children living in favelas, or very poor communities, are deprived of playing sports as they do not have access to coaches or facilities.
As a volunteer in the Youth Athletics in Brazil internship, you will assist local schools and community centers with sports programs and games. You will lead and coach local children in a wide variety of sports, such as football (soccer), volleyball, skateboarding, circus training, martial arts and more. You may also use your English skills and speak with the children.
When you work with children and young adults through physical education in a sport volunteer trip abroad, you help them develop their skills and igniting a passion for sports. This could open opportunities for them in future, such as pursuing a sports career or giving back to their community through sporting events or volunteer teams.
If you would like to learn more about the Brazil youth project, please visit the page below for more details or contact us for more information.
Others Volunteer Opportunities
In Brazil, there are other opportunities besides sport volunteering. You can also contribute to medical projects; work with orphaned children, support community development projects and much more. To view all the volunteer programs we offer in Brazil, please follow this link:
South Africa
Physical Education Project in South Africa
South Africa is known for its colorful wildlife and for producing world class athletes of the highest caliber. For this reason it is a great country to be a volunteer sports coach. You will primarily work in this sport program during weekdays in Cape Town, one of the most beautiful cities in the world.
Volunteers will help coach at a local gym, camp or school and help with a variety of underfunded and mismanaged projects. You will meet new people and helping them with basic sports coaching, fitness training, providing health awareness tips and contributing to team building exercises. All these experiences will help change your perspective on life.
When you support the children in South African communities, you will feel rewarded knowing that you are setting a great example for them. As you poor time and energy into playing sports with them, you show them healthy ways to express emotions, work through trauma, learn new skills, communicate with others, and support their team and community. These skills not only help keep kids safe and healthy, but also will help them obtain better careers in the future.
Contact IFRE today or go to our program page below to learn more about these affordable and amazing opportunities!
Other Volunteer Opportunities
Besides sports coaching volunteering abroad opportunity, IFRE offers a number of other volunteering programs, including under 18 volunteer abroad programs, animal conservation volunteer abroad projects, volunteer at orphanages abroad project, volunteer abroad opportunities, and volunteer abroad for children, and many others.
Take a minute to complete the form and we will be in touch.
Skill and Qualifications for Sport Volunteer Opportunities
While IFRE medical and English teaching volunteer programs do have specific requirements, our sports programs only require that volunteers arrive with an open-mind and passion for their project. To learn more about specific project requirements, please click here.
The Start Date(s) 
All of our volunteer programs begin on Mondays. If you cannot arrive on a Monday due to travel constraints, we will work with you to select a start day.
The Fee
Because IFRE is a non-profit organization trying to change the world, we believe in promoting international humanitarian efforts and volunteer experiences at the most affordable rate when you volunteer abroad in a sport program.
There are two fees: a registration fee and a program fee. When you sign up for a volunteer opportunity, IFRE will ask that you pay a $299 registration fee which goes toward supporting IFRE staff, marketing, donations, and local support. IFRE also asks that you pay a separate program fee, which goes directly to your host family and community project. The program fee is paid on a per week basis.
Even with low program prices, IFRE maintains outstandingly high-quality volunteer programs. We do everything we can to ensure safe, fun, and meaningful volunteer abroad experience.
Housing and Food for Sport Volunteer Opportunities
We understand that your accommodations can make or break your volunteer experience. Each volunteers' housing will depend on their project. Many projects offer homestay opportunities to their volunteer students. Others, however, will stay in volunteer houses, cabins, or hostels if homestays are not an option.
If you stay in a homestay you will receive traditional meals 2-3 times a day. Other meal accommodations may vary with housing type.
No matter where you lodge, IFRE's amazing field support will ensure that you feel safe, happy, and comfortable during your time volunteering abroad.
How can you apply?
You can apply to an IFRE sport volunteering program overseas through our straightforward online applications. All you have to do is fill out the form and then submit it to us. We will contact you within twenty-four hours of receiving your application submittal.
Why go with IFRE Volunteers?
IFRE Volunteers is a well-respected global non-profit whose goal is to make a real and lasting impact on the world through our sport volunteer opportunities and other volunteer programs. We are an experienced and honest organization. Established in 2003 and trusted by more than 22,000 individuals, our programs encourage community growth and change individuals' lives daily.
We are committed to offering the lowest cost and highest quality volunteer programs on the market, which enables more volunteers to serve humanity and have a once-in-a-lifetime experience. What's more, when you volunteer with IFRE you know where your money goes because of our transparent registration and program fees paid directly to community hosts.
Our programs are safe, and they make an impact. When you volunteer with IFRE, you'll form strong bonds with our unparalleled field staff and heart-warming host families, who will enrich your experience and make your time abroad worth so much more than you expected. You will leave your program filled with satisfaction, knowing that you made a real difference working toward an effort bigger than yourself.
How can you volunteer as a group for sport volunteering opportunities?
Volunteering as a group can have many benefits! If you would like to organize a group volunteering opportunity, please contact IFRE directly. We work with groups to ensure that group needs, and interests are met while pairing you with an organization that has high needs for resources and support.
Take a minute to complete the form and we will be in touch.
You can also check out our amazing volunteer opportunities in Ecuador, Bali, Zimbabwe and Morocco.
Check out 'A Complete Volunteer Abroad Guide: Everything You Need To Know' to learn more about what is volunteering abroad. If you want to know how to volunteer abroad for free, go through our Volunteer Abroad for Free article. If you are a college student and searching for meaningful summer volunteering programs, check out our popular articles Community Service Trips For College Students and Summer Volunteer Programs For College Students
Other possibilities are featured in:
Volunteer Programs for Young Adults
Opportunities to Volunteer Abroad
Travel abroad volunteer program
Gap Year Volunteer Programs Abroad
One Month Volunteer Abroad Opportunities
International Volunteer opportunities for Adults
Best Volunteer Abroad Programs
Volunteer Work Abroad Programs
Legitimate Volunteer Abroad Programs
Long Term Volunteer Abroad Programs
Long Term Volunteer Opportunities Abroad
Short Term International Volunteer Opportunities
Photography Volunteer Opportunities Abroad
South America Volunteer Programs
Volunteer Abroad Building Projects
Year Long Volunteer Abroad Programs
Best Place to Volunteer Abroad
Cheap Volunteer Abroad Programs
Safe Volunteer Abroad Programs
Affordable Volunteer Abroad Programs
Volunteer Programs around World
Best International Volunteer Opportunities
Social Work Volunteer Opportunities Abroad
Volunteer in Third World Countries
Volunteer in Poor Countries
Places To Do Volunteer Work
Senior Volunteer Opportunities Abroad
Volunteering Abroad for Older People
Best Countries to Volunteer
Bali volunteer opportunities
2-week Volunteer Abroad Programs
1 Week Volunteer Abroad
Volunteer Eco Students Abroad