Eco-Agriculture Volunteer in Costa Rica (Coffee Farming)
Are you interested in learning about sustainable agriculture and willing to get your hands dirty? Would you like to travel to the tropical country of Costa Rica and learn about the origins of coffee? Join IFRE and volunteer abroad at an organic coffee farm!
Costa Rica has beautiful nature, friendly people, and is one of the top three countries in the world that is known for its delicious coffee. Coffee is king here, with 28% of the Costa Rican workforce involved in the industry. This is the ideal location to volunteer working on a sustainable coffee farm!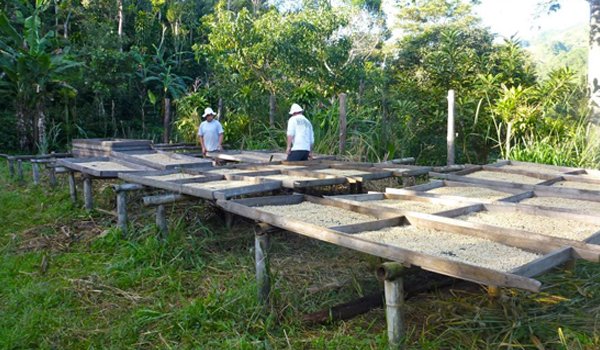 However, if not grown sustainably, coffee farming can seriously erode the soil it is being grown in, which leads to further environmental issues that eventually impact humans. This is a real problem as there are currently 100 coffee trees growing for every person living in Costa Rica, and nearly 70,000 farms. The quality of life and treatment of migrant workers on some large coffee plantations is also cause for concern.
Join IFRE's Eco-Agriculture project in Costa Rica in the Monteverde Cloud Forest or Brunca region of the Talamanca Mountains. Here, you will learn sustainable and ecological practices and work hands-on implementing them while taking an active part in all stages of coffee production. Dig your hands into the mountain soil and sow the seeds of change!
Do you want to learn about sustainable agriculture and help spread better farming practices across Costa Rica? Then contact IFRE today to learn more about Eco-Agriculture volunteering in Costa Rica!
Volunteer Responsibilities & Impact
In this program, you will work alongside the local community of farmers and help them with sustainable farming and environmental conservation. You will provide support and an extra pair of hands at every step of coffee production - growing, harvesting, and processing. This includes working in the nursery, coffee-picking, weeding, planting shade trees, and even roasting and packaging the final product for local and international sales.
The project also works with municipal forests by building trails, as well as promoting newer conservation programs. There are opportunities to participate in reforestation efforts, creative marketing, maintenance work, educational eco-tourism and other community activities. Volunteers will work 3-4 hours per day Monday to Friday. Work hours many be in the morning, afternoon or evening depending on the project.
Skills and Qualifications:
While volunteering in Costa Rica at a sustainable coffee farm, you will be working outside in the sun. You will be standing, squatting, lifting, and doing a lot of physical labor, so you need to be in shape and ready to work hard. You do not need any prior experience but you need to have a passion for the environment and sustainability. This is a great chance to get your hands dirty and learn something new!
Speaking Spanish will greatly enrich your time abroad in Costa Rica, though it is not mandatory. If you want to learn Spanish or improve your skills, we highly recommend you enroll in our Spanish Immersion classes. We offer them while you volunteer, so it's super convenient for you and a great opportunity!
Volunteers also need to be at least 16 years or older to join this program on their own. Volunteers below the age of 18 years old will need parental consent and those below the age of 16 years old need to be accompanied by their parent, guardian or faculty leader if they wish to volunteer.
Volunteering on a coffee farm is a greatly rewarding experience as each day will be filled with fun and learning as you work hard to protect the environment in Costa Rica and the world.
Your actual daily schedule will vary based on what's going on at the Costa Rica coffee farm volunteer project at the time you are there, and you will receive more details on the actual hours you'll be working in your orientation.
Keep an open mind when it comes to scheduling and know that in Costa Rica things tend to unfold in their own time, and probably not at the hurried pace you are used to back at home. The locals refer to it as "Tico Time" and it should be taken with patience, good humor, and a smile.
First Day : Our in-country coordinator will bring you to the coffee farm, where you'll be staying on-site. You'll meet the great local project staff and have an orientation. You'll learn all about your service work on the farm, your daily schedule, safety measures to follow, and the customs and culture of Costa Rica.
Weekdays : Your farming work begins on the second day, and your schedule is going to vary. A typical day might look something like this:
7.00 to 7.30 AM : Have a delicious local breakfast with your fellow volunteers. Some of the things you eat likely come right from the farm!
7.45 AM: Get ready for a fun day of digging in the dirt and helping things grow! Learn sustainable practices and work around the farm.
12.00 PM: Take a break for lunch. This is a great chance to bond with fellow Costa Rica volunteers or make friends with the local project staff.
3.00 PM: After a hard day's work, you'll be ready to relax and take in your beautiful surroundings. Take the time to bond with other volunteers and make friends from around the world!
Fees & Program Dates
Program Dates
IFRE programs begin every Monday year-round. If you have travel constraints, you can still start your chosen program on any day of the year.
Volunteers can participate in our program from 1 week up to 12 weeks
Fees
Since 2006, IFRE has been the most trusted and respected volunteer abroad organization in the world, and also the most affordable. We're dedicated to providing the highest quality volunteer programs at the lowest fees, which make it possible for everyone, especially students, to volunteer internationally and make a positive impact on the lives of others.
We believe in 100% transparency. Rest assured, we never use middlemen. Your one-time registration fee of $299 covers our administrative costs. The low weekly fee is paid in the host country directly to your host family and project (via country coordinator), and includes housing, food, and minor expenses. IFRE is a non-profit organization, so your program fees are tax deductible.
Volunteer Program Fees (US$)
| Duration | San Jose | Manuel Antonio |
| --- | --- | --- |
| 1 Week | - | - |
| 2 Weeks | $900 | - |
| 3 Weeks | $1,265 | $1,415 |
| 4 Weeks | $1,600 | $1,760 |
| 5 Weeks | $1,870 | $2,030 |
| 6 Weeks | $2,140 | $2,300 |
| 7 Weeks | $2,410 | $2,570 |
| 8 Weeks | $2,680 | $2,840 |
| 9 Weeks | $2,950 | $3,110 |
| 10 Weeks | $3,220 | $3,380 |
| 11 Weeks | $3,490 | $3,650 |
| 12 Weeks | $3,760 | $3,920 |
Comprehensive Travel Insurance $3.49/day »
Spanish Immersion Classes
Manuel Antonio, Costa Rica - $150/week
San Jose, Costa Rica - $125/week
Program Fees Cover:
Shared Accommodation with host family

2 meals per day (Breakfast & Dinner)

Airport Pick up

In-country support

Program Orientation

Project Management

Volunteer Certificate

Discount for returning volunteers
Program Fees Exclude:
Visas

Airfare

Personal expenses such as soft drinks and snacks

Daily transportation

Airport return transfer
The volunteering in Costa Rica program fees will cover expenses that will begin on the first day of the program to the last day of the program. If you arrive before the first day of the program or you decide you stay beyond your program's last day, you will be responsible for any additional expenses.
Accommodation and Meal
Our Eco-Agriculture volunteers in Costa Rica will stay with one of our socially respected and experienced host families and you will be provided with comfortable accommodations. With the welcoming local host family, you will get a wonderful opportunity to immerse yourself in the culture.
You can expect to share rooms with other volunteers of the same gender which provides a great chance to make friends from around the world. Volunteer rooms are basic, clean and comfortable, and you will have access to showers, hygienic toilets and electricity. The volunteer project may be walking distance from the accommodation or require public transportation.
Volunteers will be provided with 2 local meals a day (breakfast and dinner). We accommodate vegetarian needs but not special dietary requirements.
Read more about the accommodation and meals offered on the coffee farm.
Free Time and Weekend Exploration
San Jose, Costa Rica has a lot of cultural offerings like museums, theaters, live music, great restaurants, and a historical downtown shopping area. The city is also the perfectly located to facilitate day and weekend trips to surrounding areas like volcanos, the cloud forest, rainforests, beaches, mountains, waterfalls, and more.
Discover what to do in your free time in Cortes, Costa Rica.
Costa Rica Eco-Agriculture Volunteer Opportunities: FAQs
IFRE takes care of all those little details needed to plan the perfect Costa Rica volunteer trip. Here are some of the things you should know when traveling abroad with us:
Arrival and departure
You will fly into Juan Santamaria International Airport in San Jose, Costa Rica. Make sure you have sent us your correct flight details so that we can pick you up without any delay. Our airport representative will pick you up at the airport and transfer you to your placement.
IFRE doesn't offer departure transport services.
Visa
You will need to apply for a tourist visa in advance. Do some research ahead of time and find out the requirements for someone from your home country. Some volunteers are eligible for an on arrival visa depending on the nationality. A 90 days visa extension facility is available. Please visit Immigration site of Costa Rica and get more detailed information.
Vaccination
The first step for protecting yourself while traveling abroad is getting up to date on your vaccines. Please consult a travel doctor who is knowledgeable about current health issues and epidemics in Costa Rica. You can also find the information on Centers for Disease Control and Prevention, Global Health Canada or in Travelers' Health United Kingdom.
We highly recommend that you get all the necessary vaccinations before heading to Costa Rica for volunteering in our program. You should be up to date on your routine vaccines, as well as Hepatitis A & B and Typhoid.
For further readings:
Safety tips for your volunteer abroad trip
Why join IFRE's Costa Rica Eco-Agriculture volunteer program?
Volunteering at a coffee farm is a great way to immerse yourself in the local culture, fulfill your passion for helping the environment and meet amazing like-minded people.
Learn sustainable farming practices
If you'd like to do sustainable farming or gardening of your own, or if you'd like to just learn more about ecological ways to reform the world's food systems, this is a valuable educational opportunity.
Promote sustainable tourism
Every time you travel and make ethical and responsible choices, you are helping support and promote a more sustainable tourism industry. Volunteering abroad is an amazing way to make this happen, and so are the efforts being made on this small, organic coffee farm.
Get your hands dirty
If digging your hands into rich, fertile soil and seeing what you can grow sounds like your idea of a good time, this is the Costa Rica volunteer project for you. This is a fully hands-on experience, so expect to dig right into a variety of sustainable farming practices.
Help promote sustainable coffee production
No one wants Costa Rica to stop producing those heavenly Arabica beans, but coffee farmers in this small country need to adopt sustainable practices to keep up with the world's demand in a way that is good for Earth. Join the efforts to develop a working- model other farmers can adopt, ensuring a more sustainable future for coffee in Costa Rica.
Experience a new culture
Coffee has long been near and dear to the hearts of the Costa Rican people. It is an important part of their culture, and their heritage. Experience this unique aspect of Tico life from the ground up at this exciting project.
Contact IFRE today to learn more about volunteering at a coffee farm in Costa Rica!
Other Volunteering Opportunities in Costa Rica
If you're not ready for volunteering at a farm, there are other ways for you to make a difference in Costa Rica. You can choose from among our various projects like:
Contact IFRE today to learn more!
Other Sustainable Agriculture Projects Worldwide
In order to preserve the planet and the amazing biospheres therein, IFRE arranges conservation projects in many different countries, the most popular of which are listed below: