Teaching Project (Cortes)
>
>
>
Volunteer Teaching English (Cortes)
Volunteer Teaching English (Cortes)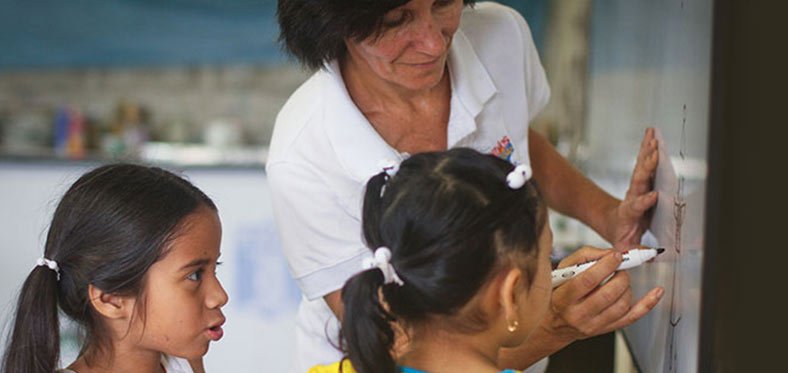 Project Summary
The teaching English project involves one of two placements, taking into consideration the volunteers wants and needs of the community. The first project involves assisting in teaching English at local schools. The second project involves teaching adults in the community, as they are in search of work, and gaining new skills to be able to provide for their families. Most higher-paying jobs require some level of skill in the English language. English language is a vital necessity in the Costa Rican job market, and for this reason, English is now being taught throughout the school systems. The problem is most of the teachers are not native and students often exit school with little or no grasp of the English language. Volunteers in the teaching project have all national Costa Rican holidays and breaks according to the Ministry of Public Education's calendar.
Skills/Qualifications Needed
Beginner/Intermediate Spanish is preferred (but not mandatory). If the volunteer does not speak any Spanish, we suggest that he/she enrolls in our Spanish language course we offer to all volunteers to help them become familiar with the native language and feel more comfortable communicating. It will also, make the project and volunteering more rewarding on everyone's part.
There are NO specific educational qualifications needed to join this volunteer project in Costa Rica. All volunteers are expected to be open-minded, flexible, patient, and to a passion to of service to the community and bring happiness to a much needed part of the world. The volunteers must have an intermediate to advanced command of the English language.
Volunteer Responsibilities
Volunteers on this project will be self-starters,(able to recognize what needs to be done and get it done). To be as helpful and caring as possible in the teaching environment. A positive, caring, and loving nature and attitude is desired. Volunteers will primarily be focused on teaching conversational speaking, Basic English language business skills, vocabulary and grammar. Volunteers will be determined on a case-by-case basis their lesson plans in accordance with the adult's personal reasons and needs for learning the language. One will be assisting the teachers in local schools these lessons will be to help with pronunciation, sentence structuring, basic vocabulary, spelling, colloquialisms, culture, and basic communication skills.
Accommodation/Food/Supervision
Volunteers on average stay with well-screened host families or at a group housing facility, depending mainly on the availability and if the volunteer has a preference. Volunteers who do have a preference should contact the in-country coordinator know as soon as possible in their application. We will do our very best to see that the accommodations are performed.
Our group housing offers the volunteers a unique experience by allowing them to meet others who are volunteering from all over the world. This allows them to gain a sense of community and make new friends and become part of the volunteering community. Our host families are screened, and have a long standing reputation in the community as well as social respect. Host families are also very accustomed to hosting internationally. Both host families and group housing offer a safe and secure home with private rooms (occasionally rooms will be shared with same-gender volunteers) and shared bathroom facilities to include running water. Volunteers have the ability to do laundry at the house or have it done locally for a nominal fee. Volunteers receive three meals a day at their accommodations which include traditional Costa Rican cuisine.
Our local staff is available throughout the entire volunteers' project. They are available either with an arranged visit or via email/phone. These methods depend on the volunteers' project schedule and availability. Volunteers are always welcome at our local office during normal business hours. (It is usually located inside the in-country coordinator's home.) We request that volunteers stop by the office once a week to keep our staff informed and updated. If the project is out of the general area of the office (remote or rural) then our staff maintains communication through email/or phone.
Learn more about Costa Rica programs