Costa Rica Volunteer Trips to help Indigenous Tribe
Have you always been fascinated by indigenous tribes and want to help them preserve their ancient way of life? How would you like to travel to the rainforests of Costa Rica to do it? Join IFRE in our volunteering CostaRica trip to help indigenous tribe!
Costa Rica is a world of beautiful jungles, mountains, beaches, rivers, and waterfalls, and this land was once inhabited by a wide range of fascinating and varied indigenous people.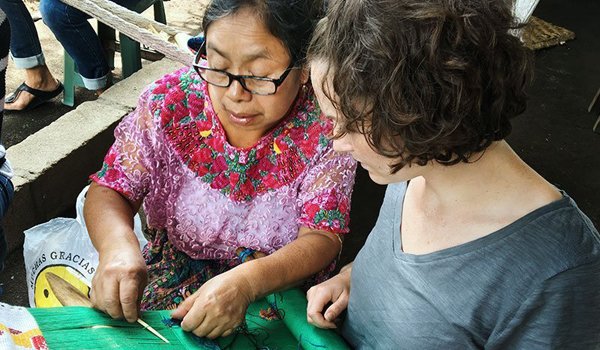 Their lives echo like secret whispers through the forests here, evidenced by the mysterious large stone spheres they left behind that have captivated people's imaginations.
Sadly, most of the indigenous population of Costa Rica were decimated by disease brought in by European conquest. Those that survived fell back into the jungles and mountains, trying to avoid slavery and assimilation. Now only 64,000 remain, but those that do are struggling to hold on to their traditional way of life, traditions, culture, and history.
IFRE is dedicated to helping an indigenous tribe made up of less than 800 people maintain their ancient way of life through our Costa Rica indigenous tribe promotion volunteer program. With international volunteers like yourself, we help the tribe promote cultural tourism that celebrates their unique heritage and customs and shares it with the world.
Help an ancient tribe hold on to their precious and unique culture and immerse yourself in it at the same time. You'll eat traditional meals, attend tribal ceremonies, and learn about this fascinating Costa Rican way of life while helping preserve it by promoting cultural tourism.
Do you want to immerse yourself in a unique and ancient culture while helping preserve it into the future? Then contact IFRE today to learn more about volunteering trips to support indigenous people in Costa Rica!
Volunteer Responsibilities & Impact
At this exciting project, you will meet an extraordinary tribe of only 800 indigenous Costa Ricans who are trying desperately to hold onto their ancient culture in a modern and changing world. You'll help them create museums, cultural sites, and tourism material in English to educate tourists on the tribe's fascinating culture. You will also experience many fascinating aspects of the culture, including sacred ceremonies, preparing and sharing traditional drinks and meals, visiting sacred sites, taking workshops in mask making, and more.
Humans have been living in Costa Rica for about 12,000 years, since the final daysof the last ice age. Immerse yourself in this tribal culture and gain fascinating insight into this ancient model for humanity that modern society has strayed so far from. Help struggling indigenous people maintain their sacred way of life by volunteering in Costa Rica with IFRE!
Skills and Qualifications:
To join this project, you need to have a profound respect for traditional cultures, and be passionate about helping them sustain their heritage in a changing world. We highly recommend you speak Spanish asyou can expect few people in the tribe to speak English.
If you want to learn Spanish or brush up on your skills, we offer classes while you volunteer so it's super convenient for you. This is a great chance to deepen your connection with the indigenous people you are volunteering with in Costa Rica.
Each day volunteering with an indigenous tribe in Costa Rica is incredibly rewarding and fun as you immerse yourself in their culture and community.
Here's a quick sample schedule to give you an idea of what to expect day to day. Keep in mind that at this unique project, you'll be integrating into a tribe, and your activities and schedule will revolve around what is going on in their world. Put your hurried thoughts of the outside world away for time, and slow down to the pace of a simpler time.
First Day: On your first day volunteering in Costa Rica, our dedicated in-country coordinator will bring you to the tribe's reserve, and you will meet the fascinating and unique indigenous people you will be volunteering to help. Our coordinator will give you an orientation, and you'll go over all the details of the project, your schedule, safety protocol, and you will begin to learn about the customs and ancient culture of the tribe.
Weekdays: Expect a wide variety of changing activities as you are introduced to the tribe's way of life, and then help them promote it to the world in a way that protects their heritage.
7.00 to 7.30 AM: You will be staying with a nearby Costa Rican host family. Share a delicious breakfast with them at the start of your day.
7.45 AM: Head out to the tribal reserve and immerse yourself in this amazing world. The indigenous people are eager to share their culture with you, and you can make a profound impact on their lives by helping preserve it.
12.00 PM: Take a break for lunch. Try traditional tribal foods and take this chance to bond and connect with the tribe and also your fellow Costa Rica volunteers.
3.00 PM: After you're done volunteering, you'll have free time to explore beautiful Costa Rica.
6.45 PM: Share a traditional Costa Rican dinner with your host family, and practice your Spanish.
Costa Rica Volunteer Trips: Dates and Fees
Program Dates
IFRE programs begin every Monday year-round. If you have travel constraints, you can still start your chosen program on any day of the year.
Our Fees
Since 2006, IFRE has been the most trusted and respected volunteer abroad organization in the world, and also the most affordable. We're dedicated to providing the highest quality volunteer programs at the lowest fees, which make it possible for everyone, especially students, to volunteer internationally and make a positive impact in the lives of others.
We believe in 100% transparency. Rest assured, we never use middlemen. Your one-time registration fee of $299 covers our administrative costs. The low weekly fee is paid in the host country directly to your host family and project (via country coordinator), and includes housing, food, and minor expenses. IFRE is a non-profit organization, so your program fees are tax deductible.
Volunteer Program Fees (US$)
| Duration | Indigenous Tribe |
| --- | --- |
| 1 Week | $260 |
| 2 Weeks | $445 |
| 3 Weeks | $630 |
| 4 Weeks | $815 |
| 5 Weeks | $1000 |
| 6 Weeks | $1185 |
| 7 Weeks | $1370 |
| 8 Weeks | $1555 |
| 9 Weeks | $1740 |
| 10 Weeks | $1925 |
| 11 Weeks | $2110 |
| 12 Weeks | $2295 |
+ 10 hours group Spanish is not available in Puntarenas, Orphanage Project
Comprehensive Travel Insurance $3.49/day »
Program Fees Cover:
Accommodation (host family)

Food (only breakfast and dinnery)

Program Orientation

In-country support

Personalized project

Pre-departure information

Certificate of completion

Fundraising ideas and letters

Discount for returning volunteers
Program Fees Exclude:
Visas

Airfare

Personal expenses on soft drinks and foods

Daily transportation

Airport return transfer
Airport Pickup /Transfer Packages for Puntarenas and – Ciudad Cortes,
We will manage the following airport transfer services for you:
Option One: If you arrive in international Airport of Juan Santa Maria -SJO, Alajuela early in the morning (before 12 PM), you will be able to come to Ciudad Cortes in the same day by bus. In this case, it is possible to purchase the following pick up service package:
Osa/Pick Up (same day service- for one person): $50
Includes: airport picks up, transfer to the bus station, orientation and assistance and again to the bus station. The last time we recommend leaving from San Jose to Ciudad Cortes is on the bus at 2:30 PM (volunteer should land before 12:00 PM for this option)
Option Two: If you arrive after 12 PM in Alajuela, you will stay one night in Hostel Dorm Room in San Jose, before transferring to Ciudad Cortes the next day.
Osa/Overnight Hostel Dorm Room with Transfer (for one person): $70
Includes: Transfer to a hostel from the airport, where you will spend the night. Dinner will be provided. Overnight stay will be in 10 people mixed gender hostel dorm room, and transfer to a bus station in the morning. The orientation and assistance will be at the bus station.
Option Three: If you arrive after 12 PM in Alajuela, you will stay one night in the family home (private room) in San Jose before transferring to Ciudad Cortes the next day.
Osa/Overnight Family Home with Transfer (for one person): $90
Includes: Picks up from the airport and transfer to a private family home to spend the night. Dinner will be provided. Transfer to the bus station in the morning, and orientation and assistance at the bus station.
The volunteering overseas in Costa Rica program fees will cover expenses that will begin on the first day of the program (usually the first or third Monday of the month) to the last day of the program. If you arrive before the first day of the program or you decide you stay beyond your program's last day, you will be responsible for the additional expenses, which would typically be around $30 a day for room and meals at a hostel.
Safety and in Country Support
IFRE watches out for your safety every step of the way while you travel abroad with us. We have carefully selected safe destinations, have long standing connections with trusted, reliable, local partners, give you safe housing, food, and more. We offer the full guidance and support of our in-country team on the ground in Costa Rica who you can reach out to at any time.
Learn more about IFRE's safety and support while volunteering in Cortes, Costa Rica.
Costa Rica Volunteer Trips:FAQs
IFRE is one of the most trusted volunteer abroad organizations in the world, and we've been doing this since 2006. We're pros at handling all the details that go into planning a successful and meaningful experience for you. Here are some details you should know when you're planning to travel with us:
Arrival and departure
You will fly into Juan Santamaria International Airport in San Jose, Costa Rica. Our local representatives will be there waiting for you when you land. After you pass through customs and immigration, you'll see them holding a sign with your name on it. They'll welcome you and take you to straight to your accommodations.
IFRE doesn't offer departure transport services once you complete your Costa Rica conservation volunteer project, so you'll need to plan for this. Just check with your local project staff, and they'll be happy to let you know how to set up a taxi to the airport.
Visa
You will need to secure a tourist visa. You can either visit Costa Rican immigration office at your home country or can get visa on airport. However, on arrival visa facility is only limited to the citizens of some countries. Most will be eligible for a 90-day tourist and can extend more 90 days while in the country. Research the visa requirements at the official Immigration site of Costa Rica
Vaccination
Make sure you get vaccinated before heading off to volunteer withindigenous people in Costa Rica. This is always important for international travel, but you particularly do not want to expose members of the tribe to different illnesses.
To travel to Costa Rica, you should be up to date on your routine vaccines, as well as Hepatitis A & B and Typhoid. Please consult a travel doctor who is knowledgeable about current health issues and epidemics in Costa Rica about your trip and what vaccines you need. You can also find information on Centers for Disease Control and Prevention, Global Health Canada or in Travelers' Health United Kingdom.
Why Costa Rica Volunteer Trips?
Volunteering with an indigenous tribe is an amazing experience as you get to immerse yourself in an ancient culture you've probably never even heard of!
Preserve thousands of years of culture that is in peril
Before the Spanish came, there were 500,000 indigenous people in Costa Rica. They have now been decimated to a mere 64,000, and those are in danger of losing their land and old way of life. Many traces of their very civilizations have been lost. Help an indigenous Costa Rican tribe in peril preserve many thousands of years of culture, history, heritage, tradition, and language.
See another side of Costa Rica
Costa Rica is quickly becoming an international travel hotspot, but the Latin culture that defines most tourists' experience is only part of the real Costa Rica. Experience the traditional culture of the land, learn how to make those beautiful masks you see in tourist shops from the artists themselves and learn the meaning behind them, eat tribal foods, visit sacred ceremonies, and experience a side of Costa Rica most people will never see.
Use your power to help people with no voice
The modern world around this dwindling tribe of 800 indigenous people threatens to push it out of existence. By volunteering in Costa Rica creating culturally sustainable tourism opportunities and creating tourism material in English, this gives the tribe a way to earn money and finally stopped being marginalized and forced to assimilate. They can make a living while retaining their traditional way of life thanks to you offering your help, speaking up and telling the world about these amazing people.
Immerse yourself in a fascinating ancient culture
This project is more than just helping the tribe promote tourism. You are welcomed into their society, and shown their traditional way of life. You will learn all about their culture, food, beliefs, arts and handicrafts, sacred sites and ceremonies, language, and more.
Volunteer abroad and change the world!
Anyone can travel abroad and go on vacation. It takes a brave heart and a noble spirit to do so to make a real difference in the world. Each time people like you join meaningful programs like this one, the world becomes a better place, one volunteer at a time.
Contact IFRE today to get started Costa Rica Volunteer Trips with an indigenous tribe!
Other Volunteering Opportunities in Costa Rica
If you're not sure how you'd like to make a difference in Costa Rica, have a look at the rest of our projects. You can
help local veterinarians,
work on a coffee farm, and much more!
Contact IFRE today to learn more about these amazing opportunities!
Other Projects with Indigenous People
Indigenous people are exploited and marginalized all around the world, and to help support and protect these people, IFRE arranges projects to do so around the world in many different countries. Have a look at the list below for some of our most popular projects in this vein: