Medical Project
>
>
>
Healthcare And Medical Project (Cordoba)
Healthcare And Medical Project (Cordoba)
Get meaningful healthcare experience in beautiful Argentina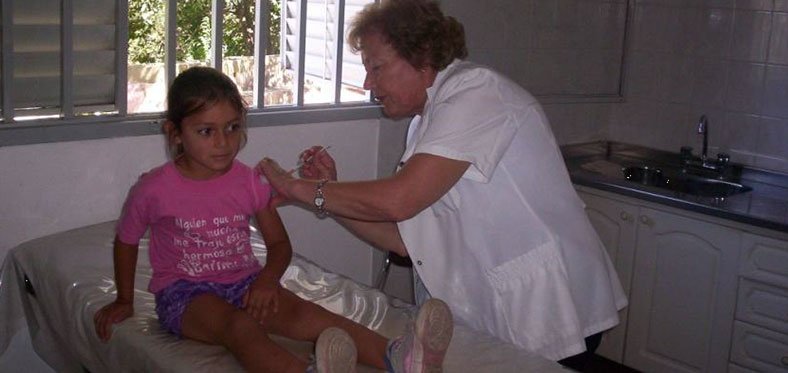 Improve the health of others

Work alongside licensed medical professionals

Learn about Argentinean Healthcare

Volunteer abroad safely & affordably
Project Summary
This is the perfect project for those who are considering a career in the healthcare and/or nursing fields. Volunteers are needed to contribute to the healthcare system in Argentina. As a volunteer in the Healthcare and Medical Project, you will have a valuable and unforgettable experience as you assist clinics and hospitals and enhance healthcare for Argentineans. As you volunteer in Argentina, you will gain experience in your field of study and undeniably grow professionally. IFRE partners with local nonprofit organizations, clinics and hospitals to work on a variety of health related projects. Volunteers work with individuals and communities to promote and educate locals on different health topics, aiming to improve the quality of life of Argentineans. As you work in this project, you will carry out trainings about personal hygiene, nutrition, sanitation, disease prevention, basic care and so on. Volunteer in Argentina in the healthcare project and help to improve lives of others by teaching them and providing basic care. Your experience will be life-changing and memorable as you grow personally and professionally.
Skills/Qualifications Needed
Volunteers interested in joining our volunteer healthcare program do not need previous healthcare experience or education. Our programs are designed to accommodate volunteers of a variety of backgrounds. Whether you are a student, professional, or retiree, there is a vital role within our healthcare program for you.
Intermediate knowledge of Spanish is preferred. If you cannot speak Spanish, we suggest you enroll in our Spanish language course to make your stay more rewarding – both for you and for the people you help.
Volunteer Responsibilities
Working as a volunteer in the Healthcare/Medical Project in Argentina, you will work 4-5 hours per day, Monday through Friday. Depending on individual skills and interests and the needs of the local staff, daily activities involve, but are not limited to:
Planning and carrying out educational workshops

Teaching Personal Hygiene

Teaching locals about nutrition and a healthy diet

Providing personal care

Helping with vaccinations

Working on disease prevention through education

Observing general functioning of the health system

Participating in trainings

Helping with administrative tasks

Promoting clean environments and communities
Room/Food/Supervision
IFRE manages your living accommodations either in host family or hostel in Argentina.
Our host families are socially respected and are experienced with hosting international volunteers. They have strong interest in our volunteers' safety and well-being and demonstrate this with caution and care. In most host family situations, volunteers will share a room with another volunteer of the same gender.
Your hostel is located in a charming neighborhood in the city of Córdoba. Córdoba boasts numerous exciting opportunities for volunteers to see a city with a bright future which maintains echoes of its colonial and culture-rich past. Córdoba's vibrant culture has produced a number of influential writers, its own musical style known as "El Cuarteto" (in addition to classical, jazz, rock, pop and techno). There are also many monuments, lively festivals, pleasant theaters and a pulsing nightlife. Volunteers reside in accommodations located just minutes from the downtown area. This unique living situation is often conducive to fellow volunteers getting to know each other. These accommodations also house our local operator's headquarters – ensuring vital and constant contact with our in-country coordinators. Our field staff visits volunteers regularly and always happy to help our volunteers in any way needed.
FAQ
Healthcare Project: MEDICAL OBSERVER PROGRAM

What is the typical day working in a healthcare project?

Medical students will begin their day at the hospital around 7:30 am and be finished between 1-2 pm. Within the hospital, the medical observer will have the opportunity to shadow doctors and nurses, assist in taking patient history, observe surgeries, attend medical lectures with fellow medical students and perhaps perform basic medical and healthcare procedures. Work within the community may include providing children with general health checks, assisting in the distribution of vaccinations and providing advice on nutrition and pregnancy prevention.

What accommodations can I expect? By what means and how far will I need to travel for my placement?

Volunteers will stay in a hostel with fellow volunteers or with a host family, depending on their placement. There is public transportation available by bus for $0.80 (USD). Placements are 20-45 minutes from provided accommodations.

What activities can I expect volunteering in the Medical Project?

Medical Rotation:


Participants are placed in community-based clinics to learn about direct patient care in Hospitals or Primary Care Health Centers. Longitudinal placements enable participants to understand the clinic structure and public health system, and to develop relationships with clinic staff, physicians and patients. Participants rotate through a variety of settings and departments in area hospitals.

Medical volunteers will work in rotations at different hospitals in Córdoba. This enables them to have a broad range of experiences in different medicine and healthcare departments including trauma, dermatology, pediatrics, optical, cardiology, radiology, gynecology and obstetrics.

Where are the placements? In a clinic or a hospital?

Volunteers may find themselves working in a primary care clinic or in the biggest public hospitals in Córdoba.

What are the requirements to join the program? Do we need to know the local language?

This program is only for participants that study health science, public health or a similar discipline. An intermediate level of Spanish is required for all Medicine & Healthcare volunteering in Argentina to ensure that you can interact fully with both the local staff and patients.

Do we get hands on experience at this project?

You may, depending the observer, level of Spanish, medical knowledge and personality. We cannot guarantee that you will receive hands-on experience, it is an observer program but 70% of the students get hands on experience at the project.

Is healthcare available all-round the year? If not, when does it close for how long?

All year around! Better not to come from December 23rd to January 2nd – Low activities during the month of January.

Any important information you want to share about this project.

An intermediate level of Spanish is required for all Medicine & Healthcare volunteers in Argentina to ensure that you can interact fully with both the local staff and patients. Interns should also dress professionally (scrubs) for this international medical internship.

Is there any additional information I need to know as a volunteer?

Applications must be received 6 weeks prior to their start date.

The volunteer must be able to read, write and communicate in Spanish at intermediate level or advanced.

Criminal Record Check: Criminal Records Review Act, which means that all volunteers who are enrolled in programs that include a practicum component involving working with children or vulnerable adults will have to undergo a criminal record check before they will be permitted to register for volunteering.