Volunteer in Ghana
Volunteer in Ghana
Embrace and experience a new culture by volunteering in Ghana
Share your passion while exploring Ghana

Trusted by thousands of volunteers since 2006

Most affordable volunteer projects, starting at $135

Give back by volunteering in education, healthcare and more
Not only will you discover stunning lakes and wetlands, fascinating historical sites and a profound heritage as you explore this magnificent African country, but you will fall in love with locals, their rich culture and hospitable disposition. Our Volunteer in Ghana program is one of IFRE's most affordable, best-valued travel experiences. Choose from numerous volunteer experiences in Ghana such as teaching English , HIV/AIDS awareness or working with orphans. When you are not volunteering, immerse yourself in the exotic, wondrous nature of Ghana. You can be certain, as a volunteer your life will be enriched, even as you are enriching the lives of others.
Get going to Ghana today and start changing lives by requesting more information
Volunteer Work Projects and Locations
IFRE volunteer Ghana programs focus on four major service projects: Orphanages , Teaching English , Medical/Healthcare and HIV/AIDS Treatment/Awareness . Volunteer projects in Ghana are situated in Accra and Kumasi. Volunteers can choose any projects in Ghana and share love and passion with local people who need support!
Volunteer Program Fees & Dates:
Volunteer Program Dates
Most programs are available year-round. We recommend volunteers begin their placements on a Monday, scheduling their arrival and departure on the weekends. However, due to flight availability, particularly traveling internationally, start dates are flexible. We ask that all volunteers ensure to communicate their arrival and departure plans clearly to their country coordinator to ensure transportation and accommodations are properly arranged.
Volunteer Program Fees
IFRE Volunteers strives to provide the lowest fees along with transparency to all of their volunteers!
Affordable fees
Registered non-profit for tax deductible fees
Transparent transactions ensure volunteers they know where their money goes
Proven quality and safety
IFRE Volunteers is proud to offer the world's most affordable fee for international volunteering and as a 501(c)3 organization, your program fee will be tax deductible. We are proud to focus on the humanitarian aspect of our business, not on profit. We strive to maintain affordable cost, particularly for volunteers; we recognize the value of your donated time and efforts. We remain devoted to maintaining both the quality of the program and the safety of all volunteers involved.
IFRE fees comprise of two separate fees:
Application fee of $299 USD (covers advertising, staff/office expenses, etc.)
Weekly program fee paid directly to your project (covers room/board, field support, etc).
You will pay your fee directly to host families and projects. In this way, what you pay will go directly from you to the people who deserve it (not for profit).
Volunteer Program Fee (US$)
| Duration | Projects |
| --- | --- |
| 1 Week | $135 |
| 2 Weeks | $261 |
| 3 Weeks | $348 |
| 4 Weeks | $435 |
| 5 Weeks | $522 |
| 6 Weeks | $609 |
| 7 Weeks | $696 |
| 8 Weeks | $783 |
| 9 Weeks | $870 |
| 10 Weeks | $957 |
| 11 Weeks | $1,044 |
| 12 Weeks | $1,131 |
Airport Pickup and Transfer (1 hour) $50

Comprehensive Travel Insurance $3.49/day

Language and Culture Program fee $250

Summer volunteer and adventure (4 weeks include travel) $1869
Language & Cultural Immersion program fee includes: Language and Cultural training, food and accommodations for 7 days, training materials (books, papers, etc), cost of local sightseeing/tourist sites, cost of recreational activities, Comprehensive Travel Insurance
Additional costs for volunteers: International flights, passport, visa, personal beverage expenses, entertainment, local transportation, laundry, telephone and immunizations.
Language and Cultural Immersion
IFRE offers a Language and Cultural Immersion orientation program in Accra, Ghana. This week-long intensive immersion and training program includes: language training, lessons on history, culture, ways of life, visits to local villages/towns/markets, guided Accra exploration and local tourist attractions. This IFRE program aims to submerge you in Ghanaian culture, history and ways of life to vastly improve your time as a volunteer in Ghana. When you understand the life and culture around you, your experience is richer and more rewarding. However, you can choose to take the Language and Cultural immersion program or go directly into a volunteer project. If you opt to participate in this one week Language and Cultural immersion course, your volunteer program will begin the Monday following this one-week of Language and Cultural Immersion taught in and around Accra. This experience should not be missed! So many international travelers wish they could have an opportunity such as this to receive a briefing on customs, language and history.
Arrangement of Room/Food/Supervision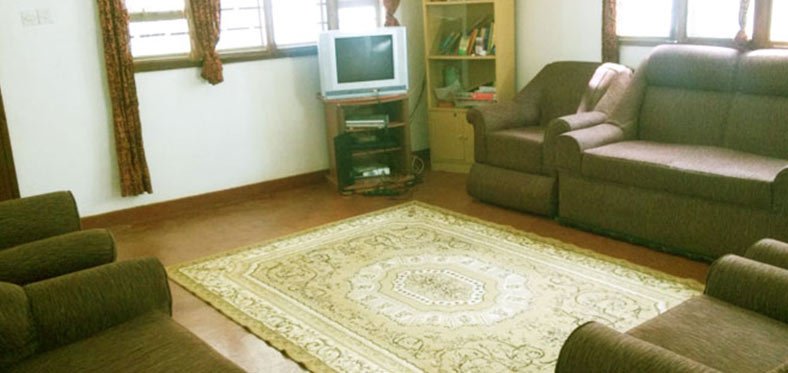 IFRE manages your living accommodations either in host family or hostel in Ghana.
IFRE manages living accommodations, provides meals and supervision for volunteers for the entirety of their stay in Ghana. We offer a "home base" in Ghana. Our home base is about an hour drive from Accra. We try to create a "home away from home" for volunteers staying at our home base. It is a perfect situation for volunteers to live safely and comfortably while making many new friends and sharing experience every day. Most of volunteers project in Ghana are located within 1-20 KM of our home base so you may walk or ride a local bus to your project. In the evening when you return to home base, you can relax, eat dinner, explore local areas or simply share experience with volunteer comrades.
Occasionally if a project is located far from the IFRE home base or when our home base is fully occupied with volunteers, we will place volunteers with host families. Our host families are carefully screened, socially respected and experienced with hosting international volunteers. Wherever you stay, your accommodation with IFRE is safe, clean and comfortable. In most cases, you will share a room with volunteers (of same gender). In Ghana, our field staff is an experienced team comprising of country coordinators, assistant coordinators, managers, cooks and field assistants. Our field staff visits volunteers regularly and always happy to help our volunteers in any way needed. We offer 3 meals a day of local cuisine. Typically, volunteers eat breakfast and dinner at the home base (or host family) and have lunch at their project. We offer fresh, nutritious and safe local foods to our volunteers to eat. We also work extremely hard to maintain our facilities in a positive condition.
Ghana Volunteer Program Free Time
Volunteers have free time for the duration of their volunteer project, weekends and the Language and Culture program. While IFRE does not arrange activities during this time off, our local staff, members and coordinators can provide priceless assistance in making appropriate arrangements for travel in Ghana. It's the time for self discovery and learning. It's time to explore this foreign culture and exotic land. Our IFRE local coordinators/staff are available to give you free advice, travel tips and helps to book your travel.
Walk the above the tree canopy in the rainforests or lounge at the beach. You can fill your free time with many incredible experiences in Ghana! Ghana has gorgeous botanical gardens to explore and pristine beaches. Assorted wildlife can be found throughout the country and Ghana is home savannah elephants and many other mammals, including seven types of monkeys. The adventure doesn't stop with natural beauty as Ghana's cities offer up cathedrals, museums, theaters, restaurants and more in the thriving urban areas. In your free time, you can explore all the amazing attributes this diverse and abundant country has to offer! Please discuss your options with our local project staff to find the best way for you to spend your free time in Ghana.
Learn more about Ghana programs