Volunteer In Guatemala
>
>
Volunteer In Guatemala
Volunteer In Guatemala
Affordable, Exciting, Life-Changing Guatemala Volunteer Experiences!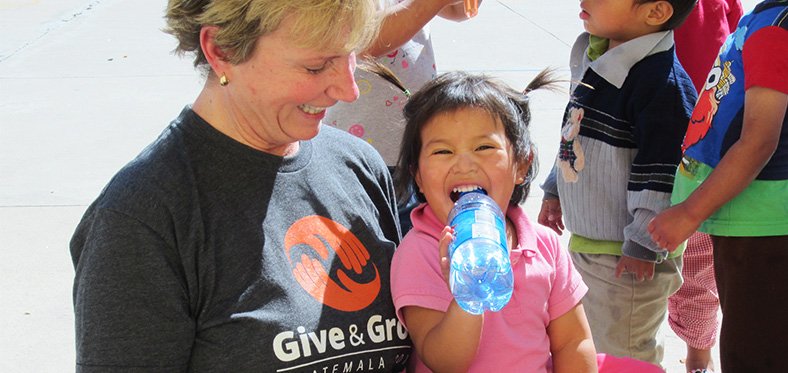 Embrace your humanitarian side in scenic Guatemala!

Trusted by thousands of volunteers since 2006

Most affordable volunteer projects, starting at $160

Volunteer with Orphans, Teach English and more in Guatemala!
When you volunteer in Guatemala, you'll find your mind and heart opening with every sight and sound around every corner, and every soul whose life you touch. IFRE's Volunteer in Guatemala program offers you the highest quality, most affordable humanitarian abroad experiences available the world.
Guatemala is a traveler's delight for history buffs and nature lovers. The unique blend of the country's ancient Mayan ruins and its colonial ancestry combine with expansive landscapes. Make a commitment to share your love and compassion with needy children and adults through IFRE's professional Volunteer in Guatemala programs. You'll have the chance to get to know one of the richest cultures in the world, and you'll have your choice of several different service projects. And while you're giving of yourself, they'll be giving to you as well, a lifetime of memories, love and gratitude.
Request more information right now while you're considering it. IFRE invites you to explore this fascinating, unparalleled travel adventure with us!
Volunteer Work Projects and Locations
IFRE's volunteer program in Guatemala currently places volunteers in community service projects in Quetzaltenango. Our volunteers contribute time and effort to orphanages, street children projects, healthcare projects, social work projects and English projects.
Volunteer Project Location
Quetzaltenango, Guatemala
Quetzaltenango, also known as Xela (pronounced SHAY-la) or Xelaju, is the second largest city in Guatemala. Situated in the southwest part of the country, it is surrounded by a variety of landscapes from cold highlands to the warmer Pacific coast. There are numerous volcanoes, hot springs, valleys, mountains and rivers. The region provides a harvest of numerous products such as coffee, wheat, fruits and vegetables, as well as sheep and cattle breeding. The classical, neoclassical and Italian renaissance styles are apparent in the buildings and the houses, which have been built during the past century and the beginning of the 20th, with volcanic stones by artistic "Quetzalteco" masons. Xela is also well known for its abundance of volcanoes, mountains, and hot springs as well as other natural beauty and experiences.
Volunteer Program Fees & Dates:
Volunteer Program Dates
Most programs are available year-round. We recommend volunteers begin their placements on a Monday, scheduling their arrival and departure on the weekends. However, due to flight availability, particularly traveling internationally, start dates are flexible. We ask that all volunteers ensure to communicate their arrival and departure plans clearly to their country coordinator to ensure transportation and accommodations are properly arranged.
Volunteer Program Fees
IFRE Volunteers strives to provide the lowest fees along with transparency to all of their volunteers!
Affordable fees
Registered non-profit for tax deductible fees
Transparent transactions ensures volunteers they know where their money goes
Proven quality and safety
IFRE Volunteers is proud to offer the world's most affordable fee for international volunteering and as a 501(c)3 organization, your program fee will be tax deductible. We are proud to focus on the humanitarian aspect of our business, not on profit. We strive to maintain affordable cost, particularly for volunteers; we recognize the value of your donated time and efforts. We remain devoted to maintaining both the quality of the program and the safety of all volunteers involved.
IFRE fees comprise of two separate fees:
Application fee of $299 USD (covers advertising, staff/office expenses, etc.)
Weekly program fee paid directly to your project (covers room/board, field support, etc).
You will pay your fee directly to host families and projects. In this way, what you pay will go directly from you to the people who deserve it (not for profit).
Volunteer Program Fee (US$)
| Weeks | All Other Projects | Medical project |
| --- | --- | --- |
| 1 Week | $160 | $185 |
| 2 Weeks | $270 | $320 |
| 3 Weeks | $380 | $455 |
| 4 Weeks | $490 | $590 |
| 5 Weeks | $600 | $725 |
| 6 Weeks | $710 | $860 |
| 7 Weeks | $820 | $995 |
| 8 Weeks | $930 | $1,130 |
| 9 Weeks | $1,040 | $1,265 |
| 10 Weeks | $1,150 | $1,400 |
| 11 Weeks | $1,260 | $1,535 |
| 12 Weeks | $1,370 | $1,670 |
Mandatory Comprehensive Travel Insurance $3.49/day

Group Spanish language class $50 week (10 hour per week)

Contact us for Airport Transfer pricing
Additional costs for volunteers: International flights, passport, visa, personal expenses on water/soft drinks, entertainment, laundry, telephone and immunizations.
Spanish Language Immersion Program
Are you considering improving your Spanish language skills? Then IFRE's Guatemala Spanish Language Program is the perfect choice.
IFRE currently offers highly affordable Spanish language classes in Quetzaltenango. These classes are exclusive to IFRE volunteers participating in the Guatemala volunteer program. In Guatemala, IFRE partners with a highly reputable Spanish school. They employ qualified and experienced Spanish teachers and offer the most intensive and effective Spanish courses in Guatemala. In this program, volunteers work at their volunteer project and learn Spanish simultaneously. For example, volunteers can take Spanish classes from 9:00-11:00 AM (before lunch) followed by volunteer activities. Alternatively, volunteers may take Spanish classes from 3:00-5:00 PM (after their day's volunteer work). Most of the projects are located close to the Spanish school, so it is possible for volunteers to design a personal schedule. IFRE invites you to improve your Guatemala experience by learning or improving your Spanish.
Spanish Language Cost: $5 / hour
Arrangement of Room/Food/Supervision
In Guatemala, all volunteers stay with well-screened host families. Our host families are socially respected and are well versed in the art of hosting international volunteers. Host families offer a safe home with private rooms (occasionally rooms will be shared with other same-gender volunteers) and shared bathroom facilities with running water and a "western" style toilet. Volunteers have the ability to do laundry at the house or the host family may offer to do it for you for a nominal extra fee. You receive three prepared meals per day. If you will be out of the house during lunch hour, you can request a lunch "to go" that you can take with you or eat out on your own. Host families provide typical meals that are traditional to Guatemala.
Throughout the volunteer project, our local staff stays in contact with volunteers either with face-to-face visits or via email/telephone. With longer placements, we visit our volunteers every two weeks (when possible) and volunteers are always welcome at the local office. If project placement is local, we request that volunteers stop by the office once a week to keep us posted on how they are doing with their home stay and project. If project placement is very far, then our local staff members maintain communication by either email and/or phone.
Volunteer Program Free Time
Volunteers in Guatemala free time for the duration of their volunteer project, weekends and the Spanish language program. While IFRE does not arrange activities during this time off, our local staff, members and coordinators can provide priceless assistance in making appropriate arrangements for travel in Guatemala. It's the time for self-discovery and learning. It's time to explore this foreign culture and exotic land. It's definitely time for a canopy tour in Guatemala! Our IFRE local coordinators/staff are available to give you free advice, travel tips and helps to book your travel.
Quetzaltenango free time will include architectural tours, parks and vistas. Espiritu Santo Cathedral : Consist of two structures. The "Espiritu Santo" parish's ancient facade (1535/1896) and to the back the "Diócesis de los Altos" (1899). The Municipal Theatre is a very important Neoclassical work. The city's main park (known as "Parque Central) is located in the center of the town is also center for cultural activities and entertainment. A beautiful vista is found at the Cerro del Baúl, where one can take in the sights of Quetzaltenango's valley, day or night (accessible by foot, car or taxi).
Learn more about Guatemala programs