Medical Project
>
>
>
Healthcare and Medical Project
Healthcare and Medical Project
Volunteer to assist in the Healthcare Field in Cambodia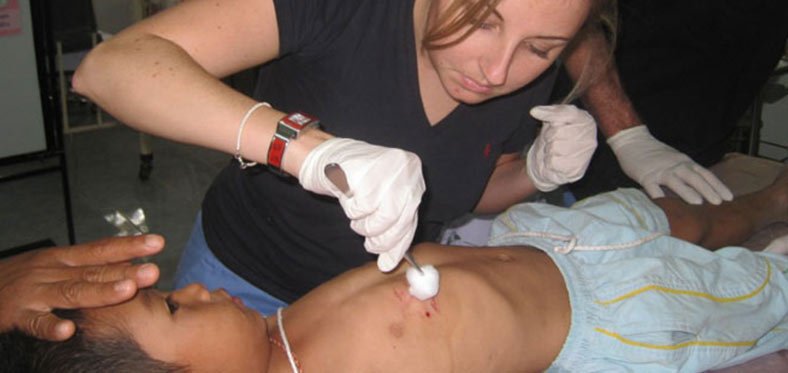 Gain real world experience working in healthcare

Connect with licensed medical professionals

Enjoy the colorful culture of Cambodia while helping others

Volunteer safely & affordably
Project Summary
Volunteer in Cambodia in the medical and healthcare project and help to provide medical care to low-income Cambodians. Although Cambodian healthcare is improving, still too many Cambodians do not have access to basic healthcare. In addition, locals have poor knowledge of treatable and preventable diseases and suffer when care could enrich or even save their lives. IFRE's healthcare volunteer projects in Cambodia need motivated medical/healthcare professionals, nursing/medical students and therapists to support various healthcare and medical issues that Cambodian people daily face. For volunteers interested in a career in healthcare or medicine, this program provides a great opportunity to gain professional experience, provide medical attention to impoverished patients and explore Cambodia's enchanting culture and natural beauty. Enroll today as a volunteer working in the healthcare/medical project in Cambodia; you will have a rewarding and life-changing experience while gaining career-related knowledge and promoting healthy lives.
Skills/Qualifications Needed
Volunteers interested in joining our volunteer healthcare program do not need previous healthcare experience or education. Our programs are designed to accommodate volunteers of a variety of backgrounds. Whether you are a student, professional, or retiree, there is a vital role within our healthcare program for you.
Volunteer Responsibilities
As a volunteer working in the medical/healthcare project in Cambodia, your responsibilities will depend on your level of training, certifications and licensing. Volunteers with specialties will be able to help in their specific fields while others may only be able to observe. The clinics may also provide basic trainings for volunteers with less experience. Again, depending on qualifications and experience, volunteers may carry out duties such as:
Help with physical therapy and rehabilitation

Provide basic care

Observe the work of nurses or doctors

Carry out daily administrative tasks

Take patient details

Measure vital signs such as blood pressure, height, weight

Distribute medicines

Perform basic first aid

Help with medical procedures

Provide assistance in the in-day emergency room

Partner with local doctors, nurses and therapists
Room/Food/Daily Life
IFRE arranges room, meals and supervision for volunteer for the entire duration of the program. Depending upon the location of the project, volunteers will stay either in our guesthouse or with a host family. Our main guesthouse is located in the center of Phnom Penh City (a notable Cambodian tourist city) near the Olympic Stadium and the Orussey Market. The staff consists of English and French speaking people and they are very kind. There is a large roof terrace with hammocks, a TV and internet access. Nearby there is a restaurant and more services to help make your stay in Cambodia a pleasurable one.
Our host families are very friendly and hospitable. They look forward to learning more about a volunteer's home-country culture and life. Whether you stay in our guesthouse or with host family, IFRE manages clean but simple accommodations with a separate room (occasionally shared with other volunteers), shared bathroom with cold water (no hot available) and a fan.
IFRE also manages three local meals a day. Usually, volunteers have breakfast in either a small restaurant, with host families or at work. IFRE manages volunteers' food for breakfast, lunch and dinner. Some volunteers have lunch at their project. If a volunteer having special eating requirements (e.g. as a vegetarian or vegan), we recommend staying in our guesthouse and not with a host family, as meat is the basis of most daily Cambodian meals.
Occasionally, volunteers will receive rural placements. These will usually be in the provincial capitals, which are mostly quiet, medium sized cities with necessary resources like traditional Cambodian restaurants, markets and laundries. Unfortunately, communication (internet and international phone calls) is limited with a rural provincial placement and very expensive. Provincial placements are well positioned for weekend travel. Volunteers should try to visit the main attractions of Cambodia – the majestic temples of Angkor Wat in Siem Reap province and the tropical coconut palm beaches of Sihanoukville. These excursions are best over a minimum of 3-4 days.
FAQ
Please provide a typical day activities of the volunteers

Volunteers generally begin their day around 7:00 am with breakfast and head to the project around 8:00 am. Volunteers generally work 3-4 before taking a lunch break at noon and then work an additional 1-3 hours in the afternoon.

Where do I stay? How far is the project from the accommodation? How do I commute?

Most volunteers in Cambodia with choose to stay with fellow volunteers in our volunteer house in the center of the city; however, there are home stays available as well. You will commute to your project by local transportation or walking which can take upwards of 30 minutes.

What kind of activities volunteers do in healthcare project?

Volunteers will mostly do observing of licensed healthcare professionals in this project, however if there is a large number of patients may be able to assist with small tasks. The amount of hands-on experience will depend on the volunteer's education and experience.

Where are the volunteers placed; in clinic or hospital?

All healthcare volunteers in Cambodia are places in a local, public hospital.

What are the requirements to join the program?

Individuals volunteering with the medical project in Cambodia must have a medical background or be a certified nurse or doctor. Medical students may also participate in the project, but will be mainly observing.

Do we get hands on experience at this project?

No, volunteers may have the opportunity to assist the local doctors and nurses, but hands-on experience is not guaranteed.

How many hours a day do we need to work?

Volunteers can expect to work 5-6 hours per day in morning and afternoon shifts.

Is healthcare available all-round the year? When will it close for how long?

No, the healthcare volunteer project in Cambodia is not available in April.