Volunteer in Srilanka
>
>
Volunteer in Srilanka
Volunteer in Srilanka
Affordable, Exciting, Life-Changing Sri Lanka Volunteer Experiences!
Casting about for a life-changing experience that will completely revolutionize your existence? Imagine a trip to exotic Sri Lanka, itself an unforgettable experience, then combine it with the opportunity to really help Sri Lanka's wonderful people. That's what IFRE is all about: enhancing lives!
When you travel to the island of Sri Lanka, you'll be taking in a popular tourist destination, plentiful with attractions such as golden beaches, tropical forests and magnificent mountains. Sri Lanka is renowned for its abundant natural habitats for diverse flora and fauna, as well as its history that dates back some 2500 years. In this mystical country, you will find your own happiness through assisting others. Whether you choose to work alongside us in an orphanage, teach English to the local children or monks, or dispense your compassion in an "elephant orphanage," you'll prove to yourself that giving is always the best way to receive.
IFRE's Volunteer in Sri Lanka program will open your heart and mind and enrich your life forever. Send an email for all the fascinating details. Exciting, rewarding Sri Lanka is truly only a few steps away!

Volunteer Work Projects and Locations
IFRE's Sri Lanka volunteer program focuses on supporting local orphanages, teaching English in local schools, teaching Buddhist monks, and elephant orphanage and turtle conservation project.
Volunteer Program Fees & Dates:
Start Dates: Our programs start every Monday, although we allow for flexibility due to travel constraints.
IFRE is a 501(c)3 organization, so your program fee will be tax deductible. IFRE Volunteers is proud to offer the world's best fee. Our programs are now more affordable than ever. We are proud to focus on the humanitarian aspect of our business, not on profit. We work very hard and smart to keep our costs down, especially for the volunteers because we know the value of your donated time and efforts. We remain devoted to maintaining both the quality of the program and the safety of all volunteers involved. Below is a brief summary of the program fee and services that IFRE Volunteers offers.
IFRE fees comprise of two separate fees. An application fee of $299 USD (covers advertising, staff/office expenses, etc.) and a nominal weekly program fee (covers room/board, field support, etc). You will pay your fee directly to host families and projects. In this way, what you pay will go for you or people who deserve it (not for profit).
Volunteer Program Fee (US$)
| Duration | Projects in Galle | Kegalle Elephant | Pinnewala Elephant |
| --- | --- | --- | --- |
| 1 Week | $155 | $230 | $300 |
| 2 Weeks | $310 | $460 | $550 |
| 3 Weeks | $415 | $640 | $800 |
| 4 Weeks | $520 | $820 | $1,050 |
| 5 Weeks | $625 | $1,000 | $1,300 |
| 6 Weeks | $730 | $1,180 | $1,550 |
| 7 Weeks | $835 | $1,360 | $1,800 |
| 8 Weeks | $940 | $1,540 | $2,050 |
| 9 Weeks | $1,045 | $1,720 | $2,300 |
| 10 Weeks | $1,150 | $1,900 | $2,550 |
| 11 Weeks | $1,255 | $2,080 | $2,800 |
| 12 Weeks | $1,360 | $2,260 | $3,050 |
| | | | |
Mandatory Comprehensive Travel Insurance $3.49/day

Airport Pickup and Transfer to Galle (2 hours) $85

Airport Pickup and Transfer to Kegalle (80 KM) $125

Transfer from Galle to Kegalle (3 hourss) $125

Language and Culture $250
Language and Cultural Immersion program fee includes: Language and Cultural training, food and accommodations for 7 days, training materials (books, papers, etc), cost of local sightseeing/tourist sites, cost of recreational activities, Comprehensive Travel Insurance.
Additional costs for volunteers: International flights, visa, daily personal expenses on beverages/entertainment , laundry, telephone, immunizations
Language and Cultural Immersion
In Sri Lanka, IFRE offers one week of Language and Cultural orientation in Galle, a small beautiful tourist city about 4 hours from Colombo. This weeklong intensive language and cultural immersion program includes language training, lessons on history, culture and Sri Lankan ways of life. Sinhalese and Tamil are the two official languages of Sri Lanka. Program participants will also visit local villages, towns and markets, guided city exploration and local tourist attractions including beautiful beaches and wildlife sanctuaries.
This IFRE language and culture program aims to submerge you in Sri Lankan culture, history and ways of life to vastly improve your time as a volunteer in Sri Lanka. When you understand the life and culture around you, your experience is richer and more rewarding. However, you can choose to take the Language and Cultural immersion program or go directly into a volunteer project. This experience should not be missed! So many international travelers wish they could have an opportunity such as this to receive a briefing on customs, language and history.
Arrangement of Room/Food/Supervision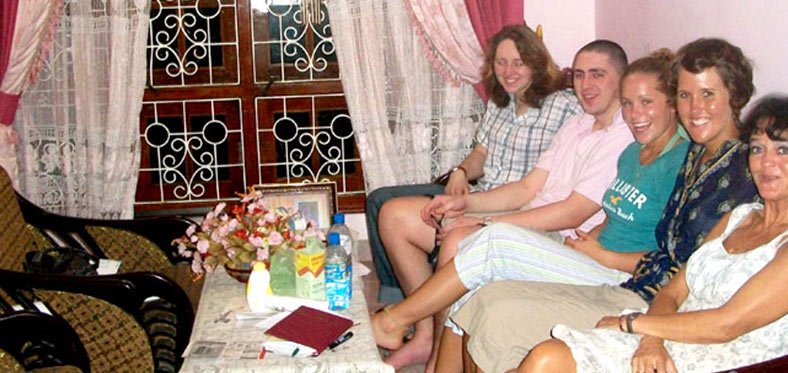 In Sri Lanka, all volunteers stay with well-screened host families (in most situations this is with our in-country coordinator or local staffs). Our host families are socially respected and are well versed in the art of hosting international volunteers. Host families offer a safe home, private rooms (occasionally rooms will be shared with other same-gender voluVolunteer is enjoing with kids while volunteering in Shri Lanka with IFREnteers) and shared bathroom facilities with running water and a "local" style toilet. You receive three prepared meals per day. If you will be out of the house during lunch hour, you can request a lunch "to go" that you can take with you or eat out on your own. Host families provide typical meals that are traditional to Sri Lanka. Rooms are shared, as are bathroom and kitchen facilities. For a small additional fee, volunteers can opt to stay in a modest seaside motel. Please note this preference in the initial volunteer application.
Throughout the volunteer project, our local staff stays in contact with volunteers with either face-to-face visits or via email/telephone and volunteers have 24/7 access to our in-country staff. With longer placements, we visit our volunteers every two weeks (when possible) and volunteers are always welcome at the local office. If project placement is local, we request that volunteers stop by the office once a week to keep us posted on how they are doing with their home stay and project. If project placement is very far, then our local staff members maintain communication by either email and/or phone.
Volunteer Program Free Time
Volunteers have free time for the duration of their volunteer project, weekends and the Language and Culture program. While IFRE does not arrange activities during this time off, our local staff, members and coordinators can provide priceless assistance in making appropriate arrangements for travel around Sri Lanka. Sri Lanka is a natural paradise of Asia. There are tremendous opportunities for travel and exploration. Free time allows for travel to major tourist areas such as Colombo, Kandy, Negombo, Anuradhapura, Sigiriya and Dambulla. Volunteers can relax and simply hike in their village or ride bicycles. Sri Lankans also perform a variety of daily rituals and religious activities that volunteers can participate in, with their host family. Please discuss your recreation options with our Sri Lanka project staff for activities available in your free time.
Learn more about our programs