Conservation Project
Conservation Project Ecuador
Volunteer your time conserving beautiful Ecuador!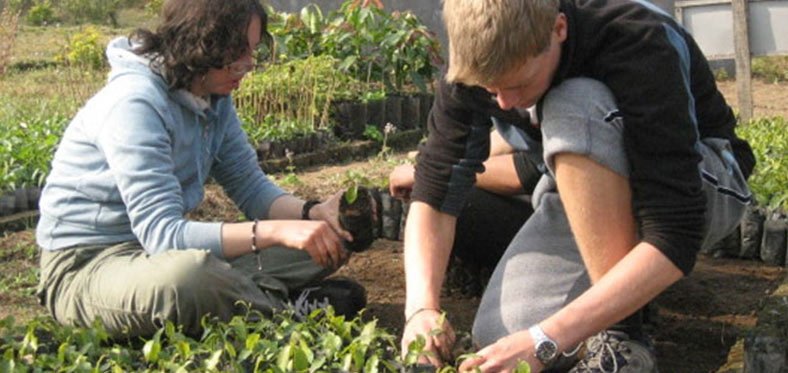 Play a role in maintaining endangered environments

Immerse yourself in nature

Share your passion for the environment

Volunteer abroad safely & affordably
Project Summary
Do you have a passion for working with the environment? Are you willing to work hard to try to protect it? Would you like to live in a place with breathtaking and beautiful scenery surrounding you on a daily basis? If you answered yes to these questions, the Ecuador conservation project is just the thing for you!
Volunteers will be staying and working at the Los Cedros Biological Reserve. This beautiful and serene forest consists of 17,000 acres of wet tropics and cloud forests. It is largely sustained through the generous support of individual donors and organizations.
It is estimated that there are around 240 species of birds in the reserve; tanagers, hawks, eagles, parrots, owls and toucans are only some that you will find. Over a dozen species of hummingbirds whizz around throughout the forest, some only an inch long. You will also find the Toucan Barbett, the stunning Andean Cock-of-the-Rock, and the colorful Golden Headed Quetzal makes their home here as well. If you thought that was a lot, there are over 900 species of nocturnal moths with amazing wing patterns and colors. Thousands of butterflies, ants, beetles, spiders and bees can also be seen whizzing and walking around Los Cedros. The largest cockroach in the world lives here as well as several species of snakes, lizards and frogs. You will also find five different species of feline friends territorially roaming around as well as many other mammals including the nine-banded armadillo, kinkajou, brocket deer, red-tailed squirrel among many others.
Skills/Qualifications Needed
No specific qualifications or skills required to volunteer in the Ecuador conservation project. We do require a love and passion for working to protect the environment and the willingness to help whenever needed.
Volunteers' Responsibilities
Volunteers will assist in different duties each day. These include:
Trail maintenance and development
Checking the integrity of the reserve's borders
Assisting with research project work, when active
Developing new projects (for those self-motivators)
Maintaining the facilities
Feeding the chickens, cultivating the vegetable patches, picking oranges, and cutting down bananas
Purchasing and transporting additional food and other supplies to the reserve from Quito
Volunteers will find this work hard yet relaxing. They will break a sweat and work up an appetite, but will also have plenty of time to relax.
Room/Food/Supervision
Volunteers' accommodations are dormitory-like ranging simple/functional to grandly eccentric. Rooms are divided up according to taste and availability. Most rooms are single occupancy, but volunteers will share when there are a lot of people at the project site. Like most everything else at Los Cedros, you can expect your room to have a phenomenal view. Long-term volunteers may even consider reclaiming one of the several outbuildings on the trails around the central compound. There is a gas-heated shower building for volunteers with its own spectacular view, as well as an external composting toilet. Food is brought in from Cooperative Camari in Quito, where organized communities and indigenous people sell their organic foods. The meals are supplemented with fresh veggies and herbs from within the reserve. During the week, volunteers will find tasty and plentiful food prepared by the kitchen staff. Volunteers are given access to the entire kitchen, gardens and pantry on the weekends; however, cooking for themselves whatever suits their fancy.
Located thirty miles north of the equator, northwest Ecuador is one of the wettest climates on Earth, with dry season happening from July to October. The temperature fluctuates between 16-25 degrees Celsius annually. The reserve is 60 km away from Quito, Ecuador's capital city, but takes a couple of days to travel to the destination. If you can make this trip, you will enjoy a scenic view as you travel to and from the reserve.
If not, however, you will not get bored at the reserve. You can eat, hike, swing in hammocks located around the reserve, and drink tea with the locals, all the while enjoying absolutely breathtaking views. We do recommend you bring everything with you that you will possibly need, as this is a remote area, but you will never get bored experiencing incredible views and meeting new people both locally and internationally daily.
FAQ
Please provide a typical daily schedule for this project.

Volunteers work daily, Monday – Friday, 9:00 am – 2:00 pm.

What are the accommodations for volunteers?

Volunteers accommodations are provided in a lodge located in the Cloud Forest.

How far is the project from the accommodation?

The project and accommodations share the same location.

Will I be working on my own or will there be someone assisting me?

You'll work with others who have experience working as part of the program.

How many hours a day do I need to work?

The normal workday lasts between 4-6 hours per day.

Is the conservation project available year-round?

Yes.

Other relevant information:

Volunteers should be prepared to work in heat and humidity where there is an abundance of mosquitos.