Galapagos Conservation
Galapagos Conservation Project Ecuador
Volunteer in Conserving the stunning Galapagos Islands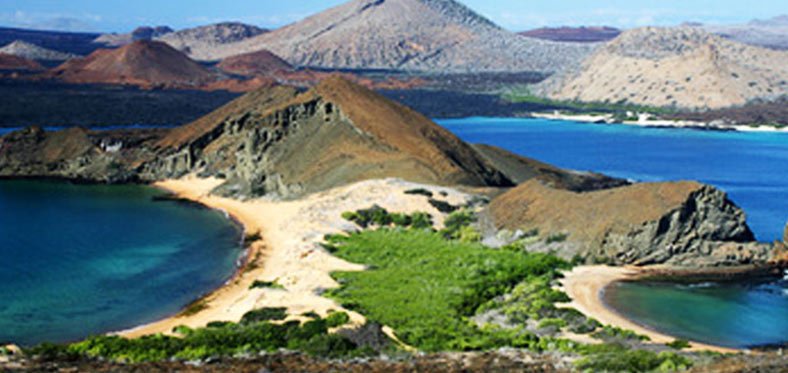 Share your passion for the environment

Travel to the stunning Galapagos Islands

Working in the promotion of agriculture

Volunteer abroad affordably & safely
Project Summary
How does working in a conservation project in an isolate island with spectacular land and marine life sound to you? In San Cristobal Island, one of the main islands in the Galapagos Archipelago, our conservation team is working hard to maintain the local ecosystem and bio-diversity. Join the team and learn about the work as well as contribute in the long running fight to save the local species that are under attack from invasive alien species. Due to the arrival of human and more specifically the opening up of port and an airport, the newer species that arrive from other parts of the world constantly threaten the indigenous ones. This issue is so serious that Galapagos is now listed in the World Heritage in Danger places. The conservationists in Galapagos face a long and difficulty battle to control and eradicate invasive species. This together with reforestation and promotion of sustainable agriculture has been the biggest challenges the islands have faced.
As a volunteer, you will learn about the effort currently underway and work to help the conservation team. Join the project and make your dream come true by traveling to a remote and beautiful Galapagos Island and doing sometime meaningful.
Skills/Qualifications Needed
No specific qualifications or skills required. We do require a love and passion for working to protect the environment and the willingness to help whenever needed. Living condition in the island will be basic but comfortable. You will have to get used to life without internet connection. Volunteers can travel to a nearby town to go online and call home.
Volunteers' Responsibilities
Volunteers will work full day from Monday to Friday and occasionally a half-day on Saturdays. Volunteers will go on guided hike to the reserve and nearby areas to learn about biodiversity, natural history and ecology. You will assist in different duties each day. These include: Maintain trails, signs, work in construction activities, help with the supply of fresh water and help in the kitchen.
Work in the promotion of organic agricultural activities by learning and promoting agricultural practices and securing food production for the project. Help prevent reforestation by collecting and classifying seeds, work in a nursery and plan trees in the reserve. The reserve is currently implementing a biological corridor to demonstrate the different native vegetation at different gradients of the island.
Volunteers are also encouraged to develop their own project to support the conservation project on the island. You assisted by local staffs to do this.
Room/Food/Supervision
Volunteers will stay in the San Cristobal Island. It is the eastern most of the island and connected to the mainland Ecuador via an airport and a port. The accommodation is composed of two houses and constructed with bamboo and cement. There are 11 rooms and resting areas. Kitchen and dinner area is located in another house. It house can accommodated up to 35 people. Volunteers will find researchers, guided natural history groups and other volunteers sharing the accommodation. During the project, volunteers will be served 3 local meals and your project supervisor and project staff will help and guide you through out the program.
During weekends volunteers can hike, go inside the reserve or other parts of the island to spot unique birds and marine life and try surfing or swimming on the beach. A full list of weekend activities will be given to you before you fly to Galapagos. Volunteers can also travel to Puerto Baquerizo Moreno, a small town of just over 5 thousand settlers to use the internet and call home.
Weather
There are two main climatic seasons on Galapagos, the hot season from December to May, which sees increased sea temperatures and occasional heavy rainfall, worst around January to February, off peak season and the cooler season June to November with more cloud and misty patches leading to lighter rains. After June trade winds can significantly affect ocean temperatures which and the temperature can dip to as low as 15ºC. You can, however, visit Galapagos Islands any time of the year and enjoy the scenery, marine, plant and wildlife.
FAQ
Please provide typical day schedule for this project.

Volunteers at the Galapagos Project in Ecuador work daily, Monday-Friday 9 am -5 pm, with an occasional half-day on Saturdays.

How far is the project from the house where I'll be staying?

20 minutes

If I need to get in touch with the country coordinator, how can I do that?

The director of the project (José) is available by cellphone most of the time, or you can call his office from the project at any time.

What would I be doing at the project?

Habitat restoration: movement of introduced vegetation
Reforestation with native species: seed collection and classification, nursery work, reforestation lines maintenance
Organic agricultural activities and agroforestry to help produce food for the station
Station maintenance
Personal project (develop your own project or support different conservation projects that are being developed at the station at the time)
Trail maintenance
Sign maintenance for trails
Basic construction activities
Clean the local fresh water
Help in the kitchen
Find bird nests and clear the area around the nests to allow the mother to enter and encourage normal bird behavior
Phenology studies and flora inventories: observation and classification of native, endemic and invasive species
Observe birds at the reserve to determine if they are native, endemic or invasive.
Germination Project: Determine the most effective method for germinating vegetables.
Experiment with coffee production to learn whether coffee can be exported

Will I be working at the project on my own or will there be someone assisting me?

You'll always work with the project leader.

How many hours a day do I need to work?

The normal workday lasts 6 hours.

Is Galapagos Project available year-round?

Yes

Which airport should I fly to?

San Cristobal Airport

How will I get to the project site each day?

We drive you to the site with our own vehicle.

Other relevant information:

Please choose in advance what type of work you want to do and for how many weeks.