Conservation Project
Nature Conservation Work
Volunteer in ecological conservation in Nepal!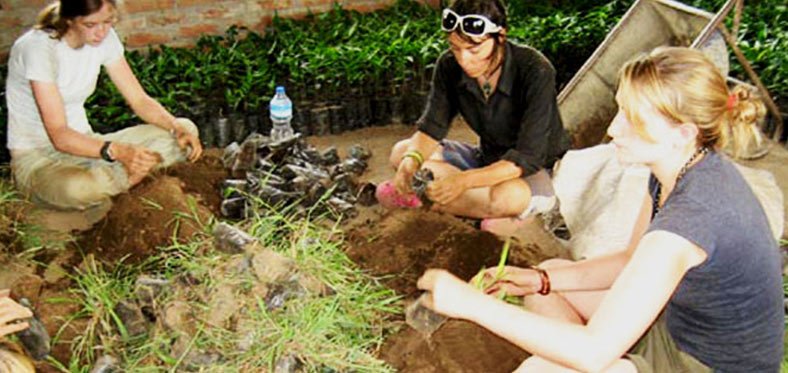 Assist in maintaining a community nursery

Enjoy the outdoors while making a positive impact

Immerse yourself in the beauty and culture of Nepal

Volunteer abroad safely & affordably
Project Summary
Deforestation, land fragmentation and desertification are major environmental issues facing Nepal. IFRE's local partner in Chitwan maintains an established community nursery program, which aims to distribute indigenous tree seedlings at no charge to local farmers, schools, communities and NGOs. Conservation volunteers in Nepal support the activities of this community nursery. The nursery role includes: digging, filling plastic bags, weeding, irrigating and related efforts. Volunteers working in a conservation project also support the nearby vegetable gardens that produce vegetables for local orphanages. This project is perfect for outdoor enthusiasts and eco-minded individuals.
Skills/Qualifications Needed
There are no specific qualifications for joining the conservation project in Nepal. However, many of the projects are quite physical, so environmental and conservation volunteers need to be in good physical shape. An outgoing and entrepreneurial spirit is helpful, as is an ability to follow directions well.
Volunteer Responsibilities
Volunteers working in a conservation project in Nepal will support nursery efforts and indigenous seedling care. Volunteers support seedling distribution to villagers in throughout Nepal. Duties may include: digging, preparing nursery beds, sowing seeds, weeding, trimming, pruning, filling plastic bags, applying water and any work related to nursery. Other tasks may include planting, collecting seeds, replanting, eliminating diseased trees and taking flora and fauna inventory, depending on the season.
IFRE also supports a small orphanage and school in Chitwan. So, conservation volunteers can teach English or work in the orphanage in their free time. This can be arranged upon arrival in Nepal.
Room/Food/Supervision
IFRE manages living accommodations, meals and supervision for volunteers throughout their stay in Nepal. Volunteers in the conservation project will mostly stay with well screened host families. Our host families are socially respected and are experienced with hosting international volunteers. They have strong interest in our volunteers' safety and well-being and demonstrate this with caution and care. In most host family situations, volunteers will share a room with another volunteer of the same gender. Another viable option is an at-orphanage stay. Many orphanages in Kathmandu have special rooms set aside to house international volunteers. Volunteers who have stayed with a host family or at an orphanage describe an enriched experience because of having done so. Once you have applied for program placement, you will find the specific details of your accommodations in your personal placement documents for your project.
Volunteers receive three prepared meals per day. Our cooks prepare breakfasts, lunches and dinners of Nepali foods (similar to Indian food, including wheat bread, rice, curry, dahl, chapatti and pickles) for volunteers. If volunteers will be out of the house during lunch hour, they can request a lunch "to go". If traditional Nepali fare does not appeal to volunteers, they are welcome to buy personal food and prepare it.
IFRE maintains two offices in Kathmandu and Chitwan to supervise and assist volunteers.
FAQ
Typical Day Schedule:

November to February, volunteers work 10am-5pm:

6.30

-

Awake to breakfast and tea with the host family

7.00amm to 10.00am

-

Project work

10.30am

-

Lunch in the host family

10.30 to 2.00pm

-

Break/Volunteer Free Time

2.00pm

-

Tea & Snacks with the host family

3.00pm to 6.00pm

-

Project continues

7.00pm

-

Dinner

March to October, volunteers work 7am to 10 am in the morning and 3pm-6pm in the afternoon.


7.00am

-

Awake to breakfast and tea with the host family

9.30am

-

lunch - Nepali rice

10.00am to 1.00pm

-

Project work

1.00pm – 2.00pm

-

Tea time & Break

2.00pm to 5.00pm

-

project work continues

7.00pm

-

dinner

What would I be doing at the project?

As a volunteer at this project, you will doing following activities:

Collect and organize seeds for planting
Construct fencing around conservation areas and nurseries
Regularly water plants
Tend to project by weeding, mulching and sowing beds
Landscaping & Transplanting
Search for seedlings and build plant beds
Assist in vegetable garden

What is the name of the project I would be placed?

There is a conservation and ecological project as well as a vegetable garden located in Chitwan where volunteers will work.

Will I be working in the project on my own or will there be someone assisting me while working?

You will be working alongside a nursery leader who develops schedules and projects for visiting volunteers.

How many hours a day do I need to work?

Volunteers normally work 4-5 hours day.
November-February, volunteers work 10am- 5pm
March-October, volunteer hours are 7am-10am and 3pm-6pm

Is conservation project available all-round the year?

Yes, the project is available around the year.

Any important information you want to share about this project.

This project is physically demanding and requires volunteers who are physically fit and willing to work outdoors for long periods of time. It is recommended volunteers bring sun block, a hat and gloves.