Teach Buddhist Monks
>
>
>
Teach Buddhist Monks in Sri Lanka
Project Summary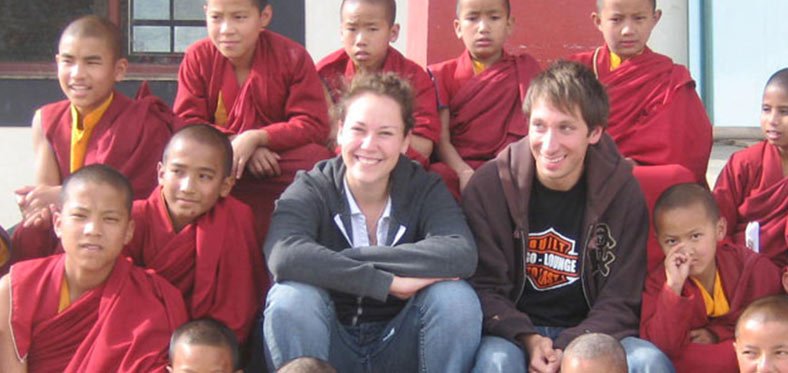 A Pirivena is a monastic college, similar to a seminary, for the education of Buddhist monks in Sri Lanka. Piriven have been centers of education in Sri Lanka since ancient times. Often "lay people" (religious followers not holding religious positions) receive education at a Pirivena as well. There are nearly 700 Piriven in Sri Lanka, which are maintained by the Ministry of Education. IFRE's teaching Buddhist monks project is coordinated by a local grassroots-partner organization wishing to encourage and nurture the intellect and self-reliance of the neediest, most humble monks in Sri Lanka.
This project allows volunteers who teach Buddhist monks in Sri Lanka to be part of the centuries-old and traditionally rich culture that captivate and intrigue many Western imaginations. The Sri Lankan government declared 2009 as the 'Year of Information Communication Technology (ICT) and English' and thus increased the need for volunteers to teach English to aspiring, knowledge-hungry monks and nuns. The Piriven have very limited resources and are greatly understaffed.
Skills/Qualifications Needed
There are no specific qualifications needed to join the teaching Buddhist Monks program in Sri Lanka. However, it is important to note that monks are highly respected social figures in Sri Lanka. Monks follow strict and exemplary life rules, and only volunteers with serious discipline can the project. Separate temples/schools exist for male and female monks and volunteers will only teach their specific gender.
Volunteer Responsibilities
Volunteers in this amazingly unique project teach monks and nuns ranging from 8-21 years of age. Volunteers may assist with various extra-curricular activities, which could include sports, arts, music, etc. Teaching English at a Piriven to these eager, young monks will provide volunteers with an extraordinary opportunity to immerse in the ever fascinating and enlightening Buddhist culture, teachings and philosophies. Many past volunteers have commented that this particular project is one of the most memorable, engaging and mind-opening experiences they have had in their lives.
Room/Food/Daily Life
In Sri Lanka, all volunteers stay with well-screened host families (in most situations this is with our in-country coordinator or local staffs). Our host families are socially respected and are well versed in the art of hosting international volunteers. Host families offer a safe home, private rooms (occasionally rooms will be shared with other same-gender volunteers) and shared bathroom facilities with running water and a "local" style toilet. You receive three prepared meals per day. If you will be out of the house during lunch hour, you can request a lunch "to go" that you can take with you or eat out on your own. Host families provide typical meals that are traditional to Sri Lanka. Rooms are shared, as are bathroom and kitchen facilities. For a small additional fee, volunteers can opt to stay in a modest seaside motel. Please note this preference in the initial volunteer application.
Throughout the volunteer project, our local staff stays in contact with volunteers with either face-to-face visits or via email/telephone and volunteers have 24/7 access to our in-country staff. With longer placements, we visit our volunteers every two weeks (when possible) and volunteers are always welcome at the local office. If project placement is local, we request that volunteers stop by the office once a week to keep us posted on how they are doing with their home stay and project. If project placement is very far, then our local staff members maintain communication by either email and/or phone.
Learn more about our programs