Teach Buddhist Monks
Teach Buddhist Monks in Nepal
Immerse yourself in Buddhism while teaching English to Monks!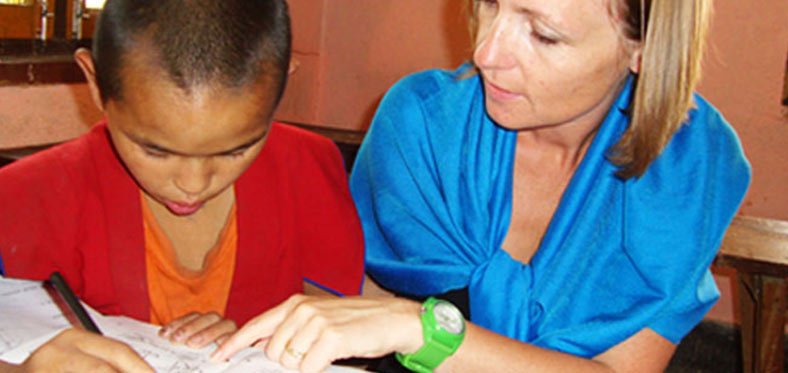 Share the English language with young monks in Nepal

Experience working in a monastery

Immerse yourself in the serene lives of Buddhist

Volunteer abroad safely & affordably
Due to winter activities, the monk teaching project is not available from the last week of December to 2nd week of February. Please confirm this with us before applying for the program.
Project Summary
Nepal is an important place in the Buddhist religion. Although Nepal is a predominantly Hindu country, it has a significant Buddhist influence. There are beautiful monasteries throughout Nepal thus demonstrating the popularity and acceptance of Buddhism in Nepal. In Kathmandu, there are also practicing Buddhists who are Tibetan people in exile in Nepal.
Those interested in volunteering in a Buddhist monastery will mostly teach English education to monks and immerse themselves in Buddhist culture. This is a perfect project if you are interested in or curious about Buddhism and the serene and enlightened lives of Buddhist monks.
Skills/Qualifications Needed
There are no specific qualifications needed to join the teaching Buddhist Monks program in Nepal. However, it is important to note that monks are highly respected figures and follow strict and exemplary life rules. Only volunteers with serious discipline can join this project.
Volunteer Responsibilities
Volunteers in Nepal's teaching Buddhist monks project primarily work as English instructors in either the schools of Tibetan Children's Village or in local monastery in Kathmandu. Volunteers conduct English lessons for 3-4 hours a day. In addition to English teaching, volunteers will assist with extra-curricular activities and administration. In the evening, volunteers organize games, drawing, singing, dancing and other creative education and extracurricular activities. Morning and late evening time is free. If you love Buddhism, this is the perfect time to join meditation, rituals, prayers and songs with the Buddhist monks. This project gives ample opportunities to immerse in the Buddhist religion and lifestyle.
Room/Food/Supervision
IFRE manages living accommodations, meals and supervision for volunteers throughout their stay in Nepal. Volunteers placed in Kathmandu projects either stay at our home base – a permanent home set aside for international volunteers and manned with a local staff, or with well screened host families. Our safe and secure Kathmandu home base is located in a beautiful area of Kalanki, nearly 5 km away from Thamel, a popular tourist hub of Nepal. Most necessary services for travelers are located within 2 km of the home base: internet cafés, restaurants and grocery stores. Our home base is located in the heart of city and provides easy access to volunteer to all parts of Kathmandu. It is a perfect situation for volunteers to live safely and comfortably while making many new friends and sharing experiences every day. Our home base provides a same-gender shared room and shared bathroom with running hot water and a "western" style toilet. Volunteers will have the ability to do laundry at the home base.
Our host families are socially respected and are experienced with hosting international volunteers. They have strong interest in our volunteers' safety and well-being and demonstrate this with caution and care. In most host family situations, volunteers will share a room with another volunteer of the same gender. Volunteers who have stayed with a host family describe an enriched experience because of having done so. Once you have applied for program placement, you will find the specific details of your accommodations in your personal placement documents for your project. In Pokhara and Chitwan, our volunteers will stay mostly with host families.
Our volunteers will receive three prepared meals per day. Our cooks prepare breakfasts, lunches and dinners of Nepali foods (similar to Indian food, including wheat bread, rice, curry, dahl, chapatti and pickles) for volunteers. If volunteers will be out of the house during lunch hour, they can request a lunch "to go". If traditional Nepali fare does not appeal to volunteers, they are welcome to buy personal food and prepare it.
IFRE maintains offices in Kathmandu to supervise and assist volunteers. However, volunteers working in Pokhara will stay in touch with Kathmandu office by telephone or email and will receive staff visits as often as possible, usually every two weeks.
FAQ
Typical Day Schedule: It may vary in each monastery:

There are two shifts available in the Healthcare Project in Kathmandu: Morning shift, 8:30-2:00pm or evening shift, 2:00-7:00pm.

5:30am

–

Begin your day Puja (prayers)

7:30am

–

Breakfast

9:00am to 11.00am

–

Educational time and the first session of English classes

11.00 to 11.30

–

Tea time

11.30 to 12.00

–

Tibetan Class continues

12.00

–

Lunch time

2.00 to 4.00

–

Educational Lessons

4.00 to 4.30

–

Tea time

4.30 to 6.00

–

Refreshments and evening puja

6.00pm

–

Dinner

7.00 to 8.00

–

Review the days lessons

9.00

–

Retreat to bed

*Volunteers are welcome to retreat to their quarters following dinner

Where do I stay? How far is the project from the accommodation? How do I commute every day?

Volunteers will reside within the monastery, however in some monasteries, females are forbidden to stay overnight. In such incidents, our volunteers are provided accommodations with area host families within walking distance from the monastery. In such cases, where volunteers are not able to reside onsite, the country coordinator will arrange the accommodations.

What is the name of the monastery I will be placed in?

Volunteers will receive details on their placement and accommodations upon completion of their application.

What is the age range of the monks in the monastery?

The age range varies in each monastery, on average, you will be teaching monks aged from 8-15 years old.

How many monks are in the monastery? How many of them are in each class?

The average number of the monks in the monastery is 50-150 with 10-12 monks in each class.

Will I be handling the classes on my own or will there be someone assisting me while teaching?

Volunteers are solely responsible for handling the classes on their own. There will not be anyone assisting you with the teaching. Volunteers are responsible for assessing the level of English education the monks have and to plan class lessons accordingly.

Do they have teaching curriculum?

There are very few monasteries that follow a school teaching curriculum, therefore in most of the monasteries; volunteers have to design teaching material for the monks on their own.

How many hours a day do I need to teach?

You will teach about 2-3 hours a day in the monastery (Monday-Friday), which is the maximum time volunteers, can expect to teach. For the remainder of the time volunteers are invited to participate in monastery activities like chanting and praying.

Do I need to bring teaching materials? Or does the monastery has teaching materials which I can use?

The monastery does not have educational materials and volunteers are encouraged to bring story/vocabulary books, pens, pencils, notebooks and any additional materials they deem necessary.

Is monk teaching available all-round the year? If not, when does it close and for how long?

The Teaching English to Buddhist Monks project is not available year-round and is closed the end of December through the end of February.

Any important information you want to share about this project.

The lifestyle within the monastery is highly disciplined and all visitors and volunteers are expected to respect that fully by abiding by the rules set forth. While outdoor games are prohibited, indoor games are allow. Physical attachment is completely prohibited and monks are not allowed outside the area without permission. Alcohol and smoking is completely prohibited inside the monastery and volunteers should return to the monastery in a timely manner.