>
>
Internship in Thailand
Intern in Thailand and discover your own vibrant, spiritual and happy experience while you serve those and communities who are less fortunate! IFRE offers the best of internship programs at the most reasonable prices.
Travel to Thailand! Its breathtaking natural beauty, delicious cuisine, exotic culture and citizens known for their smiles and hospitality – keeps Thailand one of the most popular south Asian destination for interns and tourists. Culture and tradition are steeped into everyday life. Architectural amazement is waiting at every turn represented by traditional and more modern structures. Thai temples – called wats – adorned with gold and ornate, colorful, pointy roofs and historical sites that are well-preserved ruins from past centuries can be found throughout the country. The beaches – Oh, the beaches of Thailand are amazing, post card perfect pieces of paradise! Natural beauty continues its theme with mountains blending into green rice fields of the North and the verdant limestone islands of the Andaman Sea. Bangkok and other urban sites buzz with electric excitement.
To get a head-start on your Thailand internship program, take a few moments to contact us by email for more information, including travel dates, fees and more. We look forward to hearing from you.
INTERNSHIP PROGRAM FEES & DATES:
Start Dates: Our programs start every Monday, although we allow for flexibility due to travel constraints.
Ifre's fees for volunteer programs and internship programs are the same. Ifre volunteers offers the world's most affordable internship programs. When you join our internship program, you pay your fee directly to host families and projects. In this way, we ensure that your money goes for you or the people who need it (not for the organization's profit).
Ifre internship fee comprise of two separate fees. An application fee of $299 USD (covers advertising, staff/office expenses, etc.) and a nominal weekly program fee (covers room/board, field support, etc).. You can visit the following link for details on fees and dates:
http://www.ifrevolunteers.org/thailand/volunteer_in_thailand.php#price
Additional costs for interns:
International flights, visa application/extension, daily personal expenses on beverages/entertainment daily transportation, laundry, telephone, immunizations.
WORK IN THAILAND INTERNSHIP WORK PROJECTS
In Thailand , IFRE currently supports internship projects in Ayutthaya , an area 30 miles from Bangkok and world famous for its archeological sites, green rice fields and gorgeous landscapes. IFRE's Thailand internship program is currently focused on teaching English in primary/secondary schools or Buddhist temple schools.
TEACHING ENGLISH IN THAILAND – PRIMARY AND SECONDARY SCHOOLS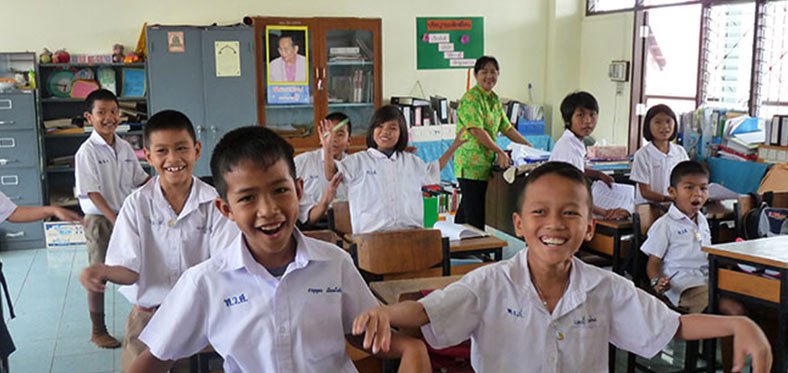 Teaching English in Thailand is highly rewarding! In this project, interns will teach English to the students of primary and lower secondary schools for five days a week - Monday to Friday. Thai English students possess a unique passion for learning. As our world economy become cozier, the need for English fluency increases every day as English is truly the language of economic opportunity!
Primary and secondary schools in Thailand are struggling to meet the growing need for English education. In Thailand, the primary schools provide education to the children between the ages of 5-12 years, grades 1-6. The class sizes range from 10-40 students, depending upon the size of the community as well as the quality of the school. Secondary schools are located in larger communities, towns or cities. These schools are comprised of children/young adults between the ages of 12-19 and are usually quite large, with a student populations ranging from 1000-4000 in each. Most schools are co-ed and have a foreign language department in which English is included. English is the main language offered, yet some of these schools offer French, German and Italian as well. In addition to teaching, English-speaking interns also encourage the students to take part in extracurricular activities and possibly organize sports activities for the students too.
SKILLS/QUALIFICATIONS NEEDED
Interns wishing to teach English in Thailand must have a mastery of English language and thorough speaking fluency. Though no teaching experience or skill is needed, it is beneficial to have taught or trained others. Interns are expected to be flexible, patient and possess a passion and love for children.
AN INTERN'S RESPONSIBILITIES
Interns will teach English to primary and lower secondary students schools for five (5) days a week, Monday to Friday. Additionally, interns will also support extracurricular activities and organize sport-related activities. Interns will teach practical, conversational English skills in an interactive way with stories telling, playing games, performing plays, etc. Interns will also teach specific vocabulary, grammar and pronunciation. A supervisor at each school will be assigned to help develop teaching lessons and provide guidance during the project. Interns working in secondary schools can also possibly teach other languages in addition to English. There are sometimes approximately 10 teachers in the foreign language department, but only 1-2 teachers may actually speak English properly. Others simply translate stories and teach English grammar components and sentence structure. This lack of conversational English skills makes fluent interns a highly valued prize! The presence of native, English-speaking interns will create an environment where the children will correctly learn and speak English with ease. In Thailand teachers are highly respected and revered.
TEACHING ENGLISH IN THAILAND – BUDDHIST TEMPLE SCHOOL
Teach in Thailand in a Buddhist temple school! IFRE's internship projects support teaching in schools housed at "Wats" or Buddhist temples, which are places of both religious and social activities. There are about 30,000 Buddhist temples in Thailand where monks live and participate in rigorous religious studies. In Thailand, Buddhist temples receive donations and thus position themselves to assist their local communities and support community social activities. Most of Buddhist temples in Thailand offer primary or secondary schools that offer educational opportunities for local children. These schools will be situated in the same complex (compound) where the Buddhist temple is located. When you intern at a Buddhist temple school there is a distinctive experience, not available in any of our other projects worldwide.
SKILLS/QUALIFICATIONS NEEDED
Though no teaching experience or skill is needed, interns joining Buddhist temple teaching program should have a mastery of English language and thorough speaking fluency. Though no teaching experience or skill is needed, it is beneficial to have taught or trained others. Interns are expected to be flexible and patient. You should have passion and love for teaching, English and conversation.
AN INTERN'S RESPONSIBILITIES
Interns mostly work as English teachers in primary and secondary school run by Buddhist temples. You will teach English to the local young students - not monks - Monday to Friday. Interns will teach practical, conversational English skills in an interactive way with stories telling, playing games, performing plays, etc. Interns will also teach specific vocabulary, grammar and pronunciation. A supervisor at each school will be assigned to help develop teaching lessons and provide guidance to interns. Additionally, interns support extra-curricular activities and organize sportive games. Though this is not a "teaching Buddhist monks" project, interns working in temple schools are exposed to the Thai culture and Buddhist religion, which is deeply rooted in Thai society.
FIELD SUPPORT AND SUPERVISION
How does IFRE help me when I am in the field? How can I maintain communication? Do you visit me?
Once your internship program begins, our local staff members stay in constant touch with you. However, if you are staying far from the Bangkok office, our staff will visit interns every 2-4 weeks (if possible) and you are always welcome at the office. We recommend that the interns stop by the office once a week, if they are staying/working in the local area, to give feedback on their home stay and project. Many minor issues can be avoided with a just little extra communication before they develop into major issues. Your project will have local staff members in addition to our in-country coordination staff. If your project is located a great distance from our offices, then our local staff communicates by either email and/or phone.
We are available for you at the local office via email and phone for your entire trip. It's our job to make sure that you are safe and healthy.
ACADEMIC CREDIT
You can earn academic credit for most internship projects in Thailand. The best way to receive academic credit is by pre-arranging the project with your college/university. It is up to an intern to communicate with faculty/academic advisors regarding college credit for internship work PRIOR to applying to IFRE. Your college/university may require additional information prior to approval and may require students to submit pre/post research or other requirements.
Alternatively, you can earn academic credit through Seattle Central Community College (SCCC). SCCC offers college credit for a variety of international programs (study abroad, volunteer abroad, intern abroad, language studies and even cultural-exchanging home-stays). IFRE recommends contacting Professor Steve Tash (we can provide contact details) to further explore this option of receiving academic credit for your international internship. IFRE is not associated with SCCC and it is up to the intern to arrange to transfer SCCC course credit to their university/college of choice.
ROOM & FOOD
IFRE manages living accommodations, provides meals and supervision for interns for the entirety of their stay in Thailand. IFRE's Thailand office is located in a beautiful area about 50 km from the Suvarnabhumi International Airport in Ayutthaya City – the former capital of Thailand. We offer home base in Thailand. Our Home base is very safe. It is a clean, sparsely furnished home but it will meet all your needs as an IFRE intern. We try to create a "home away from home" for interns staying at our home base. It is a perfect situation for interns to live safely and comfortably while making many new friends and sharing experience every day. Most of interns project in Thailand are located within 1-10 KM of our home base so you may walk or ride a local bus to your project. In the evening when you return to home base, you can relax, eat dinner, explore local areas or simply share experience with intern comrades.
Occasionally, depending on intern traffic, available projects or distance to a intern's assigned project, we may also place our interns with carefully pre-screened host families. Our host families are socially respected and are experienced with hosting international interns. They have strong interest in our interns' safety and well-being and demonstrate this with caution and care. In most host family situations, interns will share a room with another intern of the same gender. Interns staying with a host family will be able to have home cooked meals with the family. Those who have stayed with a host family describe an enriched experience because of having done so. Once you have applied, you will receive specific details of your accommodations in your personal placement documents.
Our field staff visits interns regularly and always happy to help our interns in any way needed. We offer three meals a day of local cuisine. Typically, interns eat breakfast and dinner at the home base (or host family) and have lunch at their project. We offer fresh, nutritious and safe local foods to our interns to eat.
FREE TIME
Interns have free time for the duration of their internship project, weekends and the Language and Culture program. While IFRE does not arrange activities during this time off, our local staff, members and coordinators can provide priceless assistance in making appropriate arrangements for travel in Thailand. It's the time for self-discovery and learning. It's time to explore this foreign culture and exotic land. It's definitely time for exploration! There is a Tourist Office in Ayutthaya that offers information and recommendations.. You can take excursions to major tourist areas such as Bangkok. In Ayutthaya City there are old-world charm and an experience that feels very "Thai". You can see the Grand Palace, many temples and monasteries. This area grants easy access to Bangkok using the nearby local bus (tuk tuk) station, which is only 2 km away, and is easily accessible by walking. This tuk tuk (auto rickshaw) runs to many areas. Useful amenities within 5 km of the IFRE home base are an internet café, restaurant and supermarket. The local police station is also located within approximately 5 km from the IFRE homebase. Our IFRE local coordinators/staff are available to give you free advice, travel tips and helps to book your travel.