>
>
Internship in Sri Lanka
Travel to Sri Lanka. This exotic, mysterious and tropical island country is steeped in legends and has over 2500 years of continuous, documented history. Sri Lanka continues to lure visitors – like in ancient times – with its breathtaking scenery, palm-skirted beaches, cool hill country and historical monuments. IFRE's Sri Lanka internship program gives interns a chance to explore a stunning land full of tropical forests, pristine beaches, important wildlife sanctuaries and significant Buddhist relics and religious buildings, all while serving humanity in vital internship projects.
Interns will find joy in the well-kept secret that is Sri Lankan cuisine and locals welcome travelers with pride, despite, race, or culture. Sri Lanka is consistently ranked a top destination travel spot by many major newspapers and magazines in the western world. "Unique ecosystems, inspiring heritage sites from ancient cities to colonial forts, a vibrant culture including fine arts and crafts and grand festivals, and a people of diverse ethnicity and religious persuasion, charming and hospitable.
To get a head-start on your Sri Lanka internship program, take a few moments to contact us by email for more information, including travel dates, fees and more. We look forward to hearing from you.
Sri Lanka INTERNSHIP PROGRAM FEES & DATES:
Start Dates: Our programs start every Monday, although we allow for flexibility due to travel constraints.
Ifre's fees for volunteer programs and internship programs are the same. Ifre volunteers offers the world's most affordable internship programs. When you join our internship program, you pay your fee directly to host families and projects. In this way, we ensure that your money goes for you or the people who need it (not for the organization's profit).
Ifre internship fee comprise of two separate fees. An application fee of $299 USD (covers advertising, staff/office expenses, etc.) and a nominal weekly program fee (covers room/board, field support, etc). You can visit the following link for details on fees and dates:
http://www.ifrevolunteers.org/srilanka/volunteer_in_srilanka.php#price
Additional costs for interns:
International flights, visa application/extension, daily personal expenses on beverages/entertainment daily transportation, laundry, telephone, immunizations.
WORK IN AN ORPHANAGE IN SRI LANKA
In Galle, IFRE collaborates with local orphanages and children support groups aimed at offering support to displaced, abandoned and abused orphan children in Sri Lanka. Through this local project, interns will work directly with these children and leave a positive mark on their lives. In this internship project, participants spend valuable time physically living with the orphaned children as a part of their orphanage-family. These underprivileged children need love, care and attention, and the resource-poor orphanage centers need to be rescued by the willing, helping hands of interns as well.
SKILLS/QUALIFICATIONS NEEDED
There are no specific qualifications needed to join the orphanage internship project in Sri Lanka. All interns are expected to be flexible and patient, as well as possess a passion and love for children. Experience working with children is considered a plus.
AN INTERN'S RESPONSIBILITIES
Orphanage interns teach English (3-4 hours a day) in the orphanage or local school (where the children attend during the day). Interns offer daily life-skill support with physical and dental hygiene and dressing for school/life. Evenings are a chance for interns to show off their creativity by organizing games, drawing, singing, dancing and other creative educational and extra-curricular activities. Interns also help children with their homework and help monitor their academic progress. If interns are not interested in teaching during the day, they can opt to stay and care for the younger children remaining in the orphanage. Interns are also expected to assist with serving and preparing meals, maintaining the garden and various administrative duties.
TEACH BUDDHIST MONKS IN SRI LANKA
A Pirivena is a monastic college, similar to a seminary, for the education of Buddhist monks in Sri Lanka. Piriven have been centers of education in Sri Lanka since ancient times. Often "lay people" (religious followers not holding religious positions) receive education at a Pirivena as well. There are nearly 700 Piriven in Sri Lanka, which are maintained by the Ministry of Education. IFRE's teaching Buddhist monks' project is coordinated by a local grassroots-partner organization wishing to encourage and nurture the intellect and self-reliance of the neediest, most humble monks in Sri Lanka.
This project allows interns who teach Buddhist monks in Sri Lanka to be part of the centuries-old and traditionally rich culture that captivate and intrigue many Western imaginations. The Sri Lankan government declared 2009 as the 'Year of Information Communication Technology (ICT) and English' and thus increased the need for interns to teach English to aspiring, knowledge-hungry monks and nuns. The Piriven have very limited resources and are greatly understaffed.
SKILLS/QUALIFICATIONS NEEDED
There are no specific qualifications needed to join the teaching Buddhist Monks program in Sri Lanka. However, it is important to note that monks are highly respected social figures in Sri Lanka. Monks follow strict and exemplary life rules, and only interns with serious discipline can the project. Separate temples/schools exist for male and female monks and interns will only teach their specific gender.
AN INTERN'S RESPONSIBILITIES
Interns in this amazingly unique project teach monks and nuns ranging from 8-21 years of age. Interns may assist with various extra-curricular activities, which could include sports, arts, music, etc.
Teaching English at a Piriven to these eager, young monks will provide interns with an extraordinary opportunity to immerse in the ever fascinating and enlightening Buddhist culture, teachings and philosophies. Many past interns have commented that this particular project is one of the most memorable, engaging and mind-opening experiences they have had in their lives.
WORK IN AN ELEPHANT ORPHANAGE IN SRI LANKA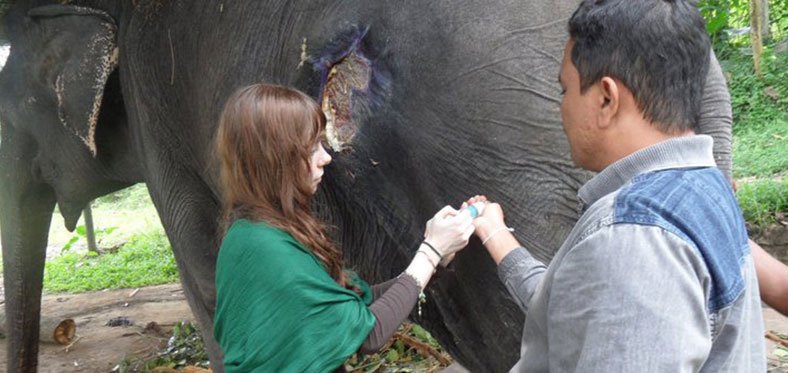 Along the banks of the Maha Oya River sits a former-coconut plantation that houses the largest herd of captive elephants in the world! The government established the Pinnawela Elephant Orphanage in Sri Lanka as a sanctuary in 1975. It is nestled in 25 acres of lush forest and serves as a feeding and nursing ground for young elephants that live there. Originally established for lost or abandoned elephants, the breeding program has seen the birth of more than 20 elephants since 1984.
Elephant orphanage interns will interact directly with the baby elephants: bottle-feeding them and walking alongside these curious, wondrous creatures as they lumber lazily down to the river for a twice daily, splash-filled bath. Like human children, these almost-helpless young elephants also need love, care and attention. The elephant orphanage center is resource-poor and able-bodied interns to provide optimal care for these gentle giants are desperately needed. This project is a rare and amazing opportunity for hands-on experiences with elephants.
SKILLS/QUALIFICATIONS NEEDED
No specific qualifications are required to be an intern in the elephant orphanage project. However, interns should have a deep love for animals. Interns need to be physically capable and content to spend much of their workday outside.
AN INTERN'S RESPONSIBILITIES
Interns work directly with the "mahouts" (elephant handlers) and act as their assistants. Interns spend a lot of time interacting with the elephants, providing mental stimulation and the ideas for this interaction are usually left to the interns with some guidance from the "mahouts". Interns will also take the elephants to bathe in the river twice a day, clean and maintain enclosures in the morning, wash and feed the baby elephants and help with general construction or maintenance work as needed.
FIELD SUPPORT AND SUPERVISION
How does IFRE help me when I am in the field? How can I maintain communication? Do you visit me?
Once your internship program begins, our local staff members stay in constant touch with you. We recommend that the interns stop by the office once a week, if they are staying/working in the local area, to provide feedback on their home stay and project. Many minor issues can be avoided with a just little extra communication before they develop into major issues. Projects have local staff members in addition to our in-country coordination staff. If your project is located a great distance from our offices, then our local staff communicates by either email and/or phone and visits every 2-4 weeks when possible. IFRE's in-country coordinator is available 24/7 via mobile phone. We are available for you at the local office via email and phone for your entire trip. It is our job to make sure that you are safe and healthy.
ACADEMIC CREDIT
You can earn academic credit for most internship projects in Sri Lanka. The best way to receive academic credit is by pre-arranging the project with your college/university. It is up to an intern to communicate with faculty/academic advisors regarding college credit for internship work PRIOR to applying to IFRE. Your college/university may require additional information prior to approval and may require students to submit pre/post research or other requirements.
Alternatively, you can earn academic credit through Seattle Central Community College (SCCC). SCCC offers college credit for a variety of international programs (study abroad, volunteer abroad, intern abroad, language studies and even cultural-exchanging home-stays). IFRE recommends contacting Professor Steve Tash (we can provide contact details) to further explore this option of receiving academic credit for your international internship. IFRE is not associated with SCCC and it is up to the intern to arrange to transfer SCCC course credit to their university/college of choice.
ROOM & FOOD
In Sri Lanka, all interns stay with well-screened host families (in most situations this is with our in-country coordinator or local staffs). Our host families are socially respected and are well versed in the art of hosting international interns. Host families offer a safe home, private rooms (occasionally rooms will be shared with other same-gender interns) and shared bathroom facilities with running water and a "local" style toilet. You receive three prepared meals per day. If you will be out of the house during lunch hour, you can request a lunch "to go" that you can take with you or eat out on your own. Host families provide typical meals that are traditional to Sri Lanka. Rooms are shared, as are bathroom and kitchen facilities. For a small additional fee, interns can opt to stay in a modest seaside motel. Please note this preference in the initial internship application.
Throughout the internship project, our local staff stays in contact with interns with either face-to-face visits or via email/telephone and interns have 24/7 access to our in-country staff. With longer placements, we visit our interns every two weeks (when possible) and interns are always welcome at the local office. If project placement is local, we request that interns stop by the office once a week to keep us posted on how they are doing with their home stay and project. If project placement is very far, then our local staff members maintain communication by either email and/or phone.
FREE TIME
Interns have free time for the duration of their internship project, weekends and the Language and Culture program. While IFRE does not arrange activities during this time off, our local staff, members and coordinators can provide priceless assistance in making appropriate arrangements for travel around Sri Lanka. Sri Lanka is a natural paradise of Asia. There are tremendous opportunities for travel and exploration. Free time allows for travel to major tourist areas such as Colombo, Kandy, Negombo, Anuradhapura, Sigiriya and Dambulla. Interns can relax and simply hike in their village or ride bicycles.
Sri Lankans also perform a variety of daily rituals and religious activities that interns can participate in, with their host family. Please discuss your recreation options with our Sri Lanka project staff for activities available in your free time.