Internship in Cambodia
Do you dream of participating in an internship program in Cambodia? Would you like to get involved with a meaningful project? Do you want to improve others' lives through your skills? If the answer to those question is yes, read on and find out what is the internship opportunity in Cambodia that suits you the most.
Pick your favorite internship in Cambodia from $200

Get involved in different local projects, make a difference and feel safe in Cambodia

Expand your horizons and participate in one of several recommended and reviewed internships

Explore Phnom Penh and contribute to improving the local community.
Are you looking for a reasonably priced internship program in an exotic place? You have come to the right place. IFRE offers internship opportunities in Cambodia that are unique and affordable.
Travel to Cambodia! It is an exotic land full of charm and glory. Its vibrant capital Phnom Penh, beautiful landscapes, rich culture and many remarkable temple monasteries - wats - hold many surprises for visitors in every corner. This country will offer an incredible experience during your internship in Cambodia! Through IFRE's Cambodia internship experiences you will explore this Southeast Asian paradise and contribute to improving the lives of poor children, local communities, and NGOs. After a chaotic and violent past, Cambodia needs helping hands to rise again from poverty. We offer internship projects in Battambang, Siem Reap, Phnom Penh, Pursat, and Kratie.
If you would like to know more information about our Cambodia internship program opportunities, regarding travel dates, fees or any other question you may have, take a few minutes to contact us by email. We look forward to hearing from you.
Volunteer Program Dates:
Start Dates: our programs start every Monday, although we allow for flexibility due to travel constraints.
IFRE is a 501(c) 3 organization; therefore your program fee will be tax deductible. IFRE is proud to offer an extensive assortment of internship programs in Cambodia at very reasonable prices and to rank among the "best priced and best value" internship abroad organizations in the USA, Europe, and New Zealand. Now, our programs are more affordable than ever. We are proud to focus on the humanitarian aspect of our business, not on the profit. We work very hard and smart to keep costs down especially for you, the intern. We value your time and efforts. We remain devoted to maintaining the high quality of the program and the safety of all interns involved. You can find below a brief summary of the program fee and services that IFRE offers.
IFRE fees are divided in two, an application fee of US $349 which covers advertising, staff, office expenses, etc. and a nominal weekly program fee which covers room/board, insurance, field support, etc. You can click on the following link for details on our fees:
http://www.ifrevolunteers.org /cambodia/volunteer_in_cambodia.php
Additional costs for interns:
International flights, visa application/extension, daily personal expenses on beverages/entertainment daily transportation, laundry, telephone, immunizations.
Internship Projects in Cambodia
Internship with orphans in Cambodia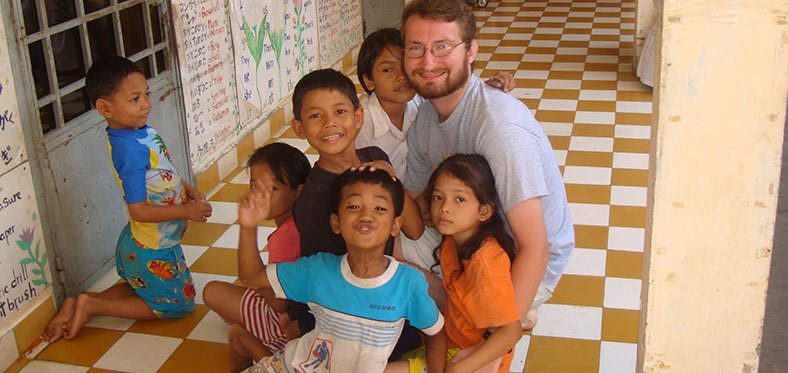 There are many orphans in Cambodia. It is a developing country with thousands of families still living in poverty and many orphaned children throughout wandering throughout the streets of Cambodia.
Great emphasis has been placed on securing a safe future for orphans by offering them a stable home environment, love, and education. Our Orphanage internship programs in Cambodia collaborate with local orphanages to protect these children in need. You will assist them with learning and improving their English, helping with homework or encouraging their involvement in activities that may aid their education, social development and creative. You will also help with various administrative duties. Sign up today to get involved with Internship in a Cambodian Orphanage and have a lasting impact on the lives of these precious children.
Skills/Qualifications Needed
While there are no specific, qualifications required to participate in the Cambodia orphanages internship, you must be loving, caring and compassionate to provide much-needed assistance. Being flexible and patient as well as love children will make you a perfect intern.
AN INTERN'S RESPONSIBILITIES
As an orphanage Interns in Cambodia, you will teach English to children and help with daily activities. You help them speak, write, draw pictures, sing songs, play sports and play fun games, give new shapes to clay, dance, etc. You will develop your creative activities bearing in mind the needs and interests of the young children.
Community Development
Cambodia is a developing country with a painful and strife-filled history. Many local Non-Government Organizations (NGOs) have been organizing various community development projects in areas such as education, women's empowerment, and peace/justice and children development. All of these organizations aim to rectify the existence of socially crippling situations in Cambodia, and focus on the reconstruction of the country and its communities. IFRE's community development internship program in Cambodia works with many local NGOs to support their community development efforts.
As a Cambodia Community Development Intern, you will work in various community development projects based on your previous experience and skills. The tasks and duties vary with each type of local project. This internship experience in Cambodia is the perfect choice for those who are looking for a real hands-on experience working with international development agencies while honing their personal, and skills.
Skills/Qualifications Needed
There are no specific qualifications required for the community development internship in Cambodia. However, Interns need to have an interest in and be enthusiastic about community work and social projects. Being flexible and patient will help too.
AN INTERN'S RESPONSIBILITIES
IFRE Cambodia Community Development placements are customized based on each Interns experience and interests. For example, a law student can help a community apply for their land rights; an English writer with knowledge of social development can write reports and proposals for fundraisers; an engineer can help create a plan for infrastructure development/improvement. Interns with land-planning/distribution can offer their assistance in establishing land and fishery communities in the Pursat province. In summary, whatever your skills, experiences, qualifications are, we can match them with the current needs of a local project. Being proactive and flexible helps too.
HIV/AIDS PROJECT
Internship in Cambodia to spread awareness of HIV/AIDS
Intern in Cambodia with the HIV/AIDS Prevention and Awareness Project and help prevent and relieve the negative effects of HIV/AIDS. This is a serious and deadly challenge faced in many countries throughout the world. While people from all walks of life are affected, those battling poverty have the hardest time living with the disease. IFRE invites you to participate in an internship working towards the prevention and awareness of HIV/AIDS, to help improve the quality of life of those infected and educating others to expand prevention.
IFRE is working with local organizations to promote HIV/AIDS awareness and prevention programs in Cambodia and provide comfort and reassurance to patients infected with HIV/AIDS. Local programs focus on community education, stigma reduction, gender awareness, home visits and community counseling. Sign up today and learn how with your time, dedication and support, you can raise the quality of life of those infected, educate the community about the disease and ultimately save the lives of those not infected.
Skills/Qualifications Needed
There is no specific education, experience, skills and/or qualifications needed to join an internship in Cambodia and fight against HIV/AIDS. However, you must be flexible, patient, and passionate and feel compassion towards the poor and HIV-infected people of Cambodia.
AN INTERN'S RESPONSIBILITIES
Interns will provide care to HIV/AIDS infected patients and engage the community in educational and training activities. As an Intern in the HIV/AIDS Awareness and Prevention Project in Cambodia, your duties may include:
Counseling infected patients

Educating locals

Assisting clinics/hospitals

Increasing the personal risk perception among Cambodians through active participation in HIV/AIDS preventive education in the community

Assisting community HIV/AIDS organizations with outreach programs such as hospice care, recreational and educational programs

Assisting with voluntary HIV counseling and testing

Organizing and leading educational seminars and conferences about the virus

Providing friendship to patients

Assisting local organizations with administrative and organizational tasks

Fundraising
Internship in NGO Project in Cambodia
Cambodia is among the poorest countries in the world, yet citizens continue to overcome their countries shattered past, the legacy of the Khmer Rouge government. There are many established NGOs in Cambodia, created over the last ten years to support and encourage positive progress. These recognized organizations focus on improving the citizens' living conditions at a grassroots level by creating development programs. Participants involved in our Cambodia NGO internship projects will assist communities in every way imaginable. Your skills and creative brainstorming efforts can aid the NGOs with profitable fundraisers and write reports/proposals. We invite interns from all backgrounds in lending their hands and minds to these NGOs which continue to enhance and improve the lives of the communities throughout Cambodia.
Skills/Qualifications Needed
There are no specific qualifications required for the IFRE's NGO internship projects in Cambodia. However, you must have an interest in and be enthusiastic about community work and projects. Bing flexible, patient, and proactive and an "out of the box" thinker will help too.
AN INTERN'S RESPONSIBILITIES
IFRE's Interns assists numerous local NGOs in Cambodia focused in educating locals about democracy, sustainable development, and human rights. As an intern, your duties will vary according to the type of project and its current needs. IFRE customizes each Cambodia NGO internship program based on the intern's experience and interest. If you have experience in development work, you can assist with report writing and fundraiser proposals. You can also help creating profitable activities for the poor and develop programs to help stability/sustainability in a community. If you have knowledge of land-planning/distribution you can help establishing land and fishery communities.
The minimum placement in these NGO projects in Cambodia is four weeks. Upon arrival and at the beginning of the program, you will receive an overview of the NGOs and the activities they offer as well as their goals and specific information to begin working with the project of your choice.
FIELD SUPPORT AND SUPERVISION
How does IFRE help me when I am in the field? How can I maintain communication? Will you visit me?
Once your Cambodia internship program begins, our local staff members will stay in constant touch with you. However, if you are staying far from the Phnom Penh office, our staff will visit you every two to four weeks, if possible. You are always welcome at the Cambodia local office. We recommend that you stop by the office once a week, if you are staying/working in the area, this way you can give us feedback on your accommodation and project work. Many minor issues can be avoided with a just little extra communication and may never develop into major issues. You will be working with local staff members and our Cambodia internship coordination staff. If your project is located far from our office, then our local staff will be in touch with you via email and/or phone.
We are available at the local office in Cambodia via email and phone during your entire trip. It is our job to make sure that you feel safe and stay healthy.
BOARD & FOOD
Where will I stay during my participating in the Cambodia internship program? What will I eat? What if I have a special diet?
IFRE arranges board, meals, and supervision for interns for the entire duration of their internship program in Cambodia. Depending on the location of the project, interns will either stay in our guesthouse or with a host family. Our guesthouse is located in the center of Phnom Penh City, near the Olympic Stadium and the Orussey Market. The staff speaks English and French is very kind. There is a large roof terrace with hammocks, a TV and internet access. Nearby there is a restaurant and other facilities to make your stay in Cambodia as an intern memorable and enjoyable.
Our host families are very friendly and hospitable. They look forward to learning more about your country, culture, and way of life. Whether you stay in our guesthouse or with a host family, IFRE will offer a simple, clean environment in our accommodations. You will have a separate bedroom, occasionally shared with a one same-gender Interns, shared bathroom with cold water and a fan.
Internship Program Free Time
You will have free time during your Cambodia internship project during the evenings and the weekends. While IFRE does not arrange activities during your time off, our local staff, members and Cambodia internship coordinators can provide you with invaluable assistance and make travel arrangements for you to explore this lovely ancient country. Free time is an opportunity for self-discovery, learning and exploration.
Phnom Penh City was once known as the "Pearl of Asia". It was said to be one of the most beautiful French-built cities in the French colonies. It is a charming, rapidly developing city positioned where three large rivers come together: The Mekong, Tonle Sap, and Bassac. The city is known for its many tourist attractions such as the Royal Palace, Wat Phnom, National Museum and Toul Sleng Genocide Museum. There are a few French colonial buildings such as the Royal Palace and Phsar Thmei, as well as other French style buildings along the grand boulevards. The town offers a perfect base and can be a great starting point for day or weekend trips to the provinces and the coast. Phnom Penh has a wide range of national and international restaurants, markets, internet cafes and a wealth of places away from the beaten path.
There are many interesting sites to explore throughout Cambodia. The plethora of tourist attractions includes the infamous Angkor Wat, a great wonder of the world. Tours to Angkor Wat include learning about its legends and symbolism. You can also find in Phnom Penh many ancient temples and monasteries ("wats"). All major tourist attractions provide an amazing glimpse into this region's mystical past. There are also natural wonders. Kratie is home to fresh water dolphins, and many white sand beaches hug the Gulf of Thailand. Throughout Cambodia, there are numerous natural landscapes and different environments absorb the tranquil atmosphere of the country. Our IFRE Cambodia coordinators/staff are available to give you free advice, travel tips and help you making plans to explore the country.
Major FAQ
Food and Accommodation
Where will I be staying during my internship in Cambodia?
Your accommodation arrangements will vary depending on the Cambodia internship program of your choice. If your internship is around or in Phonm Penh, the capital, you will stay in our Internship House or guesthouse in Cambodia. The Internship House is in the center of Phnom Penh; it has a large roof terrace with hammocks and all the facilities to make your stay comfortable and enjoyable like TV and internet access. If your internship program is in the rural areas of the country, you will stay with a host family.
What will I eat while participating in an internship in Cambodia? What time will I have my meals and what type of food is available?
You will be given three typical Cambodian meals a day, breakfast, lunch and dinner which include vegetables, soup, rice and fish prepared with herbs, vegetables, fermented sauces and condiments. Breakfast will be provided in a small and clean restaurant, or with host families or the internship program location. Through your internship, you will enjoy the exotic tastes of Cambodia.
Will I have access to the internet in the internship house in Cambodia? Or even electricity?
Yes. You will have access to electricity and the internet both in the internship house in Cambodia, and with most host families. If you stay with a host family in a rural area you might not have Wi-Fi due to location, but you can buy a data pack or a mobile internet plan for your laptop.
Will I be able to have hot showers at the internship home in Cambodia or the host family's home?
If you stay at the internship house in Cambodia there will be hot showers, but if you stay with a local host family then probably not. Cambodia is a hot and humid country, and most people do not want to have hot showers anyway. Please remember that all accommodations have toilets and showers that will be shared with other interns or host family members.
How safe is it to keep my valuables and personal items at the host family home?
Our host families are trusted members of the community, handpicked and screened to make sure it is safe and secure for our interns to stay with them during their Cambodia internship. So safe that you will not need to lock anything away, your belongings will be fine. Nonetheless, it is important to remember to look after yourself and your belongings when you travel.
Can I drink tap water or do I need to buy bottles of water?
No. It is only considered safe to drink tap water in the capital, apart from that, you must buy good quality bottles of water recommended by locals and staff. It is important to be careful in what concerns ice and water consumption.
I am vegetarian. Will it be an issue?
Absolutely not. If you are a vegetarian, vegan or have any other diet requirements you can stay in our internship guesthouse in Cambodia. It is better not to stay with host families because they eat fish and meat daily. Just let us know beforehand if you have any food allergies or specific requirements so we can cater to your needs.
During this internship program in Cambodia will I get a bedroom just for me or will I have to share?
It depends. But most likely regardless of staying in our internship house in Cambodia or with host families you will share a bedroom with a one same gender intern. Our accommodations are very simple and usually have a shared bathroom and a fan to protect you from the heat.
Will the members of the host family speak English?
Most likely yes, but not all of them. English is widely spoken throughout the country and there will always be at least one member of the family who speaks English. Our host families and Cambodian internship project workers are very friendly and will help you in any way they can. It is very important for them to get to know you and your culture and for you to learn about theirs.
My boyfriend or girlfriend is also coming along, can we share the same bedroom?
Yes, that will not be a problem. Just let us know beforehand.
What are bathrooms and toilets like?
This varies according to your accommodation. In the city, families will have a good shower and a western style toilet, but in rural Cambodia. It will vary from home to home.
Will I be able to do my laundry?
Yes. You will be able to do your laundry in one of the Laundromats available in your neighborhood or community.
Will I be able to use my electric or electronic devices?
Yes. But you must remember that all electric outlets are different than back home, therefore you will need an adapter. You can go to a local appliance shop before departing to your internship in Cambodia or ask your host family and country coordinator to help you with this.
Do I need to take bedding or a sleeping bag?
No. You do not have to bring any bedding or a sleeping bag. Pillows, blankets and linens are available in your intern home away from home, but it may be useful to have a sleeping back when you travel around the country.
Arrival Information
What airport will I fly into?
You will fly into the Phnom Penh International Airport in the capital Phnom Penh. It's a big airport with over 25 airlines serving it and connecting Cambodia with dozens of destinations.
Will you pick me up from the airport?
Of course. We provide pick up services. Just let us know what time will you land. More information about our pick up services will be sent to you in the Cambodia internship placement introductory pack sent before your departure.
Where will I go once I land in Cambodia?
We give you an orientation about the Cambodia Internship Program of your choice where you will give you information about the Cambodia culture and then take you the accommodation of your choice.
What happens if my flight is delayed or canceled due to bad weather?
Whatever happens, contact the Cambodia internship program coordinator as soon as you can; the coordinator contact details will be provided in the pre-departure information pack. This way we can act accordingly and arrange your new pick up.
How will I recognize your local staff member once I arrive at the airport?
Just like in the movies, a member of our internship team in Cambodia will be at the airport holding a sign with your name. If you cannot find anyone holding a sign with your name, contact the Cambodia internship coordinator.
What is the meeting point?
After you exit customs and pick up your luggage, head towards the exit and there will be one of our driver holding a sign with your name.
If my internship in Cambodia starts on Monday what day should I arrive?
It's up to you. We recommend that you arrive on Sunday to have time to get acquainted with the area.
What if I want to arrive before my internship in Cambodia begins? Where can I stay? Who can help me finding a place to stay and how much more will it cost?
There are many budget hotels in Phnom Penh and many other cities. If you want to arrive to have a feel or the country before your Cambodia internship begins it will only cost you a small fee.
Will you drop me off at the airport too?
Unfortunately not. You will have to arrange your own transport to the airport.
Will you help me booking a flight to Cambodia? If not, can you give me any tips to find a cheap flight?
You are in charge of booking your flight. Google will assist you with finding a cheap flight to any South East Asian country.
Visa Information
Can you give me information about visas? What type of visa will I need to participate in an internship program in Cambodia?
If you stay for eight weeks or less, you will only need to apply for a tourist visa. But if you want to stay longer you will need to apply for a regular visa.
How and where do I apply for my visa?
You will apply for your visa once you land at the airport. There is an immigration office that deals with visa applications.
How much will my visa cost?
Tourist visas to travel in Cambodia cost US $30 and ordinary visas US $35.
What documents do I need to apply for the visa? Can IFRE provide me with official papers for the visa?
No.
How long does will it take to get the visa approval?
It will be approved immediately at the airport.
Can I extend my visa during my stay the country? Will you be able to help me with this?
Yes. Your Cambodia internship coordinator can assist you with the visa extension.
Safety
How safe is it to travel to Cambodia?
Yes.
How can you ensure my safety as an intern in Cambodia? Are there any safety tips I must know?
Cambodia is a safe country. Accommodations are safe as our hosts and staff members are all screened before being taken aboard of our program. Take basic precautions, during your travel in the city and around the country and do not stay out late. If you carry a daypack keep it close to you at all times, especially in crowded places. When you pull your camera out, wrap the strap around your fist or neck and take care when using your fancy smartphone. Ask yourself, whose pockets would you pick if you were a thief? Then, try not to look like that person. It will make this internship opportunity in Cambodia a far better experience.
During my internship in Cambodia who should I contact in case of emergency?
The Cambodia internship program coordinator will always be on call to look after you, 24 hours a day, 7 days a week.
How safe is it to travel by myself?
It is generally safe to travel during the day, but we recommend that you do not travel alone during the night.
Money
Can I find an ATMs easily?
Yes.
What's the best place to exchange my money?
If you need to exchange currency, the best places will be banks and local markets.
How much money will I need during my internship in Cambodia? Should I take a credit card?
That depends on you. It varies from intern to intern. Usually, around US $50 per week will be enough.
I paid a weekly program for the Cambodia internship program. What does it include?
The weekly fee includes the pick up service, three meals per day, accommodations and general support for the duration of your participation in the Cambodia internship program.
How safe is it to have money on me?
It's generally safe to have money in your pockets, but you are still in a developing country. It's important to carry small amounts of money on you and to pay attention to your surroundings.
Communication
How will I contact the Cambodia internship coordinator?
You will be given the Cambodia internship coordinator cell phone number in your placement pack.
How can I get in touch with my family and friends during my internship in Cambodia? Or, how can they contact me?
You can use the local Wi-Fi facilities to e-mail them, Skype them or you can send them WhatsApp messages.
What if I take my cell phone with me? Can I use it during my Cambodia internship program?
If you have an unlocked smartphone, you can bring it and use it to connect to the local Wi-Fi and buy a Cambodia SIM card when you arrive.
Climate
Climate year round in Cambodia
Month
Jan
Feb
Mar
Apr
May
Jun
Jul
Aug
Sep
Oct
Nov
Dec
Year
Average high °C (°F)
31.3
(88.3)
32.2
(90)
34.1
(93.4)
35.7
(96.3)
34.3
(93.7)
33.2
(91.8)
32.0
(89.6)
32.8
(91)
32.8
(91)
31.8
(89.2)
30.2
(86.4)
30.7
(87.3)
32.59
(90.67)
Average low °C (°F)
23.9
(75)
23.6
(74.5)
25.4
(77.7)
26.0
(78.8)
26.8
(80.2)
26.3
(79.3)
26.9
(80.4)
25.1
(77.2)
25.2
(77.4)
25.7
(78.3)
24.4
(75.9)
23.5
(74.3)
25.23
(77.42)
Precipitation mm (inches)
0.0
(0)
11.3
(0.445)
6.5
(0.256)
0.0
(0)
4.8
(0.189)
34.8
(1.37)
16.1
(0.634)
40.3
(1.587)
60.5
(2.382)
65.8
(2.591)
22.7
(0.894)
3.2
(0.126)
266
(10.474)
Health and Safety in Cambodia
Are there any major health risks I should be aware of or any mandatory vaccines I should take before flying to Cambodia?
Yes. Dengue and Malaria are both major health risks in Cambodia, the latter especially in rural areas. Protect yourself from mosquitoes and to buy bug repellents with Deet.
General information about the Cambodia Internship Program (In General)
Where can I have access to Wi-Fi during my internship in Cambodia? Where is the best place to call my family or friends back home or for them to call me?
During the internship in Cambodia, you can use local internet and phones at any time. There is Wi-Fi available cafes and internet cafes.
Can I take gifts for my host family or the local Cambodia internship team? If so, what should I take?
Yes. You can take gifts representative of your country, typical chocolates or other traditional sweeties, coffee or little trinkets for the house. Or a piece of traditional clothing.
What should I pack?
It's important to remember to travel light during your internship placement in Cambodia. It will be easier for you to move around. These are our recommendations:
Camera

Cell phone and charger[if you don't want to bring your cell phone you can get a cheap cell phone from US $ 20]

Mosquito repellents [also available in Phnom Penh and major tourist cities]

Insect repellents [also available in Phnom Penh and major tourist cities]

Sunscreen [also available in Phnom Penh and major tourist cities]

Sunglasses

A towel

A laptop and a USB Stick if possible, for work

A small amount of cash in US $ 50

Some passport photos

A map of Cambodia

Two pairs of shoes, one for work and one to travel, one pair of slippers, five to eight T- shirts and a raincoat for the rainy season

Smart work clothes for office work if necessary