Internship in Brazil
Do you dream of participating in an internship abroad? Would you like to get involved with a meaningful program? Do you want to improve others' lives through your skills? If the answer to those question is yes, read on and find out what is the internship opportunity in Brazil that suits you the most.
Pick your favorite internship in Brazil from $200

Get involved in different local projects, make a difference and feel safe in Brazil

Expand your horizons and participate in one of several recommended internships

Explore Rio de Janeiro and contribute to improve the local community.
Brazil, the biggest country in South America is one of the brightest and most colorful countries of all. Every detail from the graffiti painted walls, buildings; lush rainforests and pristine beaches make Brazil a great place to be, especially if you want to learn more about the world. The country is renowned for its soccer history and its vibrant culture and graffiti art welcome travelers and interns with open arms. The IFRE internship programs in Brazil have a lot to offer too.
The internship programs in Brazil are based in Rio De Janeiro, also known as the 'marvelous city'. Despite being one of the most beautiful cities in the world, Rio does not remain untouched by crime, poverty and social problems. IFRE provides internship opportunities to young learners who want to learn about social issues of Rio and provide a helping hand to the communities that are tackling these problems. You can choose from teaching English, computer science, child care and arts and crafts.
If you would like to know more information about your Brazil internship program opportunities, regarding travel dates, fees or any other question you may have, take a few minutes to contact us by email for more information. We look forward to hearing from you.
INTERNSHIP PROGRAM FEES & DATES:
Start Dates: Our programs start every Monday, although we allow for flexibility due to travel constraints.
Ifre's fees for volunteer programs and internship programs are the same. Ifre volunteers offers the world's most affordable internship programs. When you join our internship program, you pay your fee directly to host families and projects. In this way, we ensure that your money goes for you or the people who need it (not for the organization's profit).
Ifre internship fee comprise of two separate fees. An application fee of $299 USD (covers advertising, staff/office expenses, etc.) and a nominal weekly program fee (covers room/board, field support, etc). You can visit the following link for details on fees and dates:
http://www.ifrevolunteers.org /brazil/volunteer_in_brazil.php#price
Additional costs for interns:
International flights, visa application/extension, daily personal expenses on beverages/entertainment daily transportation, laundry, telephone, immunizations.
Internship in the Teaching Computer Project in Brazil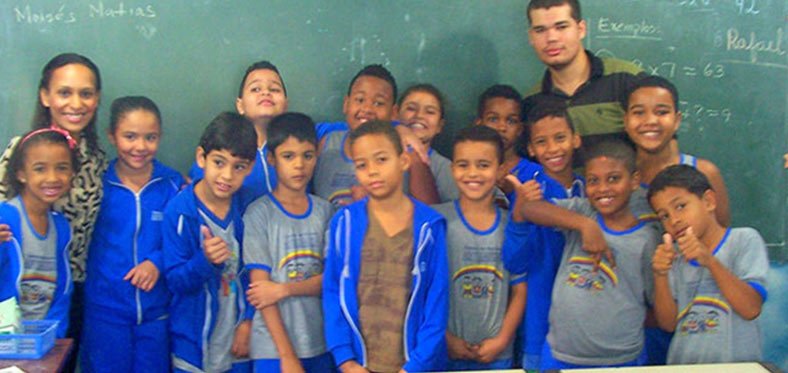 Despite being one of the most loved destinations in the world by tourists, Rio de Janeiro has not been untouched by the grasps of poverty. The poorest families n reside in the Brazilian shanty neighborhoods otherwise known as favelas. With the scope of computer and technology reigning over the millennial generation, IFRE created the 'Teaching Computer Internship Project' in Brazil which aims to teach children and youth of the favelas to learn how to the use and operate computers. This way the local favela youth can learn how to use a computer, how to navigate the internet and learn about the importance of technology in today's fast pacing world.
Skills/Qualifications Needed
To intern in a Brazil teaching computer skills internship program, you do not need to be a tech-geek or highly qualified in computer technology field. It is not a strict requirement to be fluent in Portuguese either, however, being fluent will help you a lot seen that this project involves a lot of interaction with the local people. If you do not know Portuguese, we suggest you to take Portuguese language classes to make communication easier with locals. You must be passionate about teaching and have a willingness and enthusiasm to fulfill the role of a computer instructor, being flexible and patient also helps.
There is a dress code for all interns, no shorts or sleeveless shirts and you must have a presentable appearance (i.e. no excessive tattoos or piercings). You must be eager to teach and care for these children and to have a basic understanding of the Portuguese language in order to work effectively within these school-based projects.
The Intern's Responsibilities
Through the Brazil teaching computer skills internship program, you will be teaching and showing the local children and youth how a computer is operated and how it can be used in daily work, from using MS Word, Excel to conducting internet searches and using the internet to connect to the world. You will also be teaching them about computer maintenance.
Childcare Internship in Brazil
Many childcare centers in Rio de Janeiro help working couples taking care of their children. However, couples in the favelas struggle to make ends meet and do not have sufficient resources to afford childcare services. There are a few childcare centers that target these couples and make childcare more affordable. Through our childcare internship in Brazil, you will help in these childcare centers and have a great opportunity to learn more about childcare, social work and pediatrics.
Skills/Qualifications Needed
You are expected to be fluent in English. Furthermore, beginner to intermediate knowledge of Portuguese is preferred, but it is not a requirement. We suggest that you to take Portuguese language classes to make communication easier with locals. You must be passionate about teaching and taking care of children, being flexible and patient also helps.
There is a dress code, no shorts or sleeveless shirts and you must have a presentable appearance (i.e. no excessive tattoos or piercings). You should be eager to teach and care for these children and to have a basic understanding of the Portuguese language in order to work effectively within these school-based projects.
The Intern's Responsibilities
You will be helping the Child Care Center workers, taking care of children from impoverished families. You will be responsible for playing with the children, giving them love, teach them art and crafts, tutor them and help in the kitchen. You can choose to get involved in the administrative duties of the center too. At the center, you will learn how a childcare centers is run on a daily basis. It is a great way to learn and to strengthen your resume.
Handicraft Internship Project in Brazil
Poverty in the favelas of Rio is not something unheard of. The women in the favelas are dependent on their partners socially and economically. The handicraft internship project in Brazil attempts to take small steps towards the empowerment of these women and make them socially and economically independent. Through this project. Interns teach local women handicraft techniques. It is a great way to get involved with the local women and help them. It's a two-way learning process; you will learn from the local women as you teach them, and they will teach you about life in Brazil as they learn from you.
Skills/Qualifications Needed
You do not have to possess any educational or professional qualification to participate in this handicraft internship opportunities in Brazil. However, knowledge of any art skills and craft techniques is highly preferred. Furthermore, beginner to intermediate knowledge of Portuguese is preferred, but not a requirement. We suggest that you to take Portuguese language classes, as you will have to be interact a lot with the local women. You must be passionate about teaching and to have a strong desire to want to empower women.
There is a dress code, no shorts or sleeveless shirts and you must have a presentable appearance (i.e. no excessive tattoos or piercings).
The Intern's Responsibilities
As an interns participating in the handicraft internship project in Brazil, you will teach various forms of handicraft skills to the local women, like sewing, painting, making candles, sandals, perfumes and pottery many among others, depending on your skills and interests. You can also teach English to the women and help with various activities within the project. The Brazil handicraft internship project will help you build a stronger resume and explore future career options.
Youth Project
In Brazil, Sports and athletics are a part of everyday life and embedded into the Brazilian culture. However, in most low-income areas referred to as favelas (shanty towns), children do not have the opportunity to work with coaches or to play sports in an organized manner. In Brazil, IFRE has youth athletics internship opportunities in the community of Complexo do Alemão, a group of favelas in northern Rio de Janeiro. As an IFRE intern, you will work with children in local schools and organizations within the community.
In the IFRE Brazil youth athletics program, you will work with local children to help them develop athletic skills and encourage them to lead active, healthy lives. In the past, our athletic interns had a positive effect on the community and children they've helped. Because of this, the local community is very appreciative of our work our interns provide. It's time to carry on give back to these impoverished communities – Enroll Now .
To top it up, you can be part of the Youth Athletics Internship Project in Brazil with IFRE even if you're in Rio for a small amount of time. IFRE Brazil can help you through short term volunteer placements in short-term youth athletic internship projects.
Skills/Qualifications Needed
No specific qualifications are required to join the youth athletics internship program in Brazil. However, you must enjoy sports and work with children.
While basic Portuguese is preferred, it is not required. Most importantly, you must be flexible, patient and respectful of your host country culture and traditions.
The Intern's Responsibilities
As an intern in the Youth Athletics in Brazil internship , you will assist local schools and community centers with sports programs and games. You will lead and coach local children in a wide variety of sports, such as football (soccer), volleyball, skateboarding, circus training, martial arts and more. You may also use your English skills and speak with the children.
FIELD SUPPORT AND SUPERVISION
How does IFRE help me when I am in the field? How can I maintain communication? Will you visit me?
Once your internship program begins, our local internship staff members in Brazil will stay in touch with you constantly. Our staff will visit you every two to four weeks whenever possible and you will always be welcome at the office. We recommend that you stop by the office once a week to give feedback on their hostel stay and project, especially if you are staying/working in the local area. . Many minor issues can avoid escalation with a just little extra communication. Your will be working with local staff members and an in-country coordination team. If your project is located far from our offices, then our local staff will communicate with you regularly via email and/or phone call.
We are available at the local office via email and phone during your entire internship in Brazil. It's our job to make sure that you feel safe and healthy.
ROOM & FOOD
IFRE manages living accommodations and food. You will stay at a hostel and be given breakfast every day. You will be able to purchase snacks and meals at local restaurants and grocery stores. You will be sharing the house, kitchen and bathrooms with other interns.
Bedrooms may be shared with one same-gender intern. Toilets are 'Western style', yet often there is not always hot running water. Throughout the internship project in Brazil, our local staff stays in contact with interns either with face-to-face visits or via email/telephone. With longer placements, we visit our interns every two weeks whenever this is possible and invite interns to visit the local office. If you are working on a local project, we request that you stop by the office once a week to keep us posted on how you are doing with your accommodation and project work. If your project placement is far, then our local staff members will maintain communication with you by either email and/or phone.
FREE TIME
During your internship project in Brazil and Language and Culture program, you will have the weekends off. IFRE does not arrange activities during your time off, but our local staff, members and coordinators can provide priceless assistance in making appropriate arrangements to travel in Brazil. It's a great time to learn and explore. Our IFRE Brazil internship coordinators and staff are available to give you free advice, travel tips and to help booking your trips.
Rio De Janeiro, the second largest city in Brazil, is situated in the South Atlantic coast. Its breathtaking views, magnificent beaches and vibrant carnival are renowned throughout the world and turn Rio de Janeiro in one of the most visited cities in the globe. You can go around the city, visit renowned monuments, and enjoy the Carioca night life, visit attractions like Christ the Redeemer, the Sugar Loaf Mountain, beautiful beaches like Copacabana, Ramos and Flamingo and end the day watching a beautiful sunset, just to mention a few things you can do during your internship placement in Brazil.
Major FAQ
Food and Accommodation
Will I have access to the internet during my internship in Brazil? Or even electricity?
There is electricity available in every project apart from the Sea Turtle project. The Sea Turtle project camp has limited supply of electricity which is used only to light the camp at night and charging small devices when needed. There is no internet available at the Sea Turtle project either, but you can contact internet providers and have it on your phone. Apart from that there is internet available in all other project locations and in local internet cafes.
What kind of food will I eat during the Internship program in Brazil?
Common foods in Brazil include:
Breakfast: Ham, cheese, fruits, bread, assorted jams and cakes
Lunch: Beans, rice, salad, a choice of meat, chicken or fish
Dinner: This is your time to venture out and explore the gastronomy of Rio.
Will I be able to have a hot shower at the hostel or in the host family's home?
Yes. There will be bathrooms and toilet facilities in your Brazilian home.
How safe is it to keep my valuables and personal items at the hostel?
It is very safe. There will be lockers available where you can keep your values at the hostel.
Can I drink tap water or do I need to buy bottles of water?
It's better for you to buy bottled water.
I am vegetarian or allergic to wheat. Will it be an issue for the host family?
Absolutely not. There are plenty of options for vegetarians too.
During this internship program in Brazil will I get a bedroom just for me or will I have to share?
It depends. If you stay at the hostel, you will have to share a six to ten-bed dormitory with other interns.
My partner is also coming along, can we share the same bedroom?
Your partner is welcome to join too, but if your partner is not enrolled in the internship in Brazil program, your partner will have to pay for hostel fees.
What type of bathrooms and toilet facilities are available during my internship in Brazil?
At the hostel, the bathrooms and showers will be shared with other interns.
Where can I do my laundry?
You will be able to do your laundry in the public laundry facilities around the hostel.
Will I be able to use my electric or electronic devices?
Yes. But you must remember to bring an adaptor.
Do I need to take bedding or a sleeping bag?
No. You do not have to bring any bedding or a sleeping bag. Bedding will be available in your intern home during the internship in Brazil.
Arrival Information
What airport will I fly into?
You will fly into the GIG - Rio de Janeiro International Airport or to the
Galeão - Antônio Carlos Jobim also in Rio de Janeiro.
Will you pick me up from the airport? Of course. We provide pick up services every day. One of our Brazil internship staff members will be available to pick you up.
Where will I go once I land in Rio de Janeiro?
You will be taken straight away to the hostel.
What happens if I miss my flight? Or, if I arrive too early or too late?
Whatever happens, contact your the coordinator of the Brazil internship program as soon as you can and your contact at the hostel. You can send an email or call.
How will I recognize your local staff member once I arrive at the airport?
A member of the hostel team will be null the airport holding a sign with your name.
What is the meeting point?
Go through customs and look out for a person holding a sign with your name. It is important to remember to send in your flight details before traveling to Brazil to make sure we have your pick up covered.
If my internship in Brazil starts on Monday what day should I arrive?
It's up to you. The latest on Sunday, but we recommend that you arrive during the weekend to have time to get acquainted with the area.
What if I want to arrive before my internship in Brazil begins? Where can I stay? Who can help me finding a place to stay and how much more will it cost?
You can arrive before your internship in Brazil starts. That's not a problem. It will cost the same per day at the hostel.
Will you drop me off at the airport too?
Unfortunately not. You will have to arrange your own transport to the airport. The hostel staff can help you with information regarding local buses and taxis.
Will you help me booking a flight to Brazil? If not, can you give me any tips to find a cheap flight?
You are in charge of booking your flight. But we can certainly give you a few tips. Start looking for flights in advance, and see how the price fluctuates depending on the time of the year.
Visa
Can you give me information about visas? What type of visa will I need?
You will only need to apply for a tourist visa, not an internship visa. Visa applications vary depending on your country of original. You will need to contact the Brazilian Consulate or their consult their web page prior to the internship and Brazil.
Here you can find a list of countries that do not need a visa to travel to Brazil. If your country us not on the list, you must contact the Brazilian consulate in your country before embarking on your internship in Brazil. http://www.cgbrasil.org/Templates/InsideTemplate.aspx?PostingId=267
Safety
How safe is it to travel to Brazil? It is safe, but you must be just as careful in Rio de Janeiro as you would be in any other big city. Before departure, your Brazil Internship Coordinator will send you a guideline with safety measures to have in consideration during your time in one of the Brazil Internship programs.
How can you ensure my safety as an intern in Brazil? Are there any safety tips I must know?
To ensure your safety, we partner with many residents and a local team who is always monitoring safety in the area. You will be expected to be in close contact with the Brazil internship coordinators constantly. We will do our part in protecting you and ensuring your safety but you must work with us too. You will be given a safety briefing before the Brazil internship experience begins.
During my internship in Brazil who should I contact in case of emergency? How can you help me if something happens?
The Brazil internship program coordinator will always be on call to look after you, 24 hours a day, 7 days a week. Also once you arrive in the country, will give you emergency contact numbers such as hospitals and local police.
How safe is it to travel by myself?
It is generally safe to travel from the hostel to the internship project site by yourself. But it may be a little tricky to travel within the community without one of the Brazil internship team members, refrain from doing it. You must be careful and alert at all times. Rio is a very big city. Your local Internship Coordinator in Brazil will give you more guidance on safety in Brazil as soon as you arrive.
Money
Can I find an ATMs easily?
Yes, there are ATMs in the vicinity of the hostel and throughout Rio.
What's the best place to exchange my money?
If you need to exchange currency recommend that you use the exchanges around the hostel; we recommend that you withdraw money from the ATM to make it easier.
How much money will I need during my internship in Brazil?
That depends on you. It varies from intern to intern. Breakfast is included, and lunch and dinner will usually cost around US $6 to US $10 each or more depending on where you go. Public transportation is R$5 per day. If you would like to know more about the costs of living in Rio, please visit numbeo.com
I paid a weekly program for the Brazil internship program. What does it include?
Pre-departure support services

Logistics support upon arrival (local travel support)

Portuguese translation support

First-week training, tours and cultural integration sessions

Introduction to community partners and stakeholders

Project planning and placement services

Administrative support during entire time in Rio

Emergency support during normal business hours

Material costs for projects in partner NGOs and schools (donations)
How safe is it to have money on me?
It's generally safe to have money in your pockets, but you are still in a city. So it's important to carry small amounts of money, to have a second wallet for safety purposes and to leave emergency cash in your home or at our local office. Do not take more cash with you than what you need that day.
Weather & Climate in Brazil
Could you please provide me with information about the weather and climate in Brazil?The climate in Rio is tropical and it's almost always warm year around.
If you would like to know more information about Rio's climate, please visit: Average monthly weather in Rio de Janeiro, Brazil
Health & Safety
Are there any major health risks I should be aware of or any mandatory vaccines I should take before flying to Brazil?
You can find health-related information, here: Health Information for Travelers to Brazil
General Questions
Where can I have access to Wi-Fi during my internship in Brazil? Where is the best place to call my family or friends back home or for them to call me?
You can use internet and phones at any time at the hostel or the NGO headquarters. There is also Wi-Fi available in internet cafes.
Can I take gifts for my host family or the local Brazil internship team? If so, what should I take?
Yes, you can. Contact the local internship coordinator in Brazil for advice.
What should I pack?
It's important to remember to travel light during your internship placement in Brazil. These are some of our recommendations:
Camera

Unlocked cell phones with international coverage

Sunscreen

Toiletries

Flashlight

Sunglasses

Sandals and tennis shoes

Towel

Hot weather clothing

Jeans, pants or skirts

Short sleeve or polo shirts for work, t-shirts and tank tops for off hours

Swimsuit

Light jacket

Travel umbrella