>
>
Internship in Cambodia
Are you looking for an internship program that is exotic, yet something that is reasonably priced? You have come to the right place. IFRE offers internship opportunities in Cambodia that are unique and affordable.
Travel to Cambodia! It is an exotic land full of charm and glory. Its vibrant capital of Phnom Penh, beautiful landscapes, rich culture and many remarkable temple monasteries (wats) hold surprises for visitors at every turn. It is positioned to offer an overwhelmingly positive experience as you intern in Cambodia! Cambodia welcomes explorers in this stunning country famous for its beautiful scenic beauty and rich traditions! IFRE's Cambodia internship program invites you to explore this Southeast Asian paradise and contribute to poor children, local communities and NGOs. Interns are so desperately needed as Cambodia to move past its chaotic and violent past as it deals with lasting poverty. We offer internship projects in Battambang, Siem Reap, Phnom Penh, Pursat and Kratie.
To get a head-start on your Cambodia internship program, take a few moments to contact us by email for more information, including travel dates, fees and more. We look forward to hearing from you.
Volunteer Program Dates:
Start Dates: Our programs start every Monday, although we allow for flexibility due to travel constraints.
IFRE is a 501(c)3 organization, so your program fee will be tax deductible. IFRE is proud to offer an extensive assortment of programs at very reasonable prices (and may rank "best priced and best value" among the many internship abroad organizations in the USA/Europe/New Zealand). Our programs are now more affordable than ever. We are proud to focus on the humanitarian aspect of our business, not the profit. We work very hard and smart to keep costs down, especially for you the intern, as we know the value of your donated time and efforts. We remain devoted to maintaining both the quality of the program and the safety of all interns involved. Below is a brief summary of the program fee and services that IFRE offers.
IFRE fees comprise of two separate fees. An application fee of $349 USD (covers advertising, staff/office expenses, etc.) and a nominal weekly program fee (covers room/board, insurance, field support, etc). You can click on the following link for detailed fee structure:
http://www.ifrevolunteers.org /cambodia/volunteer_in_cambodia.php#price
Additional costs for interns:
International flights, visa application/extension, daily personal expenses on beverages/entertainment daily transportation, laundry, telephone, immunizations.
Teaching Internship in Cambodia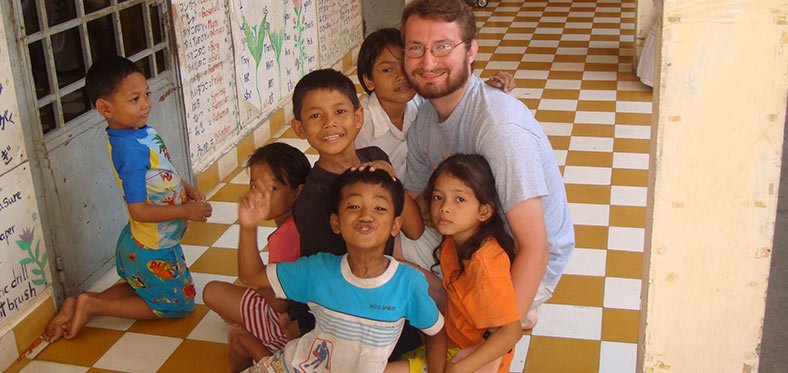 There is a very high demand for English-speaking Cambodians and as a result a desperate need for interns to teach English in Cambodia. Many Cambodian citizens are living in poverty and cannot afford to send their children to expensive, private boarding schools where English is taught. State, community schools and orphanages receive very little government funding and English instruction is considered a luxury. IFRE's internship program in Cambodia collaborates with local schools to offer the precious resource of English instruction (mostly conversational and pronunciation) to these students.
When you intern in an English-teaching program in Cambodia, you are providing vital English education to poor children – ultimately improving their chances for a brighter future. Depending upon your personal skills and interest, you can teach English in an orphanage, public school, university or within various local organizations who offer an English instruction program. Many schools (especially rural schools) are extremely honored to welcome a foreign teacher and do so with the warmest reception. Interns often feel so welcomed that they become a part of their host families and communities' daily activities and rituals.
SKILLS/QUALIFICATIONS NEEDED
No specific skills or qualifications are required. However, some kind of teaching certification or education degree is appreciated. Interns must have passion and interest to help children and improve their education. Non-native English speakers with a masterful command of the English language may also be considered for this project.
AN INTERN'S RESPONSIBILITIES
Nepal English teaching project interns focus on teaching conversational English (2-3 hours a day) in public or private schools, six days a week. Most students of the school are between the ages of 6 and 13. Interns are not alone and will be assisted by other teachers within the school. Internship free time allows for organizing extra-curricular activities like games, drawing, singing, dancing and other creative education activities. Interns' support is also required for educational tours, homework, monitoring academic progress and in administrative support.
Interns will work primarily as English-teachers/instructors in either public and/or private schools. Depending upon the need, interns may also be asked to assist in other extracurricular activities such as sports, games, etc. Some of the duties required of interns include:
Teaching English in public schools, orphanages or universities
Assisting with other creative, extracurricular activities (i.e. games, drawing, singing, dancing, etc.)
Taking the students on educational tours/field trips (occasionally)
Helping the students with their homework, supporting their academic progress
Assisting in other school-related activities or programs
At a school, an intern helps with instruction prep in addition to preparing and delivering course instruction. An intern may prep schedules, lessons and exams, as well as assist with the normal daily life of students. The interns may also find themselves instructing courses in IT, hairstyling, music, theater or other languages.
Internship in NGO Project in Cambodia
Cambodia is amongst the poorest countries in world, yet citizens continue to overcome their country's shattered past of the Khmer Rouge government. There are many established NGOs in Cambodia created over the last ten years to support and encourage positive progress. These recognized organizations focus on improving the citizens' living conditions at a grassroots level by creating development programs. Participants involved in our Cambodia NGO internship projects will assist communities in every way imaginable. Your skills and creative brainstorming efforts can aid the NGOs with profitable fundraisers and writing reports/proposals. We invite interns from all backgrounds in lending their hands and minds as these NGOs continue to enhance the communities of Cambodia.
SKILLS/QUALIFICATIONS NEEDED
There are no specific qualifications required for IFRE's NGO internship projects in Cambodia. However, interns need to have an interest in and be enthusiastic about community works and projects. Interns are expected to be flexible, patient, proactive and "out of the box" thinkers.
AN INTERN'S RESPONSIBILITIES
IFRE assists numerous local NGOs focused on education/information about: democracy, sustainable development and human rights. As a result, an intern's duties vary with the type of project. IFRE customizes the project based on the experience and interest of the intern. Those with skills in development work can assist with report writing and fundraiser proposals. Interns can also help create profitable activities for the poor and develop programs to help stability/sustainability in a community. In the Pursat province, interns possessing skills in land-planning/distribution can offer assistance in establishing land and fishery communities.
Minimum placement time in these NGO projects is 4 weeks. Upon arrival and at the beginning of the program, interns receive an overview of the NGOs and the activities they offer as well as their goals. Also at this point, interns will receive specific information needed to begin their project's associated activities.
FIELD SUPPORT AND SUPERVISION
How does IFRE help me when I am in the field? How can I maintain communication? Do you visit me?
Once your internship program begins, our local staff members stay in constant touch with you. However, if you are staying far from the Phnom Penh office, our staff will visit interns every 2-4 weeks (if possible) and you are always welcome at the office. We recommend that the interns stop by the office once a week, if they are staying/working in the local area, to give feedback on their home stay and project. Many minor issues can be avoided with a just little extra communication before they develop into major issues. Your project will have local staff members in addition to our in-country coordination staff. If your project is located a great distance from our offices, then our local staff communicates by either email and/or phone.
We are available for you at the local office via email and phone for your entire trip. It is our job to make sure that you are safe and healthy.
ACADEMIC CREDIT
You can earn academic credit for most internship projects in Cambodia. The best way to receive academic credit is by pre-arranging the project with your college/university. It is up to an intern to communicate with faculty/academic advisors regarding college credit for internship work PRIOR to applying to IFRE. Your college/university may require additional information prior to approval and may require students to submit pre/post research or other requirements.
Alternatively, you can earn academic credit through Seattle Central Community College (SCCC). SCCC offers college credit for a variety of international programs (study abroad, volunteer abroad, intern abroad, language studies and even cultural-exchanging home-stays). IFRE recommends contacting Professor Steve Tash (we can provide contact details) to further explore this option of receiving academic credit for your international internship. IFRE is not associated with SCCC and it is up to the intern to arrange to transfer SCCC course credit to their university/college of choice.
ROOM & FOOD
Where do I stay during internship program? What do I eat? Do you accommodate special diet?
IFRE arranges room, meals and supervision for interns for the entire duration of the program. Depending upon the location of the project, interns will either stay in our guesthouse or with a host family. Our guesthouse is located in the center of Phnom Penh City (a notable Cambodian tourist city) near the Olympic Stadium and the Orussey Market. The staff is made up of English and French speaking people and they are very kind. There is a large roof terrace with hammocks, a TV and internet access. Nearby there is a restaurant and more services to help make your stay in Cambodia a pleasurable one.
Our host families are very friendly and hospitable. They look forward to learning more about a intern's home-country culture and life. Whether you stay in our guesthouse or with host family, IFRE manages clean but simple accommodations with a separate room (occasionally shared with other interns), shared bathroom with cold water (no hot available) and a fan.
CAMBODIA INTERNSHIP PROGRAM FREE TIME
Interns have free time for the duration of their internship project in the evenings and on weekends. While IFRE does not arrange activities during this time off, our local staff, members and coordinators can provide priceless assistance in making appropriate arrangements for travel in this lovely ancient country. Free time is an opportunity for self-discovery, learning and exploration.
Phnom Penh City was once known as the "Pearl of Asia", it was said to be one of the most beautiful French-built cities as the French colonized Cambodia (then Indo-China). It is a charming, rapidly developing city positioned where three large rivers intercede: The Mekong, Tonle Sap and Bassac. The city is known for its many tourist attractions such as the Royal Palace, Wat Phnom, National Museum and Toul Sleng Genocide Museum. There are a few of surviving French colonial buildings, such as the Royal Palace and Phsar Thmei, as well as other French style buildings along the grand boulevards. The town offers and is a perfect base from which to take daily or weekend trips to the provinces and the coast. Phnom Penh has a wide range of restaurants (all nationalities), markets, internet cafés and a wealth of other interesting places away from the tourist track.
There are a number of interesting sites to discover throughout Cambodia. The plethora of tourist attractions includes Angkor Wat, a great wonder of the world. Tours of Angkor Wat include legends and symbolism to truly enrich this unique experience. Beautiful Phnom Penh City also offers numerous and ancient temples, monasteries ("wats"). All major tourist attractions provide an amazing glimpse into this region's mystical past. There are also natural wonders. Kratie is home to fresh water dolphins and many white sand beaches hug the Gulf of Thailand. Throughout Cambodia, there are numerous natural landscapes and environments in which to relax and take in the tranquil atmosphere. Our IFRE local coordinators/staff are available to give you free advice, travel tips and helps to book your travel.