With the incomparable natural beauty, the warmth and hospitality of the Nepalese people and opportunities to serve the local communities, internship projects in Nepal consistently deliver a rewarding experience for IFRE interns. Nepal's programs are highly organized and respected, offering opportunities to serve poor children and communities in/around three bustling cities: Kathmandu, Pokhara and Chitwan. IFRE invites interns to intern in Nepal. Explore this extraordinary Himalayan kingdom and serve children and communities while embarking on this meaningful journey of a lifetime.
Nestled in the lap of the Himalaya Mountains between India and China, Nepal is indeed a true natural wonder. Although small geographically, Nepal offers a large range of diversity (both geographically its natural wonders are incredible and there are abundant examples of unique flora and fauna. The country is populated by vivid ethnic groups and spotted with colorful festivals.
To get a head-start on your Nepal internship program, take a few moments to contact us by email for more information, including travel dates, fees and more. We look forward to hearing from you.
Nepal INTERNSHIP PROGRAM FEES & DATES:
Start Dates: Our programs start every Monday, although we allow for flexibility due to travel constraints.
Ifre's fees for volunteer programs and internship programs are the same. Ifre volunteers offers the world's most affordable internship programs. When you join our internship program, you pay your fee directly to host families and projects. In this way, we ensure that your money goes for you or the people who need it (not for the organization's profit).
Ifre internship fee comprise of two separate fees. An application fee of $299 USD (covers advertising, staff/office expenses, etc.) and a nominal weekly program fee (covers room/board, field support, etc). You can visit the following link for details on fees and dates:
http://www.ifrevolunteers.org/nepal/volunteer_in_nepal.php#price
Additional costs for interns:
International flights, visa application/extension, daily personal expenses on beverages/entertainment daily transportation, laundry, telephone, immunizations.
Teaching Internship in Nepal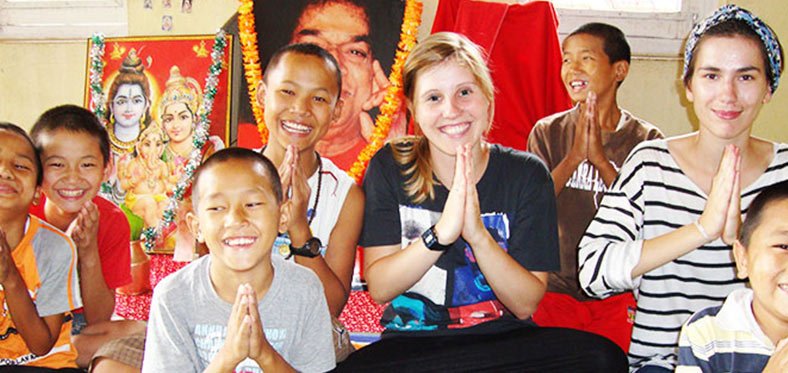 Interns who teach English in Nepal work with several teaching project in several Government schools in Kathmandu. In Nepal, English is not part of the standard primary public school curriculum. Many poor families cannot afford private English education and students will enter higher schools with very little knowledge of basic English (a mandatory subject after primary school). Your role as an intern can make a difference in these student's lives and prepare them for an easier transition to higher schools. Many Nepali children dream of speaking English.
SKILLS/QUALIFICATIONS NEEDED
There are no specific qualifications needed to join IFRE's internship teaching projects in Nepal beyond a fluency in English. No teaching experience or skill is required, yet interns joining the teaching program in Nepal should have strong English fluency, both written and verbal. Interns should be be flexible and patient and have passion and love for teaching, English and conversation. Interns should be reliable, flexible and patient and strive to be good role models for the children.
AN INTERN'S RESPONSIBILITIES
Nepal English teaching project interns focus on teaching conversational English (2-3 hours a day) in public or private schools, six days a week. Most students of the school are between the ages of 6 and 13. Interns are not alone and will be assisted by other teachers within the school. Internship free time allows for organizing extra-curricular activities like games, drawing, singing, dancing and other creative education activities. Interns' support is also required for educational tours, homework, monitoring academic progress and in administrative support.
In Nepal, there is one primary English teacher in each school who follows fixed English curricula. Therefore, you will mostly follow fixed English curricula (each grade has its own English book). You can work as a main teacher or assistant to main English teacher depending up on your confidence level and teaching experience.
Teaching Internship in Nepal (Buddhist Monks)
Nepal is an important place in the Buddhist religion. Although Nepal is a predominantly Hindu country, it has a significant Buddhist influence. There are beautiful monasteries throughout Nepal thus demonstrating the popularity and acceptance of Buddhism in Nepal. In Kathmandu, there are also practicing Buddhists who are Tibetan people in exile in Nepal.
Those interested in an internship to teach in a Buddhist monastery will mostly teach English education to monks and immerse themselves in Buddhist culture. This is a perfect project if you are interested in or curious about Buddhism and the serene and enlightened lives of Buddhist monks.
SKILLS/QUALIFICATIONS NEEDED
There are no specific qualifications needed to join the teaching Buddhist Monks program in Nepal. However, it is important to note that monks are highly respected figures and follow strict and exemplary life rules. Only interns with serious discipline can join this project.
AN INTERN'S RESPONSIBILITIES
Nepal English teaching project interns focus on teaching conversational English (2-3 hours a day) in public or private schools, six days a week. Most students of the school are between the ages of 6 and 13. Interns are not alone and will be assisted by other teachers within the school. Internship free time allows for organizing extra-curricular activities like games, drawing, singing, dancing and other creative education activities. Interns' support is also required for educational tours, homework, monitoring academic progress and in administrative support.
Interns in Nepal's teaching Buddhist monks project primarily work as English instructors either in the Tibetan Children's Village schools or in a local monastery. Interns conduct English lessons for 3-4 hours a day. In addition to English teaching, interns will assist with extra-curricular activities and administration. In the evening, interns organize games, drawing, singing, dancing and other creative education and extracurricular activities. Morning and late evening time is free. If you love Buddhism, this is the perfect time to join meditation, rituals, prayers and songs with the Buddhist monks. This project gives ample opportunities to immerse in the Buddhist religion and lifestyle.
Photojournalism Internship in Nepal
IFRE's Nepal photo journalism project is a phenomenal opportunity for budding photo journalist to enhance their skills, add to their resume/CV and visit a wonderful country. Intern photojournalists act under the supervision of an experienced professional and learn tricks of the trade while gaining a wide variety of knowledge and experience. This project can also be an internship position if the intern is interested in dedicating more time, resources and a final detailed report at the end of the project.
Intern photojournalists will click their way through Nepal's fascinating festivals and cultural events, meeting friendly people and seeing magnificent landscapes and sceneries along the way. Interns will capture unique pagoda shaped Hindu temples on film and also snap images of huge Buddhist stupas, views of the spectacular Kathmandu Valley, and join celebrations during festivals and cultural happenings. The goal is accurate pictorial documentation of Nepal's vibrant customs and activities. This experience will broaden minds and enhance photo journalism skills.
SKILLS/QUALIFICATIONS NEEDED
Interns must know how to operate a camera and understand the concept of modern photo journalism. Interns must enjoy a fast-paced atmosphere, be comfortable taking direction and be quick on their feet.
AN INTERN'S RESPONSIBILITIES
The aim (beyond pictorial documentation of Nepal) of the project is to cultivate strong and open-minded photo journalists in our interns. For that, we offer the guidance of an experienced professional, who works for a respected local newspaper. Interns will review and agree on a schedule and travel to all sites with this supervisor, usually on a motorcycle, which is a perfect transport to navigate the maze of Kathmandu's traffic. Note: cameras are provided.
FIELD SUPPORT AND SUPERVISION
How does IFRE help me when I am in the field? How can I maintain communication? Do you visit me?
Once your internship program begins, our local staff members stay in constant touch with you. Interns staying at our Kathmandu homebase will see staff daily, yet all Nepal interns have 24/7 access to our in-country staff. If a project is located a substantial distance from our offices, then our local staff communicates by either email or phone and visits every 2-4 weeks (if possible). We recommend that interns stop by the office once a week, if they are staying/working in the local area, to give feedback on their home stay and project. Many minor issues can avoid escalation with a just little extra communication. Your project will have local staff members in addition to our in-country coordination staff.
We are available for you at the local office via email and phone for your entire trip. It is our job to make sure that you are safe and healthy.
Our Nepal coordinator maintains a 24/7 mobile phone so you can call him at any time. Before returning home interns are welcome to stay at the office apartment for one night if space is available.
ACADEMIC CREDIT
You can earn academic credit for most internship projects in Nepal. The best way to receive academic credit is by pre-arranging the project with your college/university. It is up to an intern to communicate with faculty/academic advisors regarding college credit for internship work PRIOR to applying to IFRE. Your college/university may require additional information prior to approval and may require students to submit pre/post research or other requirements.
Alternatively, you can earn academic credit through Seattle Central Community College (SCCC). SCCC offers college credit for a variety of international programs (study abroad, volunteer abroad, intern abroad, language studies and even cultural-exchanging home-stays). IFRE recommends contacting Professor Steve Tash (we can provide contact details) to further explore this option of receiving academic credit for your international internship. IFRE is not associated with SCCC and it is up to the intern to arrange to transfer SCCC course credit to their university/college of choice.
ROOM & FOOD
IFRE manages living accommodations, meals and supervision for interns throughout their stay in Nepal. Most interns placed in Kathmandu projects stay at our home base – a permanent home set aside for international interns and manned with a local staff. Our safe and secure Kathmandu home base is located in a beautiful area of Kalanki, nearly 5 km away from Thamel, a popular tourist hub of Nepal. Most of our interns' projects are located within 2-5 miles of the home base. Therefore, interns can simply walk to their projects or take a local taxi or bus. Most necessary services for travelers are located within 2 km of the home base: internet cafés, restaurants and grocery stores. Our home base is located in the heart of city and provides easy access for interns to all parts of Kathmandu. It is a perfect situation for interns to live safely and comfortably while making many new friends and sharing experiences every day. In the evening interns return to the home base, to relax, eat dinner, explore local areas or share the day's experiences with fellow interns and staff. Our home base provides a same-gender shared room and shared bathroom with running hot water and a "western" style toilet. Interns will have the ability to do laundry at the home base.
Interns receive three prepared meals per day. Our cooks prepare breakfasts, lunches and dinners of Nepali foods (similar to Indian food, including wheat bread, rice, curry, dahl, chapatti and pickles) for interns. If interns will be out of the house during lunch hour, they can request a lunch "to go". If traditional Nepali fare does not appeal to interns, they are welcome to buy personal food and prepare it.
Occasionally, depending on intern traffic, available projects or distance to an intern's assigned project, we may also place our interns with carefully pre-screened host families. Our host families are socially respected and are experienced with hosting international interns. They have strong interest in our interns' safety and well-being and demonstrate this with caution and care. In most host family situations, interns will share a room with another intern of the same gender. Another viable option is an at-orphanage stay. Many orphanages in Kathmandu have special rooms set aside to house international interns. Interns who have stayed with a host family or at an orphanage describe an enriched experience because of having done so. Once you have applied for program placement, you will find the specific details of your accommodations in your personal placement documents for your project.
IFRE maintains two offices in Kathmandu and Chitwan to supervise and assist interns. However, interns working in Pokhara will stay in touch with Kathmandu office by telephone or email and will receive staff visits as often as possible, usually every two weeks.
FREE TIME
Interns have free time for the duration of their project during evenings and weekends. While IFRE does not arrange activities during this time off, our local staff, members and coordinators can provide priceless assistance in making appropriate arrangements for travel in Nepal. It is the time for self-discovery and learning. It is time to immerse in foreign culture and explore this exotic land. It is definitely time for a trek in Nepal! Our IFRE local coordinators/staff are available to give you free advice, travel tips and helps to book your travel.
City adventures abound in Kathmandu. A city unlike any Western city experience, Kathmandu beckons tourists with pulsing activity and exhilarating discovery at every turn. The city can soon turn to sensory overload with vendors, traffic, colors, hustle and bustle. However, interns can find quiet solace in temples and quiet courtyards off the city's well-beaten path.
Interns can easily travel to major tourist areas in Kathmandu, Pokhara, Lumbini and Chitwan. There are ways to fill and hour or two with a hike or bike ride. Sample adventurous cuisine or participate in a local custom or ritual. Nepali people perform variety of daily rituals and religious activities; you can join these activities with your host family.
Kathmandu's economy, cultural heritage and tourism is shared with its integral sister cities of Patan (Lalitpur) and Bhaktapur. In fact, the UNESCO World Heritage recognizes all three urban neighbors as one under the title "Kathmandu Valley-UNESCO World Heritage Site".