MAJOR FAQ-KENYA
>
>
Internship in Argentina
APPLYING FOR THE KENYA INTERNSHIP PROGRAM
How can I apply? What happens when I apply? Do you guarantee placement? How long does it take to receive confirmation?
Please read IFRE's 4-step application process:
• There are two options for applying to our Kenya internship programs. You can apply online ( http://www.ifrevolunteers.org/apply-now.php) or you can simply download an application form, fill it out and mail it into IFRE's offices. Participants are required to submit their application with a $349 application fee plus the program fee for the number of weeks you choose. However to simply start the placement process, all that is needed upfront is a $200 deposit which will be deducted from the final invoice. This non-refundable deposit from you is required to validate and initiate the application process.

• Once IFRE receives your application, we immediately forward it to country coordinator for processing. The in-country coordinator reviews the application carefully to determine the most optimal project for you while you intern in Kenya . Decisions pertaining to room and board are made at this time - depending on the location of the project. The vast majority of participants stay in fully immersed in-home stays.

• IFRE receives the details of the participants' placements from the in-country coordinator.
The information is then passed on to the prospective participants along with a final invoice. Final payment is due six weeks prior to departure and, in expedited cases, as soon as possible. The placement details contain local contact information to be used when applying for a visa and/or to get in touch with the local staff and host family.
Preparation for your internship vacation in Kenya should include reading about travel to Kenya , immunization, acquiring a travel visa and booking airfare for your internship journey to Kenya . If you face any problems, IFRE's Program Manager is always available for any assistance.
IMPORTANT: Once participants purchase airline tickets, we request flight information be forwarded to IFRE's U.S. office by fax or by email. Participants' flight information will then be forwarded to the in-country coordinator in Kenya , who will then arrange an airport pick-up.
AIRPORT AND ARRIVAL INFORMATION
Who will meet me in the airport? What should I do if I get delayed or miss my flight? When should I arrive?
The Nairobi International Airport ( Jomo Kenyatta International Airport )is your destination and arrival point for your internship travel to Kenya , so please book your flight to Nairobi . Even if participants are joining the program in Mombasa , IFRE suggests participants arrive in Nairobi as the Language and Cultural orientation programs only take place within our Nairobi offices. One of IFRE's representatives will await your arrival at the airport. Participants should ensure pick-up by sending their flight information to IFRE's offices - a follow-up call is suggested as your departure date draws closer.
If interns are delayed or miss their flight, it is highly recommended that you call our offices or your coordinator and make alternative arrangements with them. In the event that an intern gets lost, our general suggestion that they go to the specific contact hotel (provided within the pre-departure package) using a taxi service. Once participants make contact with IFRE's representative or in-country coordinator, they will then be transferred to IFRE's respective offices/hostel.
Interns arriving in Kenya are advised to arrive one day prior to the start of the program. In the event that participants arrive more than one day early or remain in Kenya after the close of the program, they will then be responsible for their own room and food expenses.
VISAS
We require interns to obtain a tourist Visa in their home country prior to departure for Kenya . Your Visa supplements your passport and is your entry permit allowing you into any foreign country - without which you may be denied access - a risk IFRE suggests avoiding at any costs.
Interns work with a tourist visa. Please use the name and address of our in-country coordinator and office (provided your personal placement sheet and in the Kenya pre-departure booklet) as a contact address in Kenya (for visa application purposes.)
http://www.kenyaembassy.com/
HEALTH AND SAFETY in kenya
Being informed is your first defense against disease and safety risks. We recommend visiting some of the following websites for health and safety information:
WHO website for international travelers ( http://www.who.int )
IMMUNIZATIONS/VACCINATIONS
IFRE closely follows the Center for Disease Control's traveler's health recommendations (
www.cdc.gov
). Discuss your travel plans and personal health with your healthcare provider to determine which vaccines are necessary.
RECOMMENDED VACCINATIONS
The following vaccines may be recommended for your travel to East Africa - including Kenya .
REQUIRED VACCINATIONS
MONEY MATTERS
You might need $10-20 per day for personal expenses like water or soft drinks, taxi and shopping. The best way is to carry a Debit card as ATM machines are available in Nairobi and Mombasa (in airport and major hotels) where you can withdraw local currency. Another alternative is traveler's checks which are secure and can be cashed in local banks during business hours.
In Kenya , people of U.S. or European decent are considered rich no matter what the true circumstances are. This makes you a target for pick pockets and scam artists ('fly catchers'). Participants are required to be smart about their money matters when traveling through Kenya . Please be advised to pay attention to these suggestions.
Avoid external money pouches, dangling backpacks and camera bags, limit jewelry.
Don't flash money or your wallet.
Travel in pairs or groups to the ATM.
Remain aware of the exchange rate and cost of items.
Take requests for 'donations' with a grain of salt .
Store money in a secure, well-hidden place or safe.
Carry money in different pockets and places.
FIELD SUPPORT AND SUPERVISION
How does IFRE help me when I am in the field? How can I maintain communication? Do you visit me?
Once your internship program begins, our local staff members stay in constant touch with you. Interns staying at the Nairobi homebase see our coordinators and staff daily. However, if you are staying far from the homebase, our staff will visit interns every 2-4 weeks (if possible) and you are always welcome at the office. We recommend that the interns stop by the office once a week, if they are staying/working in the local area, to give feedback on their home stay and project. Many minor issues can be avoided with a just little extra communication before they develop into major issues. Your project will have local staff members in addition to our in-country coordination staff. If your project is located a great distance from our offices, then our local staff communicates by either email and/or phone.
We are available for you at the local office via email and phone for your entire trip. It's our job to make sure that you are safe and healthy.
COMMUNICATION
How do I communicate with my family? IFRE staff? Is there internet access?
Interns are requested to bring their UNLOCKED mobile phones. Upon arrival in Kenya , participants can purchase and change SIM cards and use it. This is the perfect way to stay in touch with your family and IFRE's office. Internet Cafés are widely available in most areas of Nairobi and Mombasa.
CLIMATE in kenya
Each of Kenya 's various topographical regions experience distinct climates.
Generally, the hottest time is in February and March and the coldest in July and August.
The coastal region is largely humid and wet. The city of Malindi , for instance, receives an average rainfall of 1,050 mm (41 in) per year, with average temperatures ranging from 21° to 32°C (70° to 90°F) in January and 20° to 29°C (68° to 84°F) in July.
The low plateau area is the driest part of the country. In this region the town of Wajir receives an average annual rainfall of 320 mm (13 in) and experiences average temperatures ranging from 19° to 37°C (66° to 99°F) in January and 19° to 34°C (66° to 93°F) in July.
Nairobi, in the temperate Kenyan highlands, receives an average annual rainfall of 790 mm (31 in) and experiences average temperatures ranging from 9° to 29°C (48° to 84°F) in January and 7° to 26°C (45° to 79°F) in July.
Higher elevation areas in the highlands receive much more rainfall. The Lake Victoria basin in western Kenya is generally the wettest region in the country. It is particularly wet in the highland regions to the north and south of Kisumu, where average annual rainfall ranges from 1,740 mm (70 in) to 1,940 mm (80 in). Average temperatures in this region range from 14° to 34°C (57° to 93°F) in January and 14° to 30°C (57° to 86°F) in July.
The average annual temperatures in the main areas are:
Mombasa (coastal): Max 30ºC, Min 22ºC
Nairobi: Max 25ºC, Min 13ºC
North Plainlands: Max 34ºC, Min 23ºC
Rainfall occurs seasonally throughout most of Kenya . The coast, eastern plateaus and lake basin experience two rainy seasons:
The "long rains" season extends roughly from March to June throughout the country. The "short rains" lasts from approximately October to December.
The highlands of western Kenya have a single rainy season, lasting from March to September.
All parts of the country are subject to periodic droughts, or delays in the start of the rainy seasons. Kenya 's climate has profoundly affected the location of settlement patterns, as for centuries population has been concentrated in the wettest areas of the country.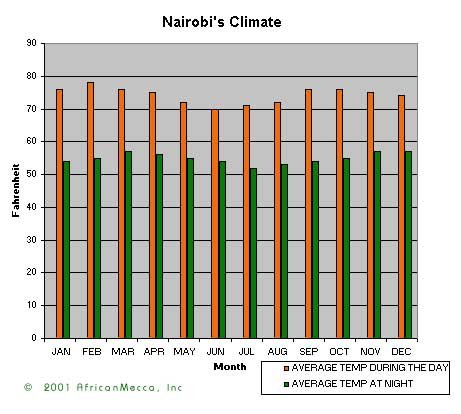 To check the current weather condition of Kenya please click here
ITEMS TO BRING:
Many daily use items are available in Kenya at a reasonable price. However, we suggest interns pack the following things:
. Camera
. Mobile phone (participants can use mobile phones after changing SIM cards)
. Sleeping bag
. Mosquito repellents
. Insect repellents
. Sun-block/sun-screen
. Map of Kenya
. Toiletries
. First-aid kit
. Flashlight
. Electricity adapter/converter
. Sunglasses
. Footwear (for work and travel)
. Towel
What gift should I bring for my project?
It is a common courtesy to bring a small gift for the staff who will be your hosts. You are not required to do so, but if you choose to bring a gift it can simple. We suggest a box of chocolates, a t-shirt with a hometown/country logo, pictures of your family and local post cards.
If you want to bring gifts for your project and if you are working for an orphanage or a school, please bring pencils, pens and paper, art supplies like markers and construction paper pads, as well as games for the children to enjoy. Remember that every child will need these items so you may wish to bring enough for a number of children.