Language and Culture Program
Project Summary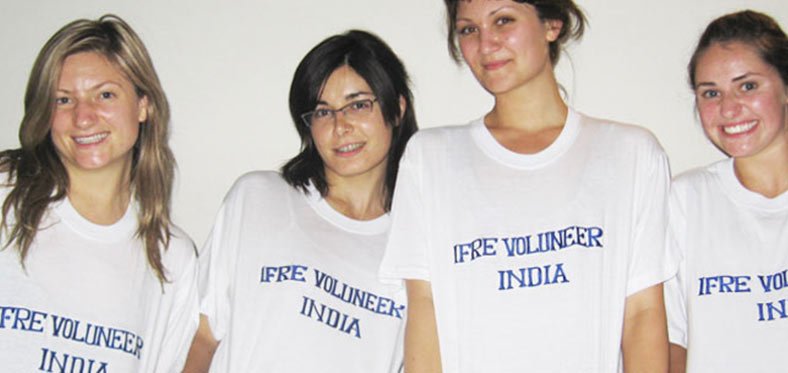 Volunteers in India can experience this fascinating location with our Language and Culture immersion program. IFRE Volunteers offers an interesting week of introduction to Indian languages and exposure to Indian culture. Our program includes a week of learning Indian languages, mostly Hindi, and shows volunteers glimpses of the varied and exciting cultures of India. A Delhi tour is included in this program. See the city through the eyes of the knowledgeable guides. Gain useful insight, which will improve your volunteer experience. Rural sites are also featured in this program.
Day 1: Orientation at IFRE's Delhi home base will include language and culture program, introduction to the week's itinerary; learn about Indian geography, climates, politics and safety issues. In addition, participants will be briefed on necessary health and travel precautions.
Day 2: Hindi language class begins. Learn words of greetings, affirmatives & negatives, pronouns, short expressions, and "getting to know you" conversations. In the afternoon, there is free time to explore the bustling markets and vibrant commercial areas.
Day 3: Hindi language class continues: introduction to verbs, adjectives, adverbs, family relations, food and drinks, as well how to show appreciation. Explore the nearby cafes and mall with the afternoon's free time.
Day 4: Visit Old Delhi! Explore the captivating tourist attractions of Old Delhi. Some of the most enjoyable attractions of Delhi are on the agenda. They include Jama Masjid, the largest mosque in India; Rajghat, the spot where Mahatma Gandhi was cremated following his assassination in 1948; and the renowned colorful shopping bazaar of Old Delhi. You will also visit Jama Masjid: this tomb was constructed when Shah Jahan decided to make Delhi his capital. Built in 1656 AD, the mosque took about six years to complete through the hard work of 5,000 laborers and artisans.
Day 5: Hindi language class continues. Learn additional Hindi words (names of places, animals, birds, directions, body parts, days, months, shopping, traveling). Free time in the afternoon and participants have the opportunity to explore the bustling markets and vibrant commercial areas which provide many chances to try your new language skills.
Day 6: Explore New Delhi! Discover the dazzling sites of the impressive and hectic city of Delhi. Drive through the wide lanes of New Delhi and take in some of the most sights the city offers. The day's itinerary includes the following destinations: Qutab Minar, Old Fort, Humayun's Tomb and Red Fort. In addition to these monuments, participants will experience the ever-bustling bazaars of Chandni Chowk, India Gate, Rashtrapati Bhawan, Lodhi Gardens and the Lotus Temple.
Day 7: Hindi Language revision and evaluation. In the evening, depending on the volunteers' interests, a village sightseeing (or attending a movie) may be arranged. IFRE's local staff can advise volunteers about other personal options. Volunteers will depart afternoon/evening to travel to their respective placements.
This is just sample itinerary and subject to change.