Handicraft Project
>
>
>
Handicraft Project in Brazil
Handicraft Project in Brazil
Teach Brazilian women skills to allow them to become financially independent.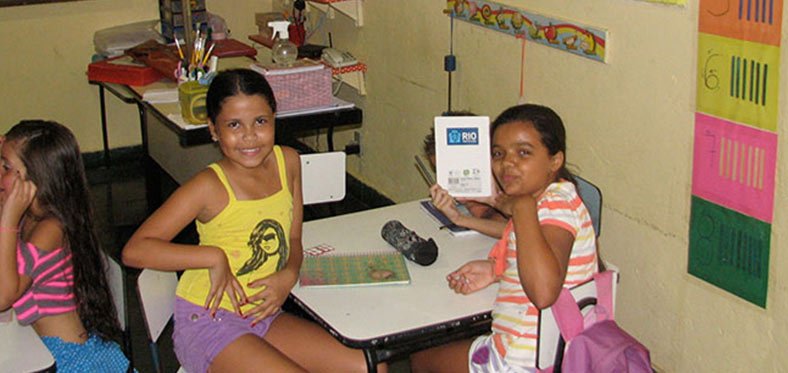 Empower women through education

Educate women on marketable crafts such as sewing, design, painting and more

Immerse yourself in the vibrant culture and scenery of Brazil

Volunteer abroad safely & affordably
Project Summary
Daily life for Brazilian women in low-income areas, referred to as favelas (shanty towns), can be quite challenging and difficult. Most women do not have the education or knowledge to earn independent incomes, making them dependent on others to care for themselves and their children. In Rio, IFRE has handicraft volunteer opportunities in the community of Complexo do Alemão, a group of favelas in northern Rio de Janeiro. As an IFRE volunteer, you will work with women in the community.
In the IFRE handicraft program, you will teach Brazilian women how to sew, design sandals, paint, make candles, create pottery, make perfumes and more. In the past, this project has also given local women a positive creative outlet, as well as a social network that has enabled them to become financially independent. It's time to help these women help themselves.
The Handicraft project in Brazil is available for those visiting short-term.
Skills/Qualifications
In the handicraft project in Brazil, volunteers must speak basic Portuguese and have experience with handicrafts. Interested individuals should have a passion and eagerness to work with women, and be patient, resourceful and flexible.
Volunteer Responsibilities
In the Handicraft in Brazil project, volunteers will assist local community centers. Volunteers can expect to teach local women how to create a variety of handicrafts, including sewing, painting, pottery, candle making, etc. Volunteers may also lend their personal English expertise by teaching basic phrases to the women. Volunteers must bring the appropriate craft/art supplies and create lesson plans for the classes as well.
Room/Food/Supervision
IFRE arranges room, breakfast and supervision for volunteer for the entire duration of volunteer in Brazil program. In Brazil, our volunteers will have the choice of staying in one of two hostels. Rio Hostel is located in the downtown area and is in a safe and secure neighborhood. The neighborhood is called Santa Teresa and consists of picturesque views, charming shops and a bohemian culture. The other hostel, CabanaCopa, is located within walking distance of the world-famous Copacabana Beach, a metro station and a beautiful natural park.
Our volunteers will find it easy to travel from both hostels to the project site as well as to other places in Rio famous for visitors, like the beaches and other attractions. In the hostels, our volunteers will have to share the room with other volunteers of same sex. Breakfast will be served in the hostels but volunteers will need to eat lunch and dinner outside. Good food is inexpensive in Brazil and readily available.
During the project, our supervisor and project will be in touch with you. The volunteer coordinator lives minutes away if you need anything. If you need any advice or have any issue you need to discuss you can talk to them or call the coordinator.
FAQ
Please provide a typical day schedule for this project

Morning: 9 AM – 12 PM – Work with small groups of adults from the community

Afternoon: 2 PM – 5 PM – Work with young children in a local school

Handicraft programs provide a space for developing creativity and self-esteem and an environment for women to support other women. Besides learning new skills to generate income, these programs offer therapeutic benefits for women in a community where many suffer from Post-Traumatic Stress Disorder or similar conditions. In addition, this program is invaluable for many women who are unemployed since it promotes entrepreneurship. Numerous participants have transitioned from participating as students to serving as teachers, and many have been successful in selling their products upon completing the courses.

Where do I stay? How far is the project from the accommodation? How do I commute every day? The hostel location is 45 minutes from the project – commute via metro and bus

What is the name of the project I would be placed?

Volunteers are provided detailed project information upon application.

What skills do I need to have to join this project?

You need basic handicraft skills to join this project.

What kind of product do you prepare? Do we get to learn some of them?

Primarily sewing and art designs. If a volunteer has a specific skillset, he/she is welcome to offer classes to teach a new handicraft technique.

Do I need to learn local language for this project?

No. Basic Portuguese is helpful, but not a requirement.

Will I be working on my own or will there be someone assisting me while I am at this project?

You will be working with local community residents.

How many hours a day do I need to work?

Handicraft projects are usually only a few hours per day. For that reason, volunteers who sign up for this course need to be flexible to partake in other volunteer program activities, such as working with young children and supporting other community art programs.

Do I need to bring any material?

No. However, if a volunteer wishes to teach a specific technique, materials may be needed.

Is this project available all-round the year? If not, when does it close for how long?

It is not available during Christmas / New Years and Carnival.
Learn more about Brazil programs