Volunteer in Nepal Earthquake
>
>
Volunteer in Nepal Earthquake
Volunteer in Nepal Earthquake Recovery and Reconstruction Project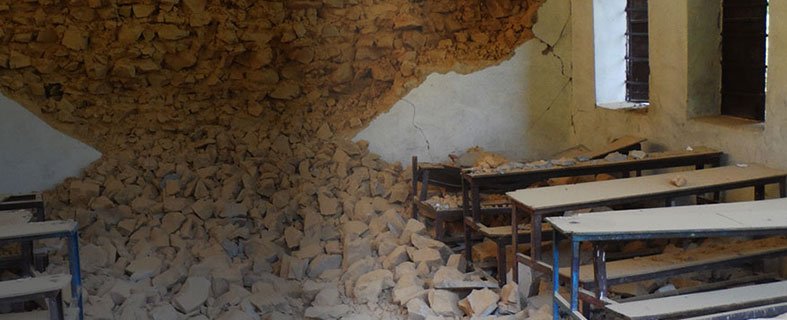 Assist in renovation and reconstruction of orphanages/ rural schools

Share your love and passion for children affected by the deadly earthquake in Nepal

Work alongside our local staff and international volunteers in Nepal
A recent deadly earthquake devastated Nepal by killing thousands and destroying/damaging almost everything including many orphanages and schools in Kathmandu and rural areas, affecting the lives of thousands of children. Volunteer in Nepal by joining Orphanages & Schools Reconstruction/Renovation Project.
On April 25, 2015, the largest earthquake in 80 years struck in Nepal killing, injuring and displacing thousands. Centered around the capitol city of Kathmandu, the far-reaching damage of the earthquake flattened many rural villages, destroyed schools, orphanages, and historical landmarks, completely devastating an entire region.
Although everyone is suffering, orphans and children Nepal have been especially hit hard and are urgently in need of desperate help. Many orphanages in Kathmandu Valley, which had been housing thousands of orphans, have been damaged, putting the lives of these orphans at risk. Similarly, many schools in neighboring areas of Kathmandu have been totally destroyed, keeping children outside of classroom. Therefore, IFRE's Nepal Orphanage & Schools Renovation/Reconstruction project aim to rebuild these schools and orphanages to give these children a safe home, an education, and hope for a brighter future.
What volunteers will do
There are many schools damaged, destroyed, or demolished in different parts of the country, and they require immediate renovation and reconstruction. As a volunteer in Nepal schools/orphanage renovation project, you will have an important service to offer. You will participate in a reconstruction and renovation project which involves a lot of physical/manual works like cleaning, carrying or mixing cement, digging and other masonry works. The works include: cleaning site, fixing fences, bringing stone/brink/water, painting or any other job related to construction works. You will be working side by side with the local skilled laborers and local people and helping them to carry out the project.
By working in this project, you will be sharing your love and passion for the children of Nepal. Your help will give them a safe space to study and play. And kindle a new hope for the brighter future. Your help will make a big difference in the life of the innocent children whose life has been overshadowed by the devastating consequences of earthquake. By working in the project, you will contribute to save many children from falling into traps of poverty, illiteracy, child labor and so on.
Skills/qualification required
No skill or qualification is needed to join this project. Anyone who is physically sound and love to help the children of Nepal by involving in orphanage/school renovation or reconstruction project can join this project. What counts the most is your kind heart and passion for helping others and your willingness to take action.
Dates and fees
IFRE is a 501 C 3, so your program fee is tax deductible. IFRE always offers world's most affordable volunteer program. However, to cover the cost of our staff, office expenses, coordination, and advertising, there is a registration fee of $299. From this $299, we donate $50 to the project.
The two-week program fee is $499. Your money covers airport pick-up and drop-off, 3 local meals a day, accommodation with host family, a room in a house or tent, and daily transportation to and from the project, and 24/7 support. You will pay the $499 directly to the Nepal office. The fee does not include international flight, visa or personal drinks (water, soda).
Special Donation requested
Rebuilding or renovating these orphanages and schools has many expenses (brick, cement, rod, wood and other materials). Unfortunately, many communities are so poor that they cannot afford buying these materials. Therefore, IFRE requests that volunteers donate at least $200 per person to buy these materials. Your additional donations will facilitate the operation of project and enable it to achieve its goals. You can easily create a donation page in www.gofundme.com to help raise this fund. IFRE also donates $50 per person per week.
Start Dates
IFRE Orphanages & Schools Renovation/Reconstruction Project will start on the following dates:
June 1 – June 14

June 15- June 28

June 29 – July 12

July 13 – July 26

July 27 – August 09

August 10 – August 23

August 24 – September 06

September 07 – September 20

September 21 – October 04

October 26 – November 09

November 16 – November 29

November 30 – December 13
Daily Itinerary
Day 01: Arrive at the airport in Nepal. We will come to pick you up at the airport and transfer you to the hotel (accommodation). You will settle in the room and take your moment for refreshment. We will organize a welcome dinner which will also be an opportunity for you to meet your colleagues and exchange introduction.
Day 2: We will provide you an orientation about the country, people, safety, your program and its activities, the location of the program and take you to visit the project site. You will also meet the local community people, teachers, and the school management.
Day 3: After breakfast, volunteers will depart for the project. First they will visit the site and there will be a short meeting with school staffs/local people. After that, we will assign jobs to the volunteers and start the project. This is a renovation and reconstruction project, so the work involves activities like cleaning the site, digging, mixing cement, helping skilled labor.
Day 04 - 05: During these days, volunteers will continue with the project. They will get involved in many construction activities of the project like mixing cement, carrying bricks, plastering the wall, watering in the recently plastered walls, carrying bucket of water and leveling the ground.
Day 06 – 07: These two days will be work-free days. During these days, volunteers can explore the area. If interested, they can join some excursion activities. Our Nepal office will help to organize this. There are many places to see in this beautiful country. Volunteers also can visit the biggest national parks in Nepal or they can drive to Pokhara to view another beautiful valley with renowned lakes, rivers, and mountains. They can also visit Lubmini, the birthplace of Lord Buddha and an important pilgrimage destination.
Please discuss about this with Nepal office and organize through them. IFRE does not organize any tour activities, but we would be glad to provide advices and travel tips.
Day 08 - 12: In the second week too, volunteers will resume their project and carry it further to finishing and furnishing. We would be adding some works like gardening, painting, doing some murals in the wall. If the schools are open, we can organize some interaction session with the children. Volunteers will spend few hours a day with the children organizing some games and fun activities.
Day 13: Closing of project and farewell dinner – We will organize a farewell dinner after the project concludes. We will discuss about the project work, organize an evaluation session, and make plans for the future projects if the participants are interested to help in the future and know how the projects are going on.
Day 14: Airport drop off– We will take all of our volunteers to the airport as per their flights. If you have any plan to explore around, you can stay longer in the country and do some exploration.
Important note: this is a sample itinerary. The itinerary may change depending upon the field situation, project's need, and other factors. Before the start of the project, we will discuss this itinerary and make the required changes and adjustments.
Daily Schedule
7.30: wake up
8:00- Breakfast
8:30- Drive to the project location
9:00 – 12:00 – Project work
12.00 – 2.00 – Lunch time and rest
2.00 – 4.00- Project work
4:00 - .4:30 – Tea break
4.30 – 6:00 – Project work
6.00 – Drive back to your accommodation
7.00 - Dinner
Working areas
School renovation ( Lalitpur, Kavre, Sindhpalchock, Dhading)
The earthquake of April 25 in Kathmandu and the neighboring areas has been particularly devastating to the vulnerable groups in Nepalese society. Among them are school children from low-income families and the orphans.
Typically, government-run public schools in Nepal are considered as the schools of low-income and disadvantaged groups. They usually lack the resource, facilities, and glamour of the urban-centered private schools. The earthquake has torn apart many public schools in the rural areas of Lalitpur, Kavre, Sindhpalchock and Dhading, the districts around Kathmandu. According to a report, as many as 575 schools completely destroyed 969 partly damaged in the earthquake affected areas.
Schools remain closed throughout the affected region, and thousands of students face an uncertain future. If efforts are not stepped up to address the situation, it would take years for schools to recover the damage and to be fully functioning. It is something Nepal will not be able to deal alone. Our School Renovation Program in Lalitpur, Kavre, Sindhpalchock and Dhading aims to take immediate actions in renovating and building schools with the participation of international volunteers and local communities. This will be an important contribution to Nepal, although in a small measure, to avoid education disaster, a likely consequence of earthquake disaster.
Orphanages renovation (around Kathmandu)
In orphanage renovation project, we will mostly work in and around Kathmandu valley as many orphanage facilities, located in different areas in and around Kathmandu, have sustained different scales of earthquake impacts. Some of orphanages are badly destroyed with full or partial collapse of walls or large cracks in different parts of the buildings. They require a large-scale reconstruction. Some of the orphanages have sustained repairable damages and can be brought to their previous state after some weeks' repair and renovation works. As many orphanages have been damaged or destroyed, many children are now living in temporary shelters because the buildings they were living in have become unsafe. The earthquake has not only disrupted their everyday life, it also has shattered their sense of safety and comfort.
IFRE's Orphanage Renovation Project aims to repair and renovate the damaged buildings as early as possible so that the children can regain their sense of safety and comfort and can begin their everyday life in a safe home. With volunteers' active participation, we expect to provide the children with improved living conditions and learning facilities—hopefully, better than the previous ones.
What makes these projects urgent is if immediate actions are not taken, the effects of earthquake can jeopardize the achievements made in the recent years in the areas of providing a happy home and secure future to the thousands of orphans in Nepal and providing education to all school-age children. Only the prompt actions and concerted efforts to support them can give a safe exit to these children to better future.
Accommodation
Volunteers will with stay either with a host family during their program or in a hostel arranged close to the project.
Staying with a host family gives you more opportunity to learn about our culture and way of life. You will have a separate room in the host family but you share the facilities with the family members.
To minimize the language barrier, we have selected our host family with a member can at least speak some English. It will be challenging but will give you more fruitful experience.
Our host families in Nepal are well screened and they are socially respected. The family will offer you a safe and secure place to stay.
Food
We are responsible for looking after the meal of the volunteer during your program in Nepal. Our resident cook will prepare you 3 local meals in the Hostel. While in the host family our volunteers will enjoy 3 meals with the host family. Rice and lentil, soup with vegetable curry is a staple food for most families and is consumed daily. Nepali people also eat chapatti; a flat bread made by wheat. You may be served this occasionally with lentil soup and vegetable. Milk tea is quite famous in each family and it can be provided to the volunteers at any time they need to take rest for a while.
Supervision
During the project, we will constantly monitor your program and make sure that the progress is continued. If you need any help while working at the project, on-site coordinator will help you and make sure that the project is running well. Our local coordinator lives close to the project and you'll have access to his mobile phone number 24 hours in case of emergency.