Women's Project
>
>
>
Women's Cooperative In The Atenas Area
Women's Cooperative In The Atenas Area
Volunteer to improve the lives of Costa Rican women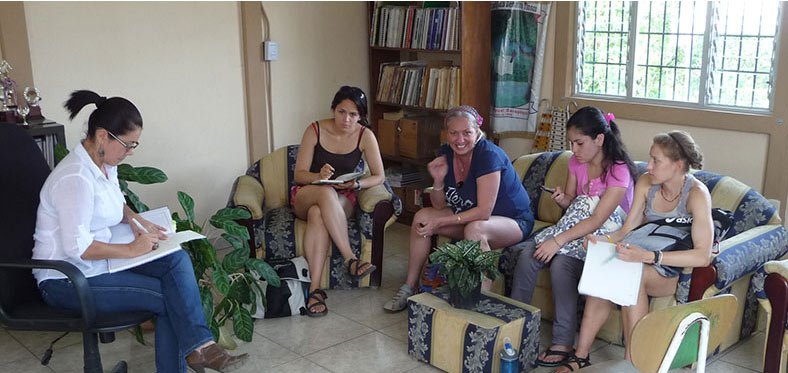 Assist in greenhouse operations

Support woman in a rural community

Immerse yourself in the beauty and culture of Costa Rica

Volunteer abroad safely & affordably
Project Summary
AMASIA is a women's cooperative that facilitates greenhouse operations in the hills of San Isidro, about 20 minutes by bus from central Atenas. They offer orchids, organic fertilizer, cactus and ornamental plants for sale to the community. The sales from these orchids support the women in this rural area. They work with organic fertilizers and methods.
Skills/Qualifications Needed
Beginner to intermediate knowledge of Spanish is preferred (but not mandatory). . If you cannot speak Spanish, we suggest you enroll in our Spanish language course to make your stay more rewarding – both for you and for the women you are helping. A green thumb and a love for nature are important. If you have experience with websites, you can also help develop their website. Grant writing or advertising skills can also be useful to the project to increase support and to promote the project. Volunteers are expected to be reliable and flexible.
Volunteer Responsibilities
AMASIA volunteers work to support and assist with the image and concept of a women's cooperative with promotion and public relation efforts. Physical work in greenhouse is also appreciated. Any ideas, suggestions or assistance that a volunteer can share with the cooperative is truly appreciated.
Accommodation/Food/Supervision
In Costa Rica, all volunteers stay with well-screened host families. Our host families are socially respected and are well versed in the art of hosting international volunteers. Host families offer a safe home, private rooms (occasionally rooms will be shared with other same-gender volunteers) and shared bathroom facilities with running hot water and a "western" style toilet. Volunteers have the ability to do laundry at the house or the host family may offer to do it for you for a nominal extra fee. You receive three prepared meals per day. If you will be out of the house during lunch hour, you can request a lunch "to go" that you can take with you or eat out on your own. Host families provide typical meals that are traditional to Costa Rica.
Throughout the volunteer project, our local staff stays in contact with volunteers either with face-to-face visits or via email/telephone. With longer placements, we visit our volunteers every two weeks (when possible) and volunteers are always welcome at the local office. If project placement is local, we request that volunteers stop by the office once a week to keep us posted on how they are doing with their home stay and project. If project placement is very far, then our local staff members maintain communication by either email and/or phone.
FAQ
Please provide a typical day schedule for this project

8:00 am Head to placement via bus

Please provide a typical day schedule for this project

You will travel to the project by bus around 8:00 am and work with the woman until 11:30 am or later.

Where do I stay? How far is the project from the accommodation? How do I commute?

You will be provided accommodations with a host family. There is local transportation available to and from the site of your project, which is approximately 20 minutes and $1 USD each way.

What kind of activities volunteers do in women's project?

There is a greenhouse for orchids, which volunteers can help maintain or they may also assist with the nature trails surrounding the site. If you have computer or website skills, you can help with the promotion of the site as well.

Where are the projects located?

San Isidro of Atenas, a 20-minute bus ride from the center of town.

What are the requirements to join the program?

There are no requirements but it's important to be able to speak and understand Spanish as many of the woman at the project do not speak English.

What kind of support do we get during the project time?

The ladies are there to help with anything as well as your country coordinator.

How many hours a day do we need to work?

Usually around 3-4 hours depending on which bus you take.

Is women's project available all-round the year? When will it close for how long?

Yes, but they are closed on holidays nor do the buses run on holidays.
Learn more about Costa Rica programs