Volunteers' Reviews
>
>
>
China - Volunteers' Reviews
China - Volunteers' Reviews
I would like to thank IFRE and Jeff Gao for the opportunity to observe the practice of Traditional Chinese medicine in Binzhou and Liaocheng. The highlight of the trip was visiting Dr Gu in Liaocheng and asking questions which will benefit my practice. Even though he is extremely busy he found time to invite us into his home and talk about the practice of Chinese medicine. A very humble and delightful man. I was equally impressed with my interpreter in Liaocheng. She has a good command of the English language and was able to translate, without to many problems, Chinese medical terminology. Even though our two cultures are different in many aspects I found the Chinese very friendly and accommodating, and a pleasure to be around. One aspect of the trip I enjoyed was the food and plan to incorporate some aspects into my own personal life. I also want to thank Jeff and his circle of friends who afforded me the opportunity to meet some individuals who made the trip worthwhile. Overall, the trip was informative with respect to my practice and experiencing the Chinese culture, and would recommend the trip to those interested in Chinese medicine and culture.

Jim Reinhart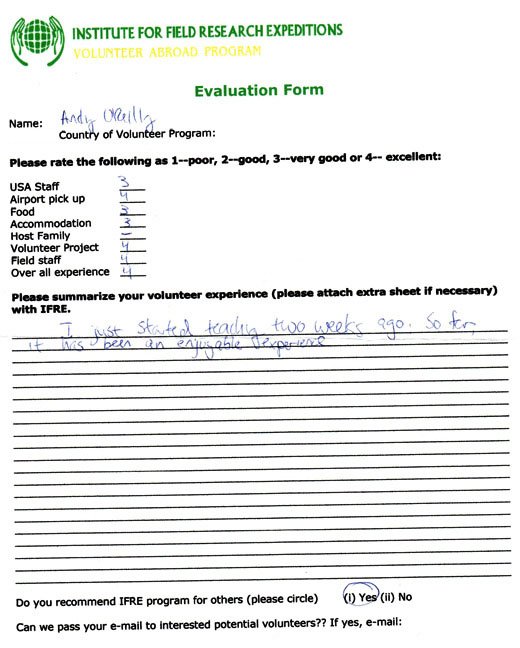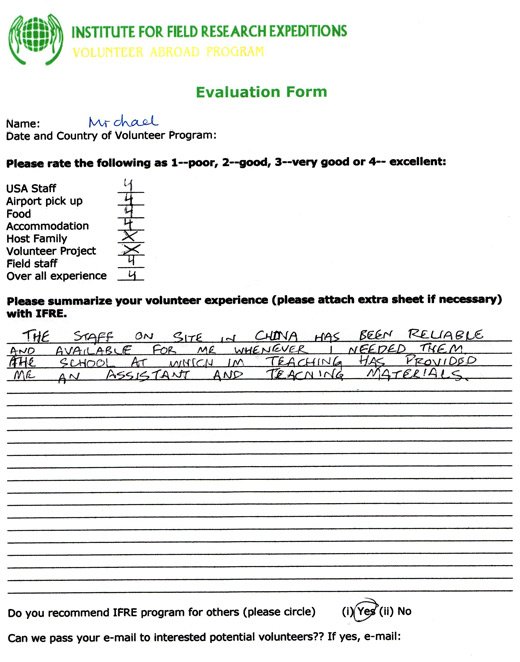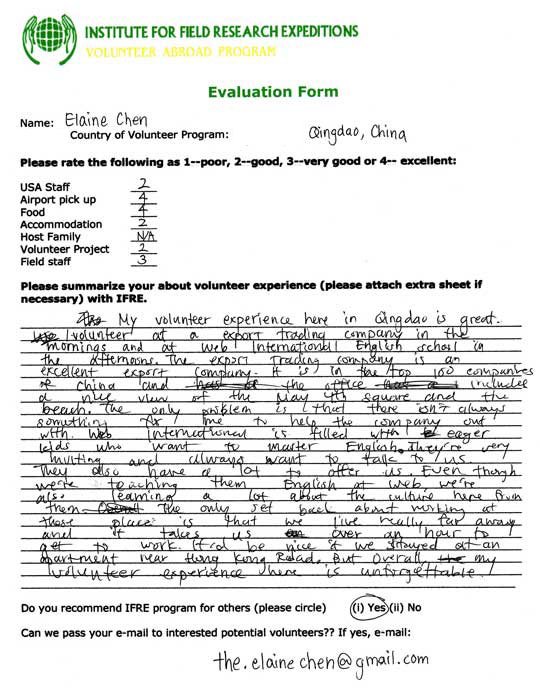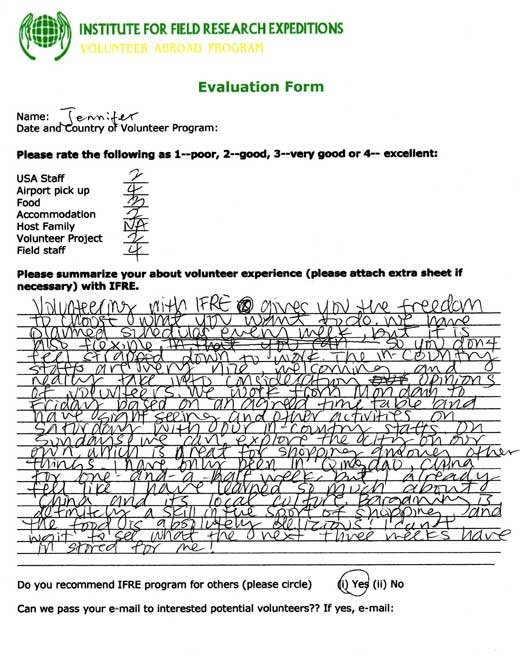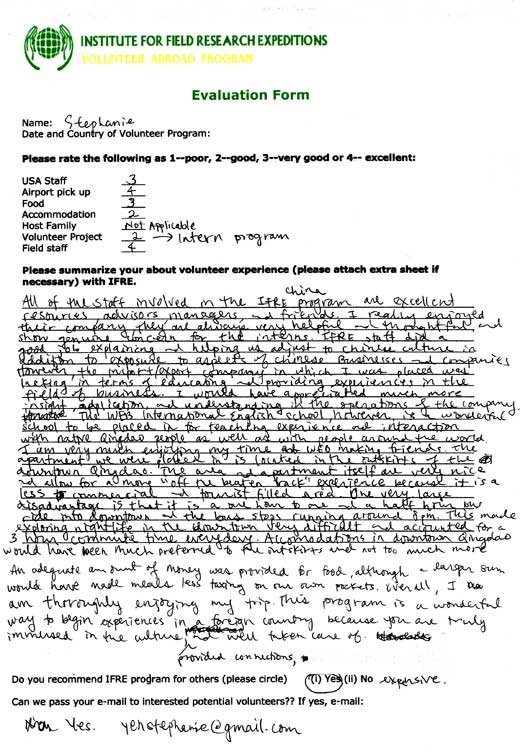 Major FAQ China
Food and Accommodation
What kind of food do we eat in the project?
The food will depend on your placement. If working in a school, food is provided by the school and if volunteering with pandas, food is also provided by the conservatory. Traditional Chinese food should be expected.
Do the accommodations have internet and electricity?
Yes, the hostel, the voluntary service center has internet connection and electricity.
Do we get hot shower in our accommodation?
Yes you will get a hot shower in your accommodation
Is water safe to drink or do we need to buy bottled water?
If you boil the water first it is safe to drink, you do have the option to buy bottled water though.
Is it an issue if I am vegetarian? I am wheat allergic; would it be a problem to the host family?
It won't be a problem, however please inform your country coordinator of any dietary restrictions prior to your arrival.
Do I get my own room?
Yes, you will get your own room, however if you would like, you can share a room with other volunteer if any as well.
Do the members the project speak English?
Yes, there will be member of the staff whom speak English.
If I arrive with my friend, or girlfriend/boyfriend, can we stay together?
Yes, arrangements can be made for this.
What are the bathrooms and toilet facilities like?
All bathrooms come with a westernized toilet and shower facilities.
What are the laundry arrangements?
Public washing machines are available for your use.
Can I use appliances if I bring them from my home country?
Yes, you can use your own appliances but you will need to get an adapter.
What bedding materials like? Do I need to bring sleeping bag?
One set of bedding is provided, but you can bring your own sheets if you like.
Arrival Information
Which airport do I need to fly in?
Your arrival airport for teaching will depend on where you are assigned, for the Panda Conservation project you will fly into ChengDu Shuang-liu International Airport.
Do you organize airport pick up?
We provide airport pick-up.
Where do I go from airport?
You will be transported to your placement.
What happens if I missed flight or arrived late?
Please let your country coordinator know immediately so that they can make the appropriate alterations to your pick-up.
Who will come to pick up me? How do I recognize the person at the airport?
One of our program members will greet you at the airport displaying a placard with your name.
If my assignment begins on Monday, when should I arrive?
Volunteers generally arrive the Sunday before, however if you need to come in earlier do to flight availability we can assist you with arranging accommodations for a minimal fee.
Who will bring me to the airport for my departure?
Return transportation is not provided through our program, however in country staff will be more than willing to assist you in making arrangements.
Can you help us arrange our flights? Do you recommend any cheapest flights to fly to China?
We do not assist with flight arrangements; however please let us know your flight details once they have been confirmed.
Visa Information
What kind of visa do I need to apply?
A tourist visa will suffice for either volunteer position; however a working or business visa will need to be obtained by those traveling to China for the paid teaching position.
How do I apply for the visa?
You can apply for your visa in any Chinese embassy, and we can provide the documents you need for the application.
How much does it cost for the visa application?
The cost of the visa varies from country-to-country, please consult with your local Chinese Embassy.
Do I need any documents to apply for the visa?
You will certainly need your passport, we are more than happy to assist you with getting the necessary papers for your application.
How long does it take to get the visa approval?
It can take up to 4 working days for the embassy to process the visa and longer if you apply for your visa through a travel agency or use a postal service.
Safety
Is it safe to travel to China?
Yes, it is safe to travel in China.
What are safety measures you take for the volunteers? How can you guarantee volunteers' safety?
Those volunteering and traveling with IFRE are provided an in-country coordinator who is available at all times to assist in any emergencies.
How can you help volunteers in case of emergency? Is there someone we can get hold of in case if we need immediate help or support?
Our staff is available by phone 7 days a week.
Is it safe to travel alone?
Yes it is safe to travel alone.
Money
Are ATMs easily available?
ATMs are readily available in most locations.
Where should I exchange my money?
Local Chinese banks will have the best exchange rate.
How much money should I bring with me?
The amount of money you bring will depend on your personal spending habits and your placement. Meals are provided, however any additional activities you see yourself participating in will need to be paid for.
What does the weekly program fee covers?
Generally accommodations, food, airport pick-up.
Is it safe to carry cash with me?
Yes, it is safe to carry cash with you.
Communication
How do I contact to the local coordinator?
All our staff will make sure you have the telephone numbers, email addresses and office address.
How do I contact my family and friends once I arrive in China? How can my family members contact me?
It is best you use email or Skype to contact family and friends.
Can I bring my mobile from my home country? Does it work?
Yes, you can bring your mobile phone from your home country, contact your provider before you travel to China to make sure international calling / texting is unlocked.
Climate
Please provide detailed information on year round climate in the country which consists season you have, average temperature and average rainfall in each month.
All four seasons in Qingdao are mild without extreme hot or cold temperatures. Qingdao air is temperate and humid with abundant rainfall, and the temperature differences during a day are slight. The hottest season is in August with the average temperature of 25.1 C (77.2 F) and the coldest in January with the average temperature of 0.9 C below zero (30.4 F). Autumn and winter in Qingdao are windy; in winter.
Health and Safety
What are the principle health risks in China? Is there any mandatory vaccination we need to take?
Please consult your local physician in regards to any necessary precautions you should take while traveling abroad.
General Questions
Where can I use internet? Is there a place where I can use phone to make a call to my family and friend?
Internet is available for communication; the ability to make international phone calls will vary dependent on your placement.
Could you please provide me the packing list?
Camera
Mobile phone (you can use mobile phone after changing SIM Card after arrival in China, SIM Card normally costs RMB100Yuan, roughly US$15)
Sleeping bag (we offer basic bedding but you are encouraged to bring any of your own linens and such)
Sun-block/First-aid kit/Flash light
Electricity adapter/converter
Footwear (for work and travel)
Towel
Seasonal clothes
Hand disinfectant
General medicine (headache, dehydration, vomiting, diarrhea, etc.)
Learn more about China programs