Ghana Goes on the Offense to Regain Travel and Tourism Sector's Momentum
Ghana was making a name for itself as a tourist destination prior to the pandemic. Having attracted celebrities such as Idris Elba and Naomi Campbell, Bill Gates, Natalie Portman, and Ted Turner to the West African nation, Ghana was on its way to entering the big leagues for travel and tourism. In fact, prior to the pandemic, Ghana's travel sector was on track to generate more than $8 billion annually by 2027.
Ghana began reaching a stride in 2017 when it launched a program called, "See Ghana, Eat Ghana, Wear Ghana, and Feel Ghana," which placed a spotlight on the country's tourism sector. By 2019, which was dubbed the Year of the Return, Ghana's government sought to attract half a million diasporans and ended up handily surpassing its ambitious target, with a little help.
Among the visitors were celebrities which in addition to Campbell and Elba included Steve Harvey and Cardi B, all of whom helped to place a positive spotlight on the country as a go-to destination. The celebrity endorsements saved Ghana millions of dollars in paid advertising. The initiative was deemed a success amid attracting $1.9 billion to the economy.
That growth came to a screeching halt, however, during the pandemic year of 2020, when Ghana's travel industry shrunk by nearly two-thirds amid closed borders, restrictions, and travel bans. The downturn was not exclusive to Ghana. For the entire continent of Africa, where the travel and tourism sector comprises more than 8% of the continent's GDP and provides tens of millions of jobs, tourist arrivals plummeted by 98% in the second quarter of 2020 vs. the year-ago period, according to Brookings.
Now Africa's travel industry isn't expected to fully recover until 2023. Despite the sobering outlook, Ghana's travel and tourism industry is looking to pick up where it left off before the pandemic reared its head.
Ghana Fights Back
The Ghana Tourism Authority in 2021 along with several other related government agencies launched an 18-month campaign focused on drumming up demand for domestic and regional tourism in the wake of the pandemic. They are looking to bolster the number of traveler arrivals by 600,000 and 1 million by the years ended 2022 and 2024, respectively. Ghana is looking to attract international tourists with its nearly three-dozen historical castles and forts along the coastline as well as national parks and an exploding arts scene.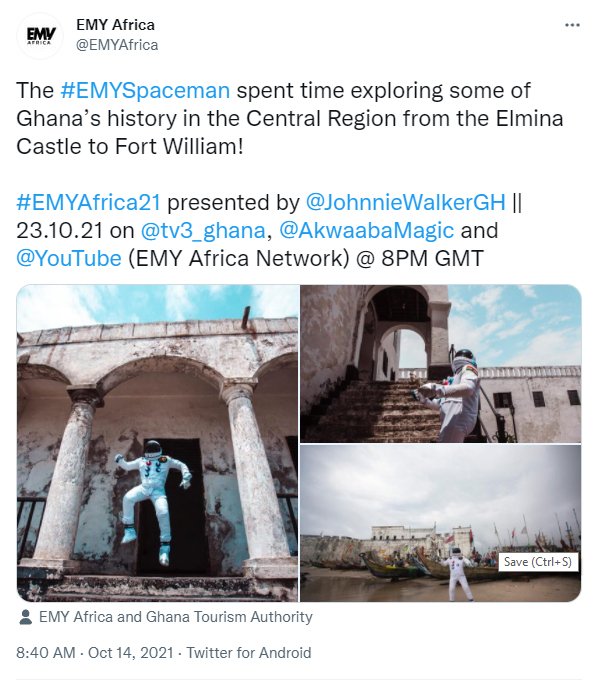 Source: Twitter
Ghana's Youth and Tourism
Tourism is one of Ghana's high-productive sectors, one through which the nation's youth population has the potential to tackle unemployment. Ghana's youth tourism ambassador, Joseph Amarh Amartey, is urging the government to make teaching the young generation about tourism and the arts a priority so that traditions continue. While Ghana's culture is such that the population respects their elders, they sometimes do so at the expense of giving coming generations a voice.
Amartey believes that educating the youth is key because the older generations are already set in their ways and beliefs. By giving the younger population a sense of their heritage, they are more likely to appreciate all that travel and the arts have to offer.
The tourism ambassador wants Ghana officials to allow the youth to participate in talks surrounding the country's vital tourism sector. Otherwise, talents will continue to be buried rather than being nurtured, which is something that needs to change in order for the tourism sector to reach its fullest potential.
Ghana and Spain Collaborate
To help Ghana regain its momentum in tourism, the country has partnered with Spain's government in a travel-based initiative. Ghana's Ministry of Tourism, Arts and Culture has inked a $120 million deal with Spain's government, the Incyde Foundation, and Casa Africa to create 3 million tourism-related jobs over the next several years, starting in November 2021.
As part of the agreement, which was signed in Accra, some 120,000 Ghanaians will be trained to qualify to work in the industry. Ghana and Spain will collaborate on ways to strengthen their existing ties, and tourism is first on the list.
Thanks to the deal, Ghana's Tourism Minister, Dr. Ibrahim Mohammed Awal, believes the country is on track to reach its goal of generating $5 billion per year from tourism. In the meantime, he has committed to fixing some of the infrastructures including roads to make tourist sites easier to access.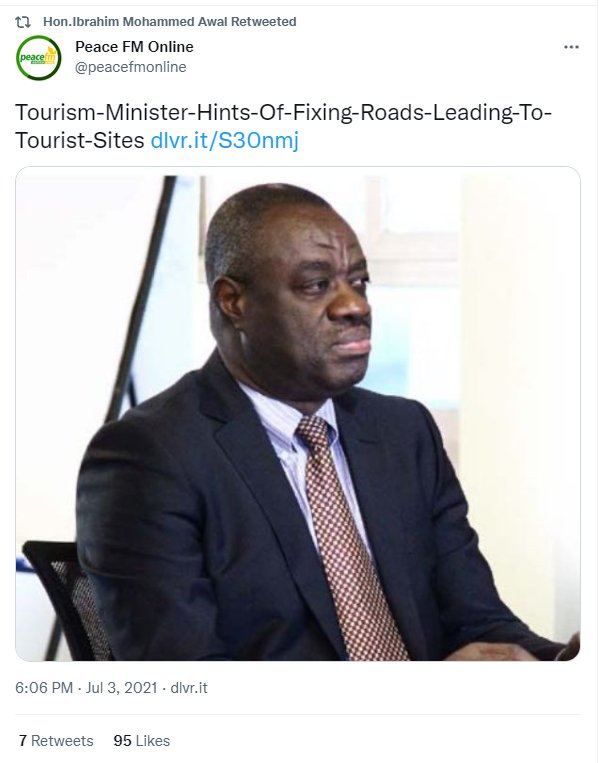 Source: Twitter
Ghana is looking to Spain to learn some tricks of the trade and strengthen its appeal for international travelers, considering that the European country has gained a reputation as a leading travel destination. As it stands, 25% of Ghana's jobs are in tourism, a dynamic they'd like to see double.
Travel & Tech
Some 5,685 KM away from Ghana in the East African nation of Rwanda, a travel startup was one of dozens of companies to secure non-dilutive capital from tech giant Google. Bungalow, a digital marketplace for travel accommodations across Africa, was selected as one of the recipients of up to $100,000 in capital from the $3 million Google for Startups Black Founders Fund Africa. For its part, Rwanda has improved its reputation among travelers seeking to explore the country's wildlife, among other attractions, and has managed to become one of the safest destinations in the region.
Ghana's Economy
According to Brookings data, Ghana's industries without smokestacks, or IWOSS, including tourism across hotels and restaurants, are poised to represent more than half of Ghana's total employment in the next 14 years. And according to Fitch Solutions, Ghana's economy is expected to bounce back from the pandemic-fueled downturn.
Not only that but Ghana is expected to lead the way with the fastest-expanding economy in the Sub-Saharan African region. Fitch expects Ghana's economy to grow at a rate of 4.8% in 2021. In addition, the rating agency forecasts that tourist arrivals will rise by 47% by year-end 2021, recovering nearly half of the country's lost ground.
The positive momentum is expected to persist into 2022, when Fitch estimates that Ghana's tourism sector will grow nearly 30% YoY, paving the way for more jobs and higher wages in the process. All of this activity stands to benefit the business including hotels and restaurants in addition to "recreation and culture establishments," Fitch noted. Ghana is off to a promising start on the path to reinventing its travel and tourism sector.
By: Gerelyn Terzo of Sharemoney