Work/Teach In a Local School in South Africa
Project At A Glance
Location:
Cape Town, Stelle
-nbosch, Albertinia,
Knysna, Oudtshoorn &
Riversdale
Hours:
30-40 hours per week
Room:
Host family or hostel
Date:
Mondays of each month
Many of the schools IFRE partners with are structured to help uplift students and prepare them for a better life.. Volunteers will work with local English teachers at the school with grades 3-9. Volunteers can request a specific grade level once they have arrived and spent a day or two in the project.
In the teaching English projects, volunteers will either lead or assist with teaching in an English classroom in primary, middle or high schools. Schools may be private, public or informal, but in all cases the teaching is focused on conversational English rather than formal grammar. Schools in South Africa support both experienced instructors and the novice teachers by providing many resources to help volunteers plan and carry out their school day. Textbooks, teaching guides and less planning assistance are all available to support volunteers while they teach in South Africa.
Skills/Qualifications Needed
No specific qualifications are required to join the teaching English project in South Africa. However, interested individuals should have a mastery of conversational English and a passion/desire to teach younger children (and occasionally teenagers). Volunteers must be comfortable fulfilling the role of English-instructors and/or teachers' aides. All volunteers are encouraged to be flexible, patient and adaptive.
Volunteer Responsibilities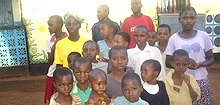 Volunteers may choose to teach any subject (Math, Science, etc) in the schools, in addition to teaching English, if there is a need for additional teachers. Volunteer teaching project activities may include:
Teaching conversational English, Math or Science to students aged 5 to 10-years-old primary school students or 11 to 16-years-old secondary school students.
Read literature with students to improve low comprehension levels and pronunciation skills.
Provide theoretical and practical assistance and aid to teachers.
Interact with the students during lessons and free time.
Note: In South Africa, many of our volunteer projects are based in rural communities, sometime located a great distance from the city limits of Cape Town. In each local community, we support multiple projects such as orphanages, schools, HIV/AIDS project, hospital etc. Volunteers will help or participate in more than one project during their experience. This multi-tasking presents a more varied volunteering experience and the extra help is greatly appreciated by the community.
IFRE arranges accommodations and food (3 local meals/day) for the duration of your volunteer project. During orientation and training program, volunteers stay in our hostel in Cape Town. Our hostel is located in the heart of the city giving volunteers easy access to all parts of the city. Volunteers stay with a host family (aka "homestay") during the volunteer program. Our host families are socially respected and are well versed in the art of hosting international volunteers. Host families offer a safe home, private rooms (occasionally rooms will be shared with other same-gender volunteers) and shared bathroom facilities with running water.
Volunteers will receive three meals of South African cuisine each day. Breakfast normally consists of cereal and toast; lunch is packed to take to your project and dinner is a nutritious home cooked local meal (meat & vegetables, rice or potatoes & salad). Host families provide typical meals that are traditional to South Africa.. Throughout the volunteer project, our local staff stays in contact with volunteers with either face-to-face visits or via email/telephone. IFRE's main office is in Cape Town and our in-country coordinator serves as a point of contact for local volunteers. If project placement is very far from our main office, then our local staff members maintain communication by email and/or phone and the local project director will serve as a volunteer's contact. Upon program placement, personal placement documents provide specific details of accommodations and project.
could not connect