Teaching Project
Teaching English
Volunteer as an English teacher in Mexico!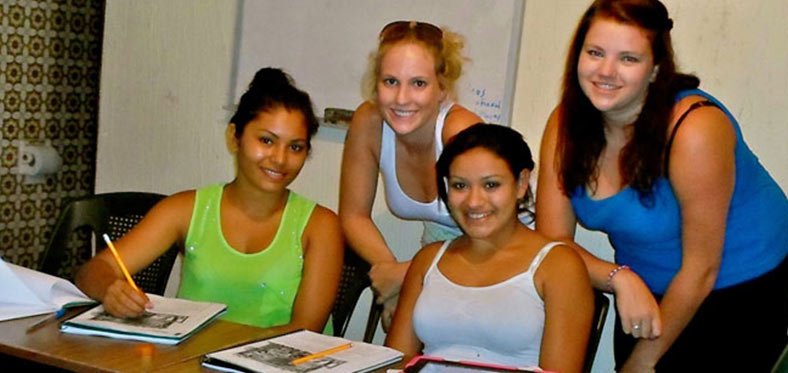 Share the English language Mexican schoolchildren

Work alongside educational professionals

Immerse yourself in the culture and beauty of Mexico

Volunteer safely & affordably
Project Summary
The schools in Mexico close on:
Easter:

–

24th March – 6th April

Summer

–

4th July – 16th/17th August

Christmas

–

20th December – 6th January
During the summer holidays we can arrange summer classes for those students who are interested
In Mexico, English language is part of the curriculum in many primary and secondary schools, providing a good base for young people who decide to continue into further education or work in the tourism industry. Unfortunately, due to the lack of funding in the education sector, most schools cannot provide the personal attention required in the classroom for students to advance to the required level for further education (once at university, the textbooks for many subjects are mainly in English). This is especially the case for schools in poorer areas.
Having English-speaking volunteers in the classroom provides the extra attention many students need in order to advance, as well as providing motivation to students who are keen to learn about life in other countries. Our volunteers will also find the students mostly very eager to learn from international volunteers and very enthusiastic.
Skills/Qualifications Needed
This is a great placement for anyone who is interested in working with young people, or those who are interested in a career in education or teaching English in particular. No qualifications are required for this placement, and volunteers do not need to speak Spanish; however, a basic level Spanish will help to make your experience more enjoyable, allowing you to interact more with the students and other teachers in the school. As a volunteer, you must also respect the rules and the regulation of the school.
Volunteer activities
Volunteers on this placement act as assistants to the teachers in the classroom either in one of the local primary schools or in the local technical school to assist in English lessons for the Tourism students. Timetables vary depending upon which school you are assigned. Lessons include both grammar and conversational English, and volunteers are often involved in lesson planning, allowing you to bring your own ideas and experience into the classroom.
Food and accommodation
Volunteers are placed with host families in the same town (Melaque) or the next town (Barra de Navidad), with a maximum of 15 minutes travel time. Our host families have been carefully selected in order to provide comfortable accommodation and the three daily meals for volunteers. Staying with a host family is a great way to experience the local way of life and improve Spanish skills.
Other important information
Volunteers are welcome to bring teaching aids, which they feel may be useful in the classroom. It is also a great idea to bring a few photographs or other images/postcards from home to help motivate the students to ask questions and get to know you at the beginning of your placement.
This placement can be combined with an intensive Spanish course before starting at the school or classes throughout the placement. Volunteers can also take the time at the beginning or end of the placement to visit some of Mexico's highlights.
FAQ
Please provide a typical day schedule for this project

Volunteers can expect to be attend a typical school day Monday-Friday, beginning each day with breakfast provided by their host family and then heading off to the school to assist with the English language programs provided by local schools. English instruction is a part of the curriculum in the primary and secondary schools in Mexico, however there are often not enough staff to offer students one-on-one interaction, which is where our volunteers come in. As an English teaching volunteer, you will be working alongside local educators providing much needed attention to students for 3-6 hours per day.

How far is the project from the accommodation? How do I commute daily?

Volunteers can expect their accommodations to be within a short walk or commute via bus from their project site.

Could you please send me the contact details of the host family and the project?

We work with 2-3 different schools in the area, therefore detailed information on placements and host families are provided to volunteers upon completing their application.

How many children are in the school and what are their ages?

We work with several area schools at the primary and secondary level, therefor the number and ages of students will vary depending on the volunteer's assigned school.

What are the day-to-day activities in the English teaching project? What I actually do?

Volunteers will work alongside a local English teacher assisting in their curriculum. Depending on their teaching ability, volunteers may be able to teach lessons independently. English teaching volunteers may also have the opportunity to work in the Special Education program as well.

Is the teaching English project in Mexico available all-round the year? If not, when does it close for how long?

The English teaching project is year-round with the exception of school holidays which coincide with American school calendars where the students are out of school for Christmas, Easter and Summer Vacation.

Easter:

–

24th March – 6th April

Summer

–

4th July – 16th/17th September

Christmas

–

20th December – 6th January

Any important information you want to share about this project.

Patience and intermediate knowledge of Spanish are ideal qualifications to ensure the volunteer can communicate with the children and educators they will be working with. This program can be combined with an intensive language program. We suggest that volunteers bring items representative of them and their country to share with the children and host family.