69 Ways to Save Money When Embarking on a Volunteer Abroad Trip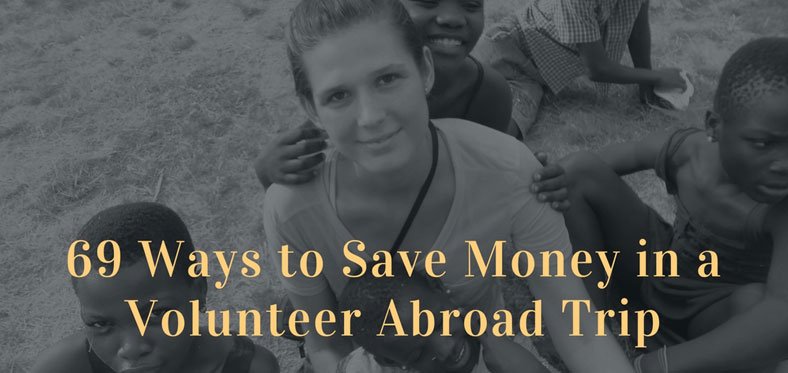 A cheap volunteering abroad trip can be one of the best experiences of your life. Cheap volunteer abroad programs give you the opportunity to explore some new and captivating countries, interact with people from all over the world, experience cultural diversity, and also help those who are in great need. The reward of helping others will bring about an indescribable feeling of fulfillment.
While the experience of volunteering overseas is priceless, the actual cost of volunteering abroad can be pricy. In addition to the volunteer program fees, which you pay to the volunteer abroad provider, you will still need to pay for many other things like airfare, visas, vaccinations, leisure expenses, and personal items that you might need to pick up prior to your trip. When you add everything up, you will realize that volunteering abroad isn't necessarily the cheapest type of trip.
Are You Planning to Volunteer abroad?
Looking for safe, reputed, and affordable volunteer program ?
How much does it cost to volunteer abroad?
Depending upon the provider, country and the project that you choose to join, your total cost of your volunteer abroad trip could be somewhere between $2000 and $5000 for two weeks of volunteering overseas. For most individuals, this is a pretty steep price for such a short amount of time.
Fret not though! There are ways to significantly reduce your costs. If you take the time to plan accordingly and do your research, you can substantially reduce your volunteering abroad expenses, sometimes between 50% and 70%. $1000 to $2500 for two weeks of volunteering abroad probably sounds a lot more reasonable!
The purpose of this article is to share with you a wealth of information and practical tips that will help you to embark on your volunteer abroad journey without breaking your piggy bank.  This comprehensive list of tips and advice can be applied to any type of volunteer abroad project and location. There are so many different ways to save money during your planning phase and during your actual volunteer abroad trip. You might even be surprised at how simple some of them are. Have a look, pick the ones that you like, and start your adventure feeling comfortable about your financial and humanitarian commitment.
How to save money during the initial stages of finding the right volunteer abroad provider and program
The time that you spend doing research, asking questions, and planning will prove to be well worth it when you are setting off on the best volunteer abroad trip. Putting in the effort in the beginning will be priceless in the end.
1. Select the right inexpensive provider. Don't be fooled into thinking that the most expensive providers are the best providers. There are countless budget-friendly volunteer abroad organizations out there and each one is different in terms of price, what's included in the price, program quality and organization, and reputation, among many other differentiating factors. This is where research is crucial.
Your program fees will mostly cover the cost of your room, meals, and chosen project. The best approach to take here is to research and keep notes of what's included and what's not included in each provider's program fees and then choose the provider who has the highest reputation and best reviews but is on the less expensive side of the spectrum. You could potentially save thousands of dollars with this practical approach.
2. Inquire about group discounts. Oftentimes, there are discounts available for volunteers who book as a group. Group discounts typically range between 5-10% off. Some providers even have specialized discount programs for family, student, corporation, special interest, or friend groups. There is no harm in asking. You might not being saving thousands through a group discount, but every penny counts. Many organizations are willing to give a discount for even small groups of 2-3 people.
3. Ask about special promotions, rates, or deals. Sometimes there are special discounts or prices for volunteers willing to volunteer in the "off" or less popular months in a specific country. If you are not hard set on a specific month to volunteer during, this might be an easy way to save some dough. These deals are not always advertised so it is a good idea to just ask regardless.
4. Select a non-profit volunteer organization so you are eligible for a tax deduction. Many 501c3 non-profit organizations are operating volunteer abroad programs. When you join a volunteer abroad program through a non-profit organization your program fee and costs will be tax deductible. While this isn't saving you money immediately, you will see the savings when you file your taxes and get a tax deduction or return.
5. Chose your destination wisely. Most volunteer abroad programs are located in third world and developing countries. Some countries are more expensive to travel to than others. If you are not 100% decided on one country in particular, then it is wise to look into countries that are on the cheaper side. For example, it is much cheaper to volunteer in Ghana than it is to volunteer in Costa Rica. Choosing a less expensive destination will save you money on all fronts.
6. Identify your program fee budget and stick to it. There are different types of budget-friendly volunteer programs, as you will find during your research. It is important to know approximately how much money you are comfortable spending for your volunteer abroad trip in its entirety. Some types of programs are more expensive than others. For example, volunteer in an orphanage or teaching English is less expensive than volunteering in a medical or wildlife conservation program. The difference in cost can be in the $100's. Take a look at the different programs and their individual costs and choose accordingly.
7. Search for "free" volunteering abroad options.While there is no such thing as truly free when volunteering since there are so many different types of costs involved (airfare, visas, vaccines, personal supplies, project donations, accommodations, meals, transportation, etc.), it is possible to find and sign up for an affordable volunteer abroad program without the help of a volunteer organization provider who you will pay in part for their services. This approach takes a lot more research, planning, and preparing, but you can avoid paying some of the fees this way. This is a better option if you are already in the location in which you decide you want to volunteer or you have previously been to the location where you want to do volunteer work.
Check out these links for some more insight into free volunteering abroad programs.
10 volunteer opportunities for free travel
How to Volunteer Abroad for Free
Volunteer Abroad For Free – No Fee Projects, Scholarships, Fundraising
8. Search for paid volunteering abroad programs. If you really want to volunteer, but money is an issue, try looking for paid volunteering abroad opportunities. There are opportunities out there where you can be compensated in different ways for your time and commitment. Oftentimes, this is in the form of airfare, accommodations, or insurance compensation. The Peace Corps, UN Volunteers, and Voluntary Services Overseas are three organizations that compensate volunteers for a substantial commitment.
How to save money on airfare
Your program fee will not include airfare and your airfare will be one of your major expenses. Depending upon the country and time of year in which you are traveling, airfare can range from $300 to $2000. Follow these money saving tips to keep your volunteer abroad trip affordable.
9. Book in advance. Deciding to join a volunteer abroad program is a big decision and one that should be well thought out and planned. In line with this is booking your airline ticket in advance. Don't wait until the last minute when prices are likely to be much higher.
10. Book your ticket in the middle of the week. Some insider sources claim that the cheapest airline tickets are available when you book on a Tuesday or a Wednesday. It's worth a shot!
11. Book a round trip ticket. Round trip tickets are generally more cost effective than purchasing a one-way there and a one-way home. A lot of countries, like Costa Rica, require you to have a return ticket anyway.
12. Fly indirect. If you have the time, you can purchase a flight itinerary that has a day or so layover in an in between country. Ticket prices drop drastically the longer your travel time is. This is a great way to spend a day or two in a country that you might be interested in seeing anyway.
13. Consider flying out of a further away airport. You initial searches will likely be to the closest airport to your house and to your final destination. However, sometimes it is cheaper, even if you have to pay for extra transportation to fly out of a different airport. Search all of the airports that are within reason of your travel destination and compare prices.
14. Mix and match your airlines. You don't necessarily have to fly with just one airline company. Oftentimes, you can mix and match providers to work out the best possible deal for your volunteer abroad trip.
 15. Have flexible travel dates.  When searching for flights, if you can be flexible by a day or two, sometimes there is a better price option available. Some days of the week or more expensive to travel on than others. Being flexible gives you a better chance of getting the cheapest ticket.
16. Avoid weekends and holidays. Traveling on weekend days or close to any holidays will increase the price of your airline ticket.
17. Use fare compare sites. Getting a cheap airline ticket is like playing a game sometimes. You have to play to win. There are fare compare sites where you can see what different companies are offering for the same ticket and then choose the best priced one.
18. Fly with a budget airline company. Budget airline companies can sometimes be 20-50% less expensive than major airline companies. The travel routes might not be as direct and there might not be as many amenities offered to passengers, but you will save on ticket price.
19. Inquire about discounts. Sometimes there are airline discounts for students, senior citizens, small children, and groups. Discounts vary from airline to airline, but there is no harm in asking. You might be surprised and receive a discount.
20. Set up a Google alert. You can enter your travel dates and destination and set up an alert, which will notify you when the prices are the lowest in order to help you keep you volunteer abroad program cost cheap.
21. Travel to a country that is closer to your home country. Obviously, traveling to the complete opposite side of the world is going to be more expensive that traveling half way. Take a look at the countries that are a bit closer and see if any of those places interests you as a volunteer abroad destination. You will definitely save money on your airfare this way.
22. Be smart about your luggage. Every airline has slightly different luggage policies and weight/size amounts. Make sure that you know what the restrictions are for your particular airline before you arrive at the airport. Overage fees can be very expensive.
23. Carry on. You are allotted two carry-on bags. If possible, carry on to avoid any luggage fees.
24. Bring your own airplane necessities. You can save money by packing your own picnic and or snacks for the plane and bringing your own headphones. Most airlines these days charge for these things and it is much cheaper to buy them outside of the airplane. Think ahead about what you will need to be comfortable for your flight and bring those things with you instead of buying them inflight for your volunteer abroad trip.
Check out these links for some more insight on how to save on airfares.
12 Flight-Booking Hacks to Save You a Ton of Money on Airfare
7 Tips to Save Big Money on Airfare
Five Ways to Save Money on Airfare
How to Save on Airline Flights
11 Tips for Getting Cheap Airfares
Are You Planning to Volunteer abroad?
Looking for safe, reputed, and affordable volunteer program ?
How to save money preparing for your cost effective volunteer abroad adventure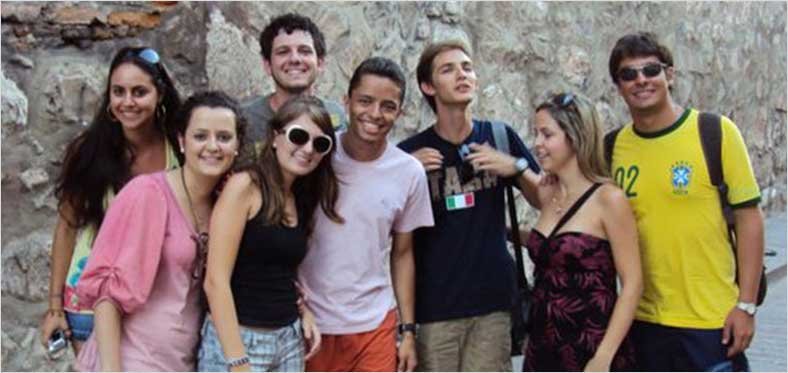 When you volunteer abroad, you will be spending weeks to months overseas in a developing country. There are items that you will want to bring with you to ensure your comfort. However, the cost of personal items and donations or gifts for your host family and project can add up. Follow these tips to keep your cost low while volunteering abroad.
25. Only bring what's really necessary. You don't need to go out and buy all new clothes, shoes, toiletries, and other supplies. You are going abroad to volunteer and won't need a brand new stylish outfit for each new day. Bring only the basics. Depending on where you are traveling to, it might even be cheaper to buy things that you need while abroad.
26. Don't pack for the worst-case scenario. If you pack everything that you think you could possibly need, you will end up paying a lot of money to bring all of those things with you. Pack for the best scenario and if you find yourself in a jam, you can always purchase what you are missing. For example, instead of packing a big coat because "what if it gets really cold," pack layers that you can wear and mix and match if the temperature drops.
27. Know what to bring from home. You can inquire directly with your volunteer abroad organization about the things that they recommend that you bring for your trip. More often than not, it is a good idea to bring sunscreen and bug repellent from your home country. The quality of these two very important items is typically not as good in developing countries and the price is usually very high.
28. Borrow luggage. Don't spend extra on buying a new suitcase, carry on bag, or backpack for you trip. Good luggage is often pricy. Ask your family and friends first. Someone is bound to have a suitable bag for you to use for your trip. You can also try second-hand stores, if you can't find one to borrow.
29. Do not bring too many suitcases. Try and limit yourself as the cost of extra baggage is very expensive. Traveling light will make your travels much easier.
30. Make sure to pack any medicine that you take. It is very expensive to ship medication overseas in the event that you didn't bring it with you. While there are pharmacies where you can buy over the counter medicine should you need it, make sure that you have your daily medications with you. Never put your medication in a checked baggage either. Always carry your medications on board with you.
31. Pick the right travel insurance. Some volunteer abroad organizations require that you use their travel insurance provider,which is typically very expensive . Travel insurance in general is very affordable.Some credit card providers, like American Express, even offer travel insurance and overseas assistance.  Find an insurance policy that fits your personal needs and your budget. Some reputable ones are WorldNormads, HTH Travel Insurance, and Travel Safe Insurance. There are a lot of great options out there though.
32. Download travel apps. There are so many amazing and free apps that are very handy when traveling abroad. You can find apps for maps, travel guides, and phrasebooks, so that you don't have to spend money on actually buying those things for your volunteer abroad trip. Also, not bringing guidebooks, maps, and phrasebooks with you will save you space in your luggage.
How to save money (and avoid hassle) on your budget-friendly travel abroad trip finances
Obviously while you are abroad you will have expenses that require you to pay in cash or using a debit or credit card. It is important to be aware of transaction fees and exchange rate fees. Following these tips will help you to save money while spending money.
33. Notify your bank of your travel plans. It is important that you let your bank know that you are planning to travel internationally. Inform them of your destination(s) and travel dates prior to your departure. Failing to do so could result in your debit and credit cards being frozen as a fraud safety precaution by your bank. It is dreadfully inconvenient when this happens while you are overseas volunteering on a budget, especially in a developing country where long distance communication may be a bit more difficult and definitely expensive.
34. Do not exchange money at the airport or on the street. While you might be anxious to exchange the currency in your wallet to local currency as soon as you land, don't. The exchange rate at the airport is typically a lot higher than if you do it elsewhere. This applies to vendors on the street outside of the airport too. This is an easy situation to get ripped off in. Talk to your local coordinator once you arrive at your volunteer abroad program destination about the best place in town to exchange currency.
35. Store some money on prepaid travel cards. Prepaid travel cards are the "new" traveler's check. You can get these at your local bank. The exchange rate is often quite reasonable when you do this. This will save you ATM withdrawal fees and exchange rate costs.
36. Choose the right debit and credit cards to bring. Some credit cards and banks don't charge an international ATM withdrawal fee or will reimburse you for those charges. Other cards will actually give you rewards and points for using it overseas. Check with your bank and credit card companies to see what kind of benefits they can offer you while you are traveling. You can also apply for a new credit card or debit card that offers rewards, points, or no ATM transactions fees to help keep your costs lower while volunteering abroad.
37. Use an ATM for the best exchange rate. While using an ATM frequently while overseas will get expensive because of the withdrawal fees that are charged every time you use your debit card, using an ATM to take out some "starter" or "safety" cash is a great way to get the closest exchange value. It is a good idea to have some money on you or hidden in your belongings in case of an emergency or situation where credit and debit cards are not accepted.
38. Know the local currency and current exchange rate. To avoid being ripped off and losing money, it is wise to be aware of the local currency and the current exchange rate. It is easy to be targeted as a tourist and if you don't know the value of your money, it is even easier to pay far too much for something.
39. Don't use your phone data or call long distance. Skype, Facetime, and Facebook messenger are all free services. Communicate long distance and locally using one of the many free communication applications available.
40. Unlock your phone and buy a local SIM card. You can unlock your smartphone for a fee, which will enable you to put a foreign SIM card in and buy a data plan while overseas. This will save you a lot of money and also make you feel more comfortable by having a phone and Internet access for communication purposes.
How to save money on your daily transportation while volunteering abroad on a budget  
While volunteering abroad, you will need to get to and from your project site as well as explore the area in which you are volunteering. To keep you transportation costs low, use these money-saving methods.
41. Choose a residential volunteer project and eliminate the cost of transportation. Some volunteering abroad programs, such as working in an orphanage, offer volunteers accommodations at the project site. This is incredibly convenient as there is no need to transport to and from work each day. In this scenario, there are no daily volunteer transportation costs, which is a nice cut from your travel budget.
42. Live close to your volunteering abroad project. If a residential volunteer project is not available, you can ask you volunteer abroad provider if there is an accommodation option that is within walking distance to your project location.  Being able to walk to and from your volunteer work each day is not only a pleasant and environmentally friendly mode of transportation, but also a free one.
43. Ask to relocate, if you are a long distance from your volunteer abroad project site. In some cases, host families or volunteer housing are 30 to 45 minutes away from the actual volunteer project location. If your program fees do not cover the cost of transportation, this expense can add up very quickly and become a financial burden. Talk to your volunteer abroad provider about this concern and see what your options are. This is also something that you should inquire about in the initial stages of investigating programs and providers, as this could be a deciding factor in the end.
44. Rent a bike. In many cases, you will be volunteering in small communities where riding a bicycle as a means of transportation can be a very good option. Bike rentals are typically inexpensive. Riding your bike to your volunteer project will save you a lot of money and is great way to become further immersed in the community while staying in good shape.
45. Avoid taxis as a daily transportation option. In many developing countries, taxis are considered a luxury mode of transportation. If you live outside of walking or biking distance from your housing to your volunteer project location, it is best to avoid taking a taxi on a regular basis. This cost will quickly add up and become very expensive. Public transportation is much more inexpensive method of traveling.
46. Buy a weekly or monthly ticket for the public bus or train. If you are going to be using public transportation on a regular basis to get to and from your volunteer abroad program, it is a good idea to buy a pass instead of continually paying one-way tickets every time you get on. Buying a pass will save you money since the rate typically decreases when you purchase in bulk. This will also save you from having to take out money and have money on you for this purpose. Taking public transportation is also part of the whole experience!
47. Share arranged transportation. If you and other volunteers in your group are going to need daily transportation, one option is to arrange a taxi, minibus, or shuttle to provide this service. You can ask your local coordinator to assist you with this. In order to make this affordable, it is best to set up your transportation for the entirety of your volunteer commitment and use the same person or company. You will also need to negotiate and agree on a fair price. There should be some sort of discounted rate since you will be hiring this person/company for an extended period. Once an agreement is reached, you and your group can split the cost of this service. While this will be more expensive than using public transportation, it will definitely be cheaper than a taxi.
48. Use your volunteer abroad program's daily transportation service. It is not uncommon for your program fee to also include the cost of daily transportation. If this service is part of your costs, use it!
Are You Planning to Volunteer abroad?
Looking for safe, reputed, and affordable volunteer program ?
How to save money on food and drinks when volunteering overseas on a budget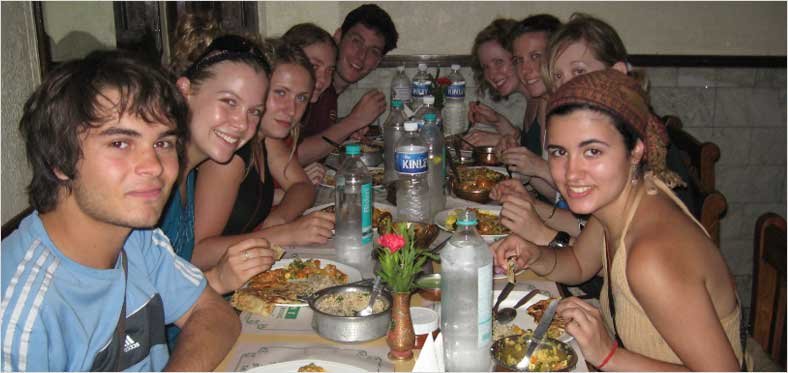 Most affordable volunteer abroad program fees include the costs of your accommodations and meals. However, you will have free time and might want to explore some of the local food options outside of your host family. Follow these tips to save money on food and drinks when you are dining out.
49. Eat with your host family or at your volunteer house. Most volunteer abroad project fees include three meals a day. If you are staying with a host family, they will provide you with three home cooked traditional meals. At a volunteer house or hostel, there will be someone in charge of cooking your meals for you. Take advantage of this because not only did you prepay for it, this is also the most affordable way to eat while volunteering abroad on a budget.
50. Get recommendations from your host family or local coordinator. During your free time from your volunteer abroad commitment, you might want to explore the local food culture and treat yourself to a meal out. This is definitely recommended, as it is part of the whole experience. However, it is a good idea to talk to your host family, local coordinator, or new local friends about where the most authentic local places to eat are so that you don't fall into a tourist trap.
51. Avoid touristy bars and restaurants.  While these places may seem enticing, they will surely be far more expensive, as they know tourists are likely to pay more than the local population. You can save so much more money by eating and drinking like a local than eating and drinking like a tourist.
52. Try the local street food. This is a tip that comes with a bit of caution attached to it. In some countries, like Thailand and Vietnam, street food is typically fine to eat (use your best judgment based on the cleanliness of the set up, appearance and smell of the food, other people who are eating it, etc.), while in places like Nepal and India it is strongly advised against as a visitor. Check with your local coordinator first! But, if you staying in a "safe street food" country, it is a delicious and very cheap way to get a bite to eat.
53. Get a to-go lunch from your host family or volunteer host cook. If you know that you will not be around for lunch, ask your host family or host cook to pack you a to-go lunch. This is if your program fee includes your meals. Why give up a free meal?
54. Pack your own picnic. Not only is picnicking a fun activity, it is also a very affordable one. Grab some supplies from the local markets and set off to find the perfect picnic destination. This is a great way to spend an afternoon and enjoy your lunch in a picturesque location while volunteering overseas on a budget.
55. Buy local ingredients and cook for yourself. Exploring the local markets is a fascinating way to get a true insider look at local life. Buying food from the local markets is also an affordable way to eat and easy way to keep cost low while volunteering abroad. You can buy ingredients to try making your own local dish or ask your host family/host cook to teach you how to make something from your host country. If you are traveling with a group or have a new group of volunteer friends, cooking together can be a fun and budget-friendly activity.
56. Buy coffee to make at home. If you are a coffee lover, it is more affordable to buy a bag of local coffee at the market and make it at your accommodations in the morning rather than to go out every time you want a cup of coffee. This will save you a lot of money, especially if you a daily, multiple cup coffee drinker.
57. Bring a re-useable water bottle with you. In most developing countries, it is not advised that you drink the local tap water. There is often bacterium that your body isn't used to and it can make you very ill. However, buying bottled water for the duration of your volunteering abroad commitment is not only terrible for the environment (stop using one-time use plastics!), but it is not at all cost effective. Your accommodations will either have a water filter or you can boil water the night before to fill up your container.
58. Look for weekly specials or coupons for the places that you are interested in trying. You can look in the local newspaper, talk to your host family and local coordinator, and just keep your eyes peeled for great deals on dining and drinks.
How to enjoy your free time from volunteering abroad on a budget
While on your volunteer abroad trip, you will likely want to venture out and explore your host country when you are not working. Free time activities can become expensive though. The following tips will help you to save money on fun free time activities.
59. Look for free entertainment. If you are searching for something to do after dinner or during your free time from your volunteer work, talk to your host family and the locals about what's happening in town. With a little inquiry, you will likely be able to find some free entertainment such as live music, a cultural celebration or ceremony, or maybe even an art show.
60. Take a free tour. Depending on where you are located, sometimes there are self-guided tours available through parks, museums, and other places of cultural or historic significance. In some cities, there are free walking tours available. These types of tours typically run off of tips, but there is not set fee that you must pay to join. Before setting off on your budget-friendly volunteer adventure abroad, it might be a good idea to do some of this research ahead of time while you know you have good Internet. A little research can go along way.
61. Inquire about and negotiate group discounts. During your time volunteering abroad for a low cost, you will likely meet other volunteers and or meet some new friends. If you and your new group want to take a tour or do a certain activity, sometimes you can get a group rate or discount. It is always a good idea to ask. You might be able to save some money this way.
62. Buy combo-tour packages. If you are in a place that has a wide selection of cultural, historical, and or natural sites to see, you should look into tickets for what you want to do in a combo deal. Oftentimes you can get a discounted rate if you purchase multiple tickets or activities at once. Sometimes there is even a pass that you can purchase which gives you access to multiple different attractions. Again, this depends on where you are volunteering, but you can definitely save some money doing your tours and activities this way if it is available to you.
63. Don't spend a lot of money on souvenirs and presents. Don't just buy something to buy something. It might be tempting to buy souvenirs because you are in a foreign country, but only buy something that actually has meaning or will hold a memory for you in the future. There are a lot of cheap touristy items that seem like a good idea until you've spent too much money and don't have enough room to bring all of this new stuff home.
64. Take photographs and keep a journal. Instead of spending money of souvenirs, you can capture your memories through photographs and journal entries. Both of these things are completely free and will last a lifetime!
Are You Planning to Volunteer abroad?
Looking for safe, reputed, and affordable volunteer program ?
How to raise funds to help keep with the cost of your volunteer abroad trip
Many volunteers are able to cut their cost drastically by raising funds before their trip. There are so many different ways to raise money to make your volunteer abroad trip affordable. Here are some easy ways to raise money.
65. Ask family and friends to help. Your family and or friends might be willing to help fund your volunteer abroad trip. Your decision to volunteer overseas on a budget is a noble one and a cause definitely worth supporting. You never know until you ask. It is a good idea to be prepared with all of the pertinent information regarding your program and host country, as well as the amount of funds that need to make this dream possible.
66. Organize a community fundraising event. People love supporting those who are doing good things in the world. A fundraising event is a great way to promote your cause and earn some funds towards your travel and volunteering expenses. It is important to be clear about the amount of funds that you are seeking and what exactly they are going toward. It is also a good idea to set up an Instagram account, Facebook page, or blog that will document your budget-friendly volunteer adventure abroad, so that those who donate can follow your journey.
67. Have a garage sale. Not only does it feel amazing to clean out your closet or garage of items that you no longer use or need, but you can also make money getting rid of some of your stuff. A garage sale is the perfect way to raise some capital for your affordable volunteer abroad trip.
68. Start a small business venture. To help fund your budget volunteer abroad journey, you can start a small business like babysitting, private tutoring, dog walking, or lawn mowing, just to name a few ideas. The work you put in now will help you fund your future trip. You will also feel a great sense of accomplishment knowing that you made this happen all of your own!
69. Apply for a grant or scholarship. There are fellowship programs out there that offer funding to students who want to travel and volunteer abroad. A simple online search of grants and scholarships for volunteers will present you will all different options. Some cover your costs entirely, while others cover certain aspects of your endeavor.
70. Try crowd funding. You can create a crowd funding campaign on sites like GoFundMe or Fund and Seek to raise capital for your low cost volunteer abroad trip.
If you have volunteered overseas on a budget in the past, please share some of the way in which you saved money and budgeted your volunteer abroad adventure. Your insight will be so helpful to future volunteers!
Are You Planning to Volunteer abroad?
Looking for safe, reputed, and affordable volunteer program ?
Leave comments in the section below! If you would prefer to message us independently, our doors are open!
Leave a Comment:
Comments: