Work with Social Issues in Guatemala
Project At A Glance
Start point:
Guatemala City
End Point:
Aurora International
Airport, Guatemala City
Hours:
20-30 Hours per week
Food:
Local meals 3 times a day
Date:
First and Third Monday
of each month
As a still-developing country, there is somewhat unfair share of social problems in Guatemala – economic instability, compromised healthcare, etc. The realm of "social aide" seems to form an umbrella over the entire country as reactionary social work is frequently needed to remedy other systemic problems faced by the citizens of Guatemala. Poverty hinders Guatemalans in their pursuit of a healthy lifestyle and adversely affects social well-being. Additionally, the idea of the compromised human rights of the numerous indigenous people of Guatemala is another tragedy which is just beginning to be addressed.
Volunteers in Guatemala's social work projects provide social/emotional support at the most vital level – to the children of Guatemala. With families often unable to support multiple children under one room, some children make the conscious effort to leave their homes – believing their chances for survival are somehow better if their control their own destinies. IFRE's volunteers are placed within numerous organizations throughout Guatemala which aim to provide some level of support for these transient children – albeit nutrition, healthcare, skill-teaching, clothing, crisis intervention, an education… even something as simple as bus fare to return to their families – all in hopes of providing a better future for these children amidst their social challenges.

Skills/Qualifications Needed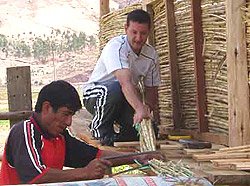 No specific qualifications are required to join IFRE's volunteer social work positions in Guatemala, yet participants must commit to "go the distance" to help these often impoverished and tragic children. Volunteers in this project should be mentally prepared to deal with often uncontrolled circumstances Many of these children seldom realize the "reality" of living on the streets and some are "new" to their situations. All volunteers are encouraged to be flexible, patient and adaptive.
Volunteer Responsibilities
Volunteers in the Guatemalan social work projects can expect to use many "real world" skills to educate and help these children. Volunteers often have direct interaction and contact with the children. Interactions can be intense. Other duties can include: teaching English, tutoring the children, serving as a role model and/or mentor, assist various organizations with a number of administration and operation tasks, orchestrate various workshops and seminars, routine maintenance or library assistance. Proactive volunteers who are willing to chip in regardless of the severity are encouraged to join this particular project as well as individuals prepared to witness some unfortunate circumstances.
In Guatemala, all volunteers stay with well-screened host families. Our host families are socially respected and are well versed in the art of hosting international volunteers. Host families offer a safe home, private rooms (occasionally rooms will be shared with other same-gender volunteers) and shared bathroom facilities with running water and a "western" style toilet. Volunteers have the ability to do laundry at the house or the host family may offer to do it for you for a nominal extra fee. You receive three prepared meals per day. If you will be out of the house during lunch hour, you can request a lunch "to go" that you can take with you or eat out on your own. Host families provide typical meals that are traditional to Guatemala.
Throughout the volunteer project, our local staff stays in contact with volunteers either with face-to-face visits or via email/telephone. With longer placements, we visit our volunteers every two weeks (when possible) and volunteers are always welcome at the local office. If project placement is local, we request that volunteers stop by the office once a week to keep us posted on how they are doing with their home stay and project. If project placement is very far, then our local staff members maintain communication by either email and/or phone.

could not connect