Language and Culture Program
Details of Language and Culture Program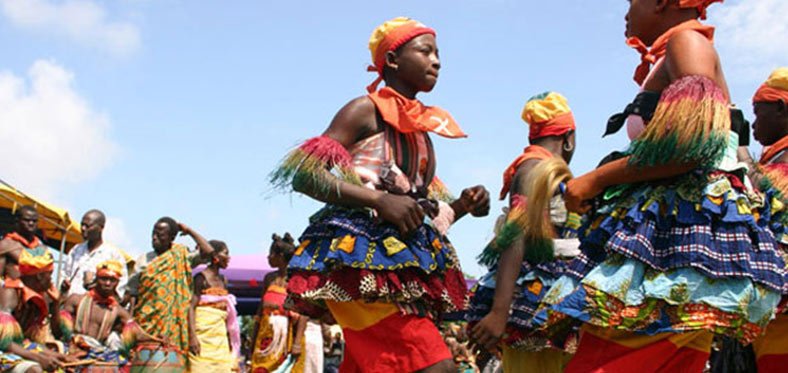 Day 1: Pick up from the Kotoka International Airport, in the capital city of Accra and transfer to accommodation or training site dependant on arrival time.
Day 2: Orientation takes place at (neighborhood). Orientation includes Ghana's religion, languages, culture, history, customs, politics and geography. In addition, participants will be briefed on necessary health and travel precautions. Volunteers are welcome to discuss any issues that interest them and ask any questions. Volunteers will have time to visit (activity/place). Remainder of day is free time.
Your Ghanaian language program continues (2-3 hours). Visit the local market and interact with local people in the community during your free time.
Day 3: Your third day is a travel day! Volunteers visit the city of Accra and tour the principal streets and sites. The National Museum is the first stop, where artifacts of pre-historic and relics of chieftaincy are displayed. Next, you'll visit Kwame Nkrumah Memorial Park, the place where Ghana declared independence from the British in 1957. Kwame Nkrumah has interesting architectural structures and monuments using Ghanaian and Egyptian symbology. You will be professionally escorted on this day long excursion by our representatives.
Day 4: Ghanaian language class (2-3 hours) continues. Following class, you will explore the local bazaars, interact with local people and have numerous opportunities to practice your Ghanaian language skills.
Day 5: Ghanaian language class (2-3 hours) continues. In the afternoon, volunteers will visit a local village and investigate their lifestyle. Volunteers will converse with the villagers in their local language. Volunteers will also visit a local food market and buy goods. Newly acquired language skills will be tested as you ask questions about prices, tastes, etc. using the languages you have learned.
Day 6: Day Six is a travel day! An excursion to Shai Hills Forest Reserve for game viewing and more. You will see different kinds of Ghanaian animals like antelope, monkeys of different types of birds, baboons, etc. in their natural setting. Volunteers then continue to Aburi, the gorgeous century old botanical garden. Rest of the day is spent at the part at your leisure admiring the lush greenery, exotic plants and beautiful landscape.
Day 7: Closing of Ghanaian language program, evaluation and departure for project.
Note: This is a sample itinerary and can change to meet changes in field conditions
Learn more about Ghana programs