Healthcare Project
>
>
>
Work In a Local Medical/Healthcare Project in Nepal
Work In a Local Medical/Healthcare Project in Nepal
Gain real world medical experience volunteering in Nepal!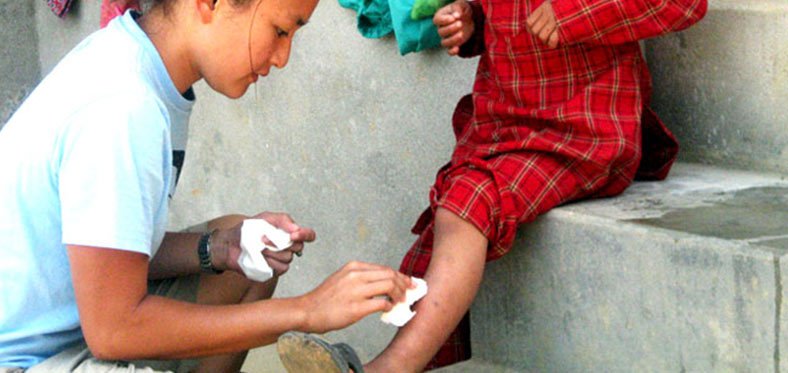 Provide much needed support in local clinics

Work alongside licensed healthcare professionals

Immerse yourself in the culture of Nepal

Volunteer abroad safely & affordably
Project Summary
Nepal's health care system is very resource poor and there is obvious lack of manpower and resources. Rural community facilities, which are located in the outer city areas and villages, urgently need volunteers and assistance. Medical volunteers in Nepal work in these rural health posts and community clinics. Volunteers mainly support a main doctor and work as an assistant. Volunteer placements vary with education, skill and experience.
Skills/Qualifications Needed
Applicants interested in joining our volunteer healthcare program do not need previous healthcare experience or education. Our programs are designed to accommodate volunteers of a variety of backgrounds. Whether you are a student, professional, or retiree, there is a vital role within our healthcare program for you.
Volunteer Responsibilities
Job responsibilities for Nepal medical/healthcare volunteers vary with education, skill, experience and qualifications. Volunteers are not allowed to perform the major operations or surgeries, due to liabilities. Often volunteers help doctors or work as an assistant to doctors. Volunteers often take vital statistics: measure blood pressure, temperature, height and weight. Volunteers assist doctors and medical staff with health center duties and tasks. Volunteers may also help with health camps, distribute medicines, provide tips to patients on health, nutrition and sanitation and counseling patients and involve yourself in the treatment for minor injuries or wounds and keeping patient records.
Room/Food/Supervision
IFRE manages living accommodations, meals and supervision for volunteers throughout their stay in Nepal. Volunteers placed in Kathmandu projects either stay at our home base – a permanent home set aside for international volunteers and manned with a local staff, or with well screened host families. Our safe and secure Kathmandu home base is located in a beautiful area of Kalanki, nearly 5 km away from Thamel, a popular tourist hub of Nepal. Most necessary services for travelers are located within 2 km of the home base: internet cafés, restaurants and grocery stores. Our home base is located in the heart of city and provides easy access to volunteer to all parts of Kathmandu. It is a perfect situation for volunteers to live safely and comfortably while making many new friends and sharing experiences every day. Our home base provides a same-gender shared room and shared bathroom with running hot water and a "western" style toilet. Volunteers will have the ability to do laundry at the home base.
Our host families are socially respected and are experienced with hosting international volunteers. They have strong interest in our volunteers' safety and well-being and demonstrate this with caution and care. In most host family situations, volunteers will share a room with another volunteer of the same gender. Volunteers who have stayed with a host family describe an enriched experience because of having done so. Once you have applied for program placement, you will find the specific details of your accommodations in your personal placement documents for your project. In Pokhara and Chitwan, our volunteers will stay mostly with host families.
Our volunteers will receive three prepared meals per day. Our cooks prepare breakfasts, lunches and dinners of Nepali foods (similar to Indian food, including wheat bread, rice, curry, dahl, chapatti and pickles) for volunteers. If volunteers will be out of the house during lunch hour, they can request a lunch "to go". If traditional Nepali fare does not appeal to volunteers, they are welcome to buy personal food and prepare it.
IFRE maintains offices in Kathmandu and Chitwan to supervise and assist volunteer
FAQ
Typical Day Schedule (sample):

There are two shifts available in the Healthcare Project in Kathmandu: Morning shift, 8:30-2:00pm or evening shift, 2:00-7:00pm.

8.00am

–

Begin your day with breakfast and tea

8.30am-12.00

–

Project work in the hospital

12:00 – 1.00

–

Lunch break

1.00-3.00

–

Project continues (if you want to stay longer at the project, you can)

3.00 – 7.00

–

This is your free time to explore Kathmandu

7.00pm

–

Dinner

What kind of activities volunteers do in healthcare project?

Activities in the hospitals are as below (sample):

All of the activities in the hospitals are mostly observation with fellow doctors & medical staff
Observe in ICU department
Assist in the pharmaceutical department as needed
Support in the treatment of general ailments, such as coughs, colds, etc…
Conduct awareness programs for patients and local residents
Maintain a friendly demeanor with patients at all time
Consult with doctors in regards to any emergency case

Where are they placed, in clinic or hospital?

Located in Kathmandu and Chitwan, volunteers will mainly work in the hospital. There are also local health posts (small community based clinics) in Chitwan. We allocate volunteers in both location based on their interest and skills.

Do we get hands on experience at this project?

The project solely supplies opportunity for observation. Volunteers should expect minimal hands on experience, however will have the opportunity to work in and visit all the departments of the hospital while receiving an excellent overview of the healthcare system in Nepal.

What kind of support do we get during the project time?

All volunteers are provided with an orientation and work closely with hospital administration learning the various departments and their methods of operation.

How many hours a day do we need to work?

Volunteers can expect to work 4-5 hours per day, Monday- Friday. Additional hours are available, however not required.

Is healthcare available all-round the year? When will it close for how long?

Yes, the Nepal healthcare project is available around the year.

Any important information you want to share about this project.

Volunteers cannot serve a replacement for licensed doctors and nurses, however will work closely alongside them in all departments of the hospital. As will many medical settings, schedules can often be hectic and busy; volunteers are expected to be flexible and keen to learn about the healthcare system in Nepal.
Learn more about Nepal programs