Teach English
Teach English in Rural Schools in Nepal
Share the English language with students of Nepal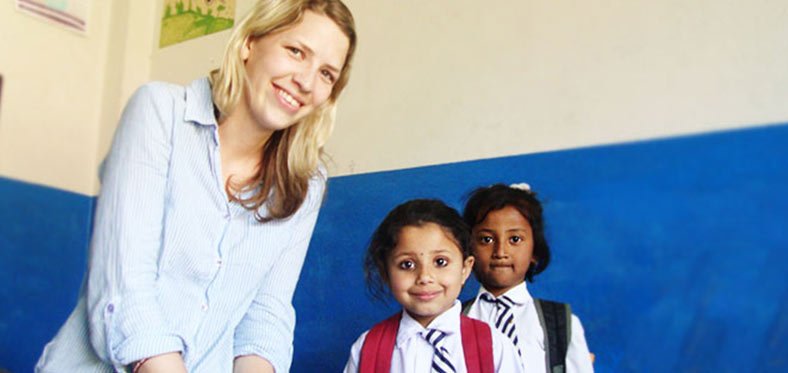 Volunteer as an English teacher to Nepalese students of all ages

Share your passion while working alongside local education professionals

Immerse yourself in the culture of Nepal

Volunteer abroad safely & affordably
Project Summary
Volunteers who teach English in Nepal work with several teaching project in several Government schools in Kathmandu or with resource poor local schools in Chitwan and Pokhara. In Nepal, English is not part of the standard primary public school curriculum. Many poor families cannot afford private English education and students will enter higher schools with very little knowledge of basic English (a mandatory subject after primary school). Your role as a volunteer can make a difference in these student's lives and prepare them for an easier transition to higher schools. Many Nepali children dream of speaking English.
Skills/Qualifications Needed
There are no specific qualifications needed to join IFRE's volunteer teaching projects in Nepal beyond a fluency in English. No teaching experience or skill is required, yet volunteers joining the teaching program in Nepal should have strong English fluency, both written and verbal. Volunteers should be be flexible and patient and have passion and love for teaching, English and conversation. Volunteers should be reliable, flexible and patient and strive to be good role models for the children.
Volunteer Responsibilities
Nepal English teaching project volunteers focus on teaching conversational English (2-3 hours a day) in public or private schools, six days a week. Most students of the school are between the ages of 6 and 13. Volunteers are not alone and will be assisted by other teachers within the school. Volunteer free time allows for organizing extra-curricular activities like games, drawing, singing, dancing and other creative education activities. Volunteers' support is also required for educational tours, homework, monitoring academic progress and in administrative support.
In Nepal, there is one primary English teacher in each school who follows fixed English curricula. So, you will mostly follow fixed English curricula (each grade has its own English book). You can work as a main teacher or assistant to main English teacher depending up on your confidence level and teaching experience.
Room/Food/Supervision
IFRE manages living accommodations, meals and supervision for volunteers throughout their stay in Nepal. Volunteers placed in Kathmandu projects either stay at our home base – a permanent home set aside for international volunteers and manned with a local staff, or with well screened host families. Our safe and secure Kathmandu home base is located in a beautiful area of Kalanki, nearly 5 km away from Thamel, a popular tourist hub of Nepal. Most necessary services for travelers are located within 2 km of the home base: internet cafés, restaurants and grocery stores. Our home base is located in the heart of city and provides easy access to volunteer to all parts of Kathmandu. It is a perfect situation for volunteers to live safely and comfortably while making many new friends and sharing experiences every day. Our home base provides a same-gender shared room and shared bathroom with running hot water and a "western" style toilet. Volunteers will have the ability to do laundry at the home base.
Our host families are socially respected and are experienced with hosting international volunteers. They have strong interest in our volunteers' safety and well-being and demonstrate this with caution and care. In most host family situations, volunteers will share a room with another volunteer of the same gender. Volunteers who have stayed with a host family describe an enriched experience because of having done so. Once you have applied for program placement, you will find the specific details of your accommodations in your personal placement documents for your project. In Pokhara and Chitwan, our volunteers will stay mostly with host families.
Our volunteers will receive three prepared meals per day. Our cooks prepare breakfasts, lunches and dinners of Nepali foods (similar to Indian food, including wheat bread, rice, curry, dahl, chapatti and pickles) for volunteers. If volunteers will be out of the house during lunch hour, they can request a lunch "to go". If traditional Nepali fare does not appeal to volunteers, they are welcome to buy personal food and prepare it.
IFRE maintains offices in Kathmandu, Chitwan and Pokhara to supervise and assist volunteers. However, volunteers working in Pokhara will stay in touch with Kathmandu office by telephone or email and will receive staff visits as often as possible, usually every two weeks.
FAQ
Typical Day Schedule (sample):

7.00am

–

Begin your day with breakfast and tea

9.30am

–

Prepare for the school day

10.00am – 4:00pm

–

Upon arriving at the school you will begin school prayer session and then proceed with your day of teaching. If you are interested in working the entire day, that is possible, however volunteers are only expected to teach 3-4 hours a day, which is 4-5, 45-minute classes.
Volunteers are mainly assigned English classes; however other subjects such as math, science, geography and social studies are available as well. The school days are Sunday-Friday.

4.00pm

–

Return to your host home for light snake and nap, or use this time to explore your surroundings. This is also a great time to utilize phone and internet services.

7.00pm

–

Dinner with your host family will be around this time, following which you may spend time with the family, or opt for personal time.

What is the name of the school I would be placed?

Because there are numerous schools we place out volunteer English teachers in, all applicants receive their placement and host family information following the completion of their application.

What is the age range of the students in the school?

The schools of Nepal have three levels of schools at which volunteers may be placed:

| | |
| --- | --- |
| Primary level: | Pre-K- 3rd Grade |
| Secondary level: | 4th – 7th Grade |
| High School: | 8th-12th Grade |

How many students are in the school? How many of them are in each class?

On average, a school will have 250-500 students with 20-30 students per class.

Will I be handling the classes on my own or will there be someone assisting me while teaching?

There will always be an assistant teacher while volunteering and you will work in conjunction with them in leading the class. On occasion, you may be asked to handle the class on your own. Volunteers are expected to prepare lesson plans prior to arriving and to teach their students accordingly.

Do they have teaching curriculum?

Yes, the school has a set curriculum you are expected to follow, although you will mainly teach English, volunteers are welcome to teach our subjects as well.

How many hours a day do I need to teach?

School hours are 10am-4pm, volunteers are only expected to teach 3-4 hours, but are welcome to teach longer.

Do I need to bring teaching materials? Or does the school have teaching materials which I can use?

The school has a set curriculum and necessary materials, however you are welcome to bring English books to share with the students and assist with their learning.

Is teaching available all-round the year? When will it close for how long?

The teaching project is not available around the year.

The classes are not available on the following months:

| | |
| --- | --- |
| Mid-January – Mid-February: | Winter Vacation |
| Mid-March to Mid-April | Final examination |
| Mid July to Mid-August: | Summer Vacation |
| Mid October – Mid November: | Festival vacation |

Any important information you want to share about this project.

The level of English utilized is very basic and volunteer teachers must be extremely patient. Also, the children in public schools may be very poor in understanding English and times can be difficult. Although working with these children is very rewarding, volunteers should also be very patient as well.
Learn more about Nepal programs